With no shortage of features, technology, and price points on the market, finding what types of microwave ovens your kitchen will work best with can mean considering a lot of information. And if you ever have any appliance concerns reach out to Gulf Coast Appliance Repair.
Use the information below to learn more about the types of microwave ovens and the most common microwave ovens. Then you will be more prepared to consider how the right microwave will fit into your kitchen's layout, budget, and day-to-day cooking schedule.
What Are The Different Types of Microwave Ovens?
The most common types of microwaves are built-ins, countertops, over-the-range, under-counter, wall ovens, and microwave combinations, smart and convection microwaves.
Each type can vary in placement within the kitchen, whether built into the wall, installed above the range, or freestanding sitting below the countertop. Whirlpool brand even makes a slim over-the-range microwave that will give you more cooking space on the stovetop underneath.
With your microwave, research will find different power levels, colors, finishes, configurations, feature line-ups, and more. Continue to read on to learn about what each type of microwave can offer you and your kitchen, or browse these microwaves online to find the right fit.
Over The Range Microwaves
Over-the-range microwaves open up your countertops by conveniently mounting between your cabinets above the range or cooktop, keeping all your cooking in one centralized location.
These types of microwaves usually offer ventilation and are available in models that vent air outside your home or filter and recirculate air back into the kitchen. Models usually include a charcoal filter that reduces odors and grease and helps clear the air. You can find over-the-range microwaves in various sizes.
Countertop Microwave Ovens
Countertop microwaves allow quick access to where most people prepare foods—the countertop. All you need is an outlet and a solid flat surface, so installation is simple as that.
The other nice thing about countertop microwaves is you can even take them with you when you move homes. Countertop microwaves can also be installed onto a cabinet-like shelf. It's much like a built-in microwave, just with an additional trim kit.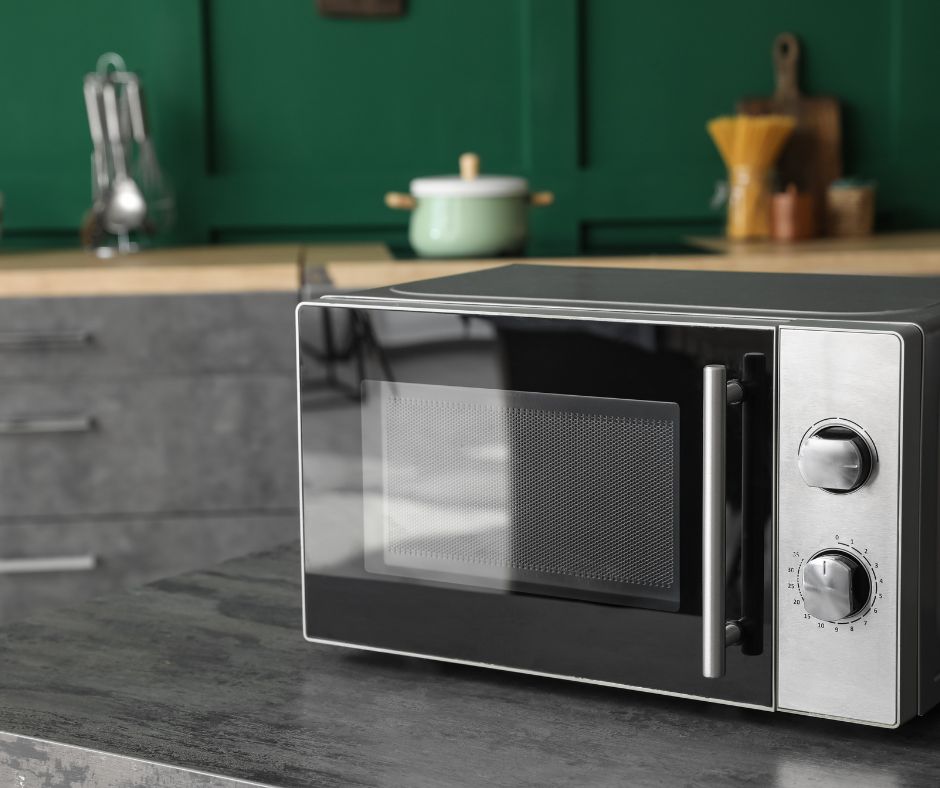 Low Profile Microwaves
Like over-the-range models, low-profile microwaves are installed above the range or cooktop and under the cabinets in place of a range hood. These space-saving microwaves are compact and fit and vent like a hood. They're ideal for those whose cabinets are too low for a typical over-the-range microwave or those who want more space above the cooktop.
Drawer and Under Countertop Microwave Ovens
Drawer microwaves are ideal if you have an open kitchen design and islands. Under-counter and in-wall installed to free up counter space for food preparation and ingredients. Also, having top access allows you to stir and check foods without removing a hot dish from the microwave.
These microwaves are usually placed at waist height. They're easy to reach, and if you don't want much visual attention on your microwave, they're discreet.
Built-in Microwaves
Built-in microwaves are installed within a wall or an existing cabinet. They often come with high-end features that give you a premium look and feel.
These microwaves free up space in other places in the kitchen and are available in various sizes and power levels, making it easier to find the right fit for your favorite dishes.
Built-in microwaves can be professionally installed in other places around the kitchen, including underneath the counter in a drawer.
Wall and Oven Microwave Oven Combination
Wall oven and microwave combos make the wall oven and microwave into one flawless unit. They provide a convenient layout that maximizes your space on and over the countertop. The microwave door opens down, opening just like an oven door for an integrated look and feel.
While wall units come with a high price tag, they're often accompanied by premium features like "Frozen Bake" technology and multi-step cooking.
Convection Oven Microwaves
A convection microwave is made to be oven-like. It has heating elements and fans to circulate the heat around the microwave.
Convection microwaves usually have the feature to let you bake, broil and roast the way you would if you were using yours in a full-sized oven.
For instance, some brands feature a model that circulates heat around the oven cavity with 1500 watts of convection element that allows baking at temperatures up to 425° F.
Smart Microwaves
Smart microwaves offer various Wi-Fi-enabled, remote-controlled, and adaptive features that bring a whole new level of convenience to cooking.
They may include voice control features with a compatible voice-enabled device and other innovative features. You can use these features from home or while you're out as long as you have a compatible device.
Smart microwaves are available in various ways and can exist within every type of microwave listed above. Some brands have intelligent features called "Scan-to-Cook." It even allows you to scan the barcode on your frozen food and send the recommended cooking instructions right to your microwave.
Which Type of Microwave Oven is Best for My kitchen?
Finding the right microwave for your kitchen will depend on your existing layout and what kind of space you have to work with. There are a variety of microwaves that can integrate with cooking areas of any style.
Learn more about the different configurations and their benefits below:
Do You Have a Large Kitchen?
Countertop microwaves use more of your counter space, so that's usually a better choice for larger kitchens with more surface area. Drawer microwaves are another good option for large kitchens. They open out into the space below your countertops, which can get quickly crammed with people or other appliances.
Decide on a Budget
If you're on a strict budget, it may be best to stay away from all of the fancy wall oven and microwave combinations or under-cabinet models.
Luckily, not all microwaves come pricier, with all the advanced technology features. Shop around for microwave salesand find a model that best fits your budget.
Do You Have a Small Kitchen?
Over-the-range and built-in microwaves can save space since they can be placed on almost any wall in the kitchen. They're usually closer to the chest or eye level, so ensure the door can open into a clear, uncrowded area. While they also free up counter space and more room for making.
Remember that many kitchens are designed for over-the-range microwaves, but some cabinet modifications can be made to accommodate a built-in microwave.
Are you Using Your Microwave as a Second Oven?
Many of the latest microwave features have traditional oven elements like convection cooking and broiler elements like your main oven. You can find these features in any microwave style and color, but you'll have more options regarding the built-in and over-the-range categories.
Microwave Features
Pre-programmed settings, sensor cooking, defrost, and other features can make cooking easier and eliminates the extra time, but only if they support your family's cooking routines. When reviewing types of microwaves, consider how often your family might take advantage of a particular model's feature instead of paying for something you won't use.
Do You Want Strong Venting?
While over-the-range microwaves can get the job done, standalone vent hoods typically have more substantial venting capabilities. Choose one of the other microwave styles and get a separate hood if powerful ventilation is a high priority.
Do You Have a Clean Aesthetic?
Built-in and under-counter microwaves will have the cleanest lines and blend in more easily with your kitchen cabinets. Built-in microwaves are more likely to come with premium finishing details like KitchenAid brand's professionally-inspired design.
Schedule Gulf Coast Appliance Repair for Microwave Oven Installation and more
Gulf Coast Appliance Repair is the number one appliance repair company in Pinellas, FL. We provide service for many appliances, like dishwashers, dryers, stoves, and more. Reach out to us today to get scheduled.