Induction cooking is a relatively new technology in the culinary world. You see, it came about in the early 1900s but emerged on the scene sometime in the past couple of decades. With cost-effectiveness and energy efficiency in mind, scientists are working on improving the models and making them more accessible.
Now, you may be asking what induction cooking is in the first place? The good news is you have arrived on the right page. Gulf Coast Appliance Repair offers this information on induction cooking so the readers can make informed decisions when replacing stovetop and oven units.
If you are looking to replace the cooking elements in your home or your business, you need to be well informed of your options. And induction cooking is of growing popularity with restaurant owners and home chefs everywhere. Keep reading to learn why.
Introducing Induction Cooking
When it comes to cooking food, a fire was the first source available. Clearly, time and science have evolved and perfected the techniques we use in our homes.
Electricity produces radiant heat in an electric stove. 
And a microwave uses small energy waves to do the same job.
But induction uses electromagnetism to cook the food utilizing specific pans.
An induction cooktop is explained the following way:
"An induction cooktop is a cooking surface that heats by transferring currents from an electromagnetic field located below the glass surface directly to the magnetic induction cookware placed above."
In this manner, the pan itself is heated without a flame or burner per se. The cookware passes radiant energy to the food inside. Meanwhile, the magnets are busy stimulating the atoms inside the pan. And boy is it fast.
This efficient way of heating food offers the chef more control and steady temperature control. But it does require specific cookware.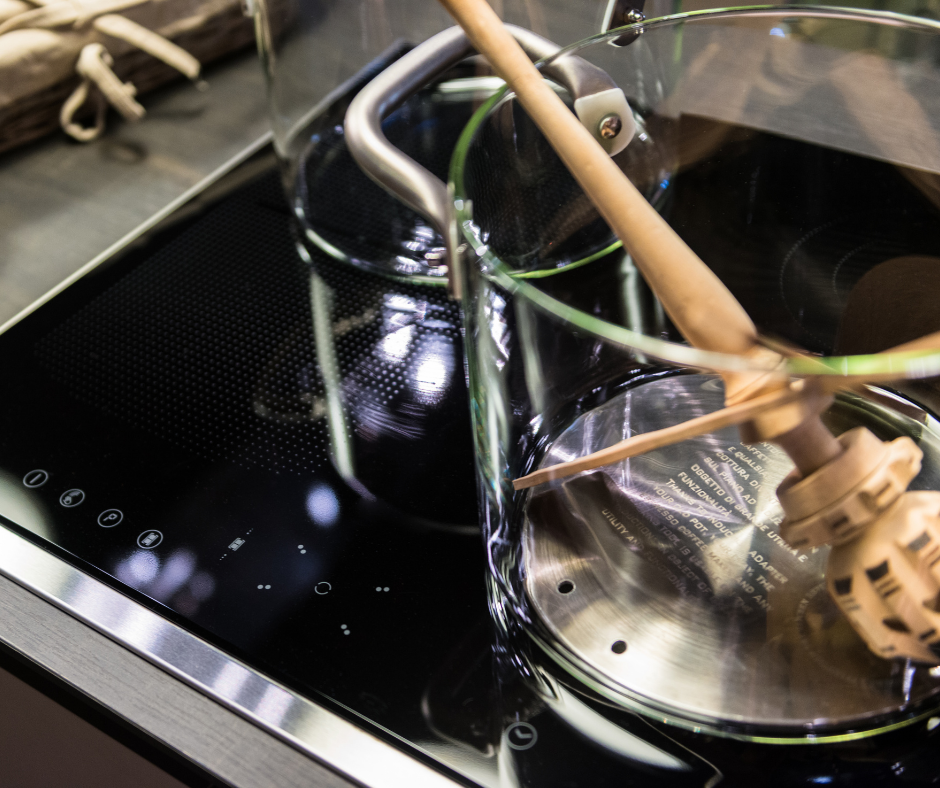 Induction Cooking Cookware
Sure, you can purchase a particular brand of induction cooking pots and pans if you are planning to replace your cookware anyhow. But if you are pleased with the brand, you already have, simply check to see if they are compatible with induction cooking. Here are some of the more common pots and pans that may work with your induction cooktop.
Cast Iron Pans
Stainless Steel Pans: 430 or 18/0 grade.
The key to checking pans is to easily hold a magnet to the bottom of the pan. If it sticks, you should be able to continue using the pan. Additionally, ensure your stainless does not contain nickel. If it does, that pan is non-magnetic and cannot conduct the heat. You cannot use aluminum or copper pans, though.
When purchasing new cookware, look for those indicating "induction compatible."
Benefits of Induction Cooking
In Europe, induction cooking has been popular for a while now. As it gains attention in the states, unit, and cookware prices are dropping, and more and more people are switching over. And as you learn the benefits of using induction cooking, you may choose to change over too.
Energy Efficiency – The heat is only conducted when the pan is on the surface, so you never lose heat. Also, it won't heat up your kitchen!
An easy-to-clean surface – Induction's smooth surface is made of glass and easily wipes clean. Additionally, the surface is almost immediately cool, so you can clean spills up before they get too dry.
Better temperature control – Control heat better and more evenly to avoid over or undercooking. The heat is consistent since it is in the pan, not a burner under the pan.
Boil quickly with induction – No more waiting for water to boil when induction heats the water 50% faster. And no heat is wasted. Bonus
Auto-Sizing Burners in Certain Models – Some cooktops have pan detection to place the heat where it is needed.
Easy Transition – Induction uses the same amperage as other cooktops, so switching to new induction models is simple. No need to call out an electrician for a new outlet.
It Is Safe for Families – The stovetop does not really get hot, so those stray little fingers won't get burned if they happen to reach for some yummy food.
Gas Leaks are Not a Concern – Since they do not use gas, you won't have to go to bed wondering if you shut off the gas.
No Burners or Grates to Clean – Burners and grates can get greasy grimy in no time. They require constant cleaning to keep the build-up away. But not with an induction stovetop.
Clearly, there are a lot of benefits to the use of induction cooking for safe, fast, energy-efficient cooking. Not to mention, the stovetop surface is an attractive look for any home.
Cons of the Cooking Method
There really aren't that many cons unless they are simply not for you. Here are a few of the complaints folks have expressed over the years.
Price: Induction is not cheap. As a newer technology, it will cost a bit more.
Cookware: Only certain types conduct the magnetic heat. So you may not be able to use that favorite pan.
Sound: Yes, induction units make a humming noise that some find bothersome.
They require power: The stove will not be of any use in a power outage, just like electric.
Furthermore, you will have to do your chopping and measuring ahead of time. You see, the pans heat so quickly that you will not have time to chop between steps. Now, that may not be a con for you, but you may need to adjust your routine a bit. Most people find it an easy transition.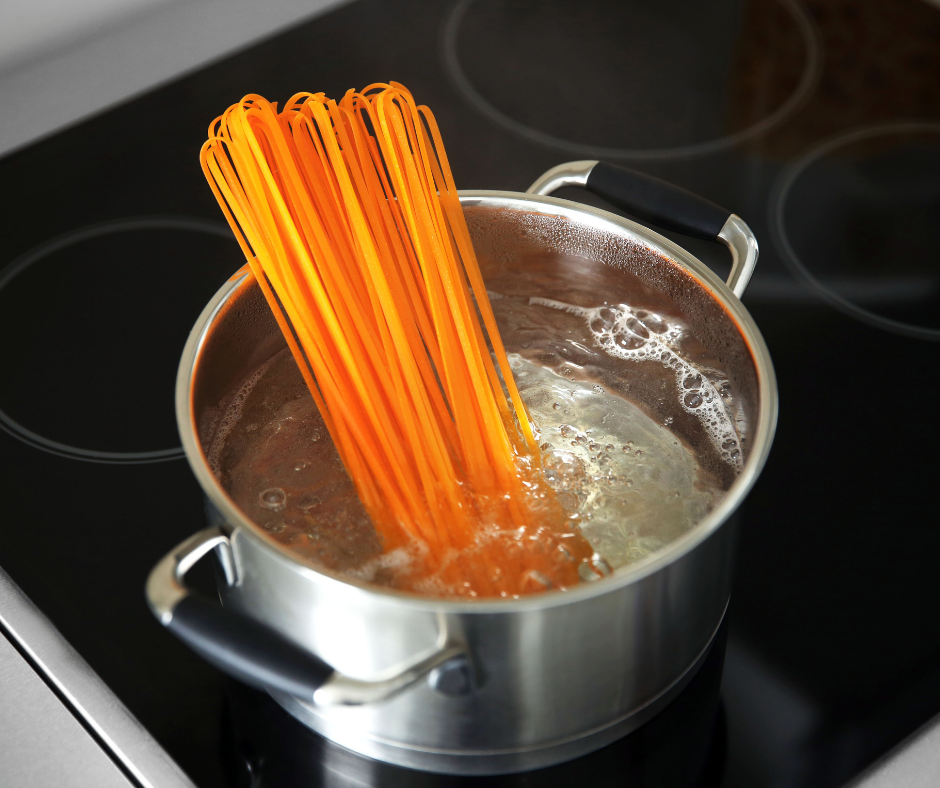 Maintaining Your Induction Cooking Stovetop
For a clean look, the induction method offers a sleek surface that can be easy to wipe clean. However, as with any cooking surface, your stove will benefit from maintenance from time to time. Here are the ways you can clean the surface of your cooktop.
Cleaning the Induction Stovetop
The sleek, flat surface is made of glass and should receive an ounce of care to keep it looking as lovely as it does on day one.
Wipe it down right away. You see, the stovetop will not be hot, so there is no need to wait until it is cool.
Sugars can damage the surface. Sugar is one of the only substances that can really stain or seep into the surface. So, if you are making caramel apples and drip on the stovetop, go ahead and wipe that right away.
Scrape off dried-on foods. Just like with a window, use a scraper to skim off the substances.
Clean with care. It is a glass surface, so you should never use steel wool or abrasive cleaners. You can purchase induction cleaners or use vinegar and water. Clean, wipe off and dry the surface for best results.
Hard water can stain. If you have hard water deposits on your stove, distilled vinegar can take them off Of course, be sure to rinse and dry when done.
Preventative Maintenance
As with any cooktop or home appliance, wear and tear can cause the unit to need repair. Induction cooking stoves require a professional to fix problems. The internal components are quite complex and cannot be repaired with traditional repair techniques. The parts that may need attention include those listed here.
Cook glass top
Main control board
Filter board
Touch surface control panel
The elements coils
And the terminal box.
Remember, the best things in life don't come without cost. And if you happen to damage your stove, you will need to have it professionally repaired. Therefore, these repairs can be costly, but most induction chefs are willing to accept that fact.
For preventative maintenance on your induction stovetop, give Gulf Coast Appliance Repair a call. We are the professionals in Pinellas and Hillsborough counties for quality appliance repair.
Gulf Coast Appliance Repair
With 10+ years of experience, our professional repair technicians can handle any range or stove repair. We can handle any of these repairs with ease:
Gas Range Repair
Electric Range Repair
Wood Stove Repair
Glass Top Stove Repair
Induction Cooking Repair
And More!
Whatever the issue you're having with your cooktop, we will be there right away to take care of it for you. Contact Us Now and Schedule an Appointment!!