Comparing Freestanding Ice Makers
Instead of relying on a slow freezer, a freestanding ice maker can keep you well supplied with fresh ice for every need, from chilling drinks, filling a large cooler, or even supplying a restaurant with ice for all drinks. You see, a freestanding ice maker is handy for tailgating, at-home BBQs, or even a restaurant.
You can take it anywhere where you might want your food or drinks to stay cool. So…
If you are looking for spare change so you can go to the ice machine and grab those giant bags of ice…
When you are racing home, hoping the ice doesn't melt…
If you find yourself running to the store last minute because someone forgot ice for the big pool party…
Remove the hassle and the extra step by looking into a freestanding ice maker.
Honestly, they can make life so much easier for you; it is easy to take the ice in your frosty beverage for granted. Most homes today have refrigerators that offer ice cubes with the push of a button. But when your refrigerator is in disrepair, running out of ice can be a huge inconvenience– especially during hot summer days or large family and friend events.
Below you can find the best freestanding ice makers for homes of all sizes to help keep you and your beverages or food as chill as possible. Click here to contact Gulf Coast Appliance Repair to help with all your installation needs.
What are Freestanding Ice Makers?
We all seem to have those friends or family members that seem to have an endless supply of ice at their events. In that case, they may have a freestanding ice maker. In fact, they are one of the most popular options for in-home ice machines.
Freestanding ice makers can also be built-in under the counter. These ice makers are especially ideal for renters as they require little to no setup and can be easily replaced anytime.
Keep reading along if you want to learn more about freestanding ice makers.
How Do Freestanding Machines Work?
According to Popular Mechanics, freestanding ice makers churn out ice cubes on a regular schedule. They use water "from a built-in reservoir or from a connected water line. Reservoir ice makers will need to be refilled with water when they run out, but they don't require any plumbing lines", which makes setup very easy. 
This feature also helps your ice have a clean taste and is free of a sour aftertaste. To prevent mineral- deposit build-up, most ice makers require filtered water. When the ice is ready, it falls into a bucket where you can access your fresh ice in the shape of your choice. When your ice bucket is full, the machine will stop making ice to prevent it from overflowing.
Most devices will keep your ice cool, but sometimes there is melting as the ice sits. Additionally, some high-end freestanding ice makers can recycle the melted water. Still, other machines will need to have the excess water drained from the device. 
A Few Benefits of Freestanding Ice Makers
Portable

Makes ice fast

Variation in sizing of machines

Variety of ice cubes
Types of Freestanding Ice Makers
Should you need mass ice production for a birthday party or restaurant, or you are a cocktail connoisseur, you have quite a few options to choose from. With freestanding ice makers, you are sure to find the perfect one for your needs.
Of course, it would help to consider how often you would use your ice maker.
Also, ask how quickly it can produce the ice as you may not want to deal with excessive water.
Then see how much ice it can hold at once before making a purchase.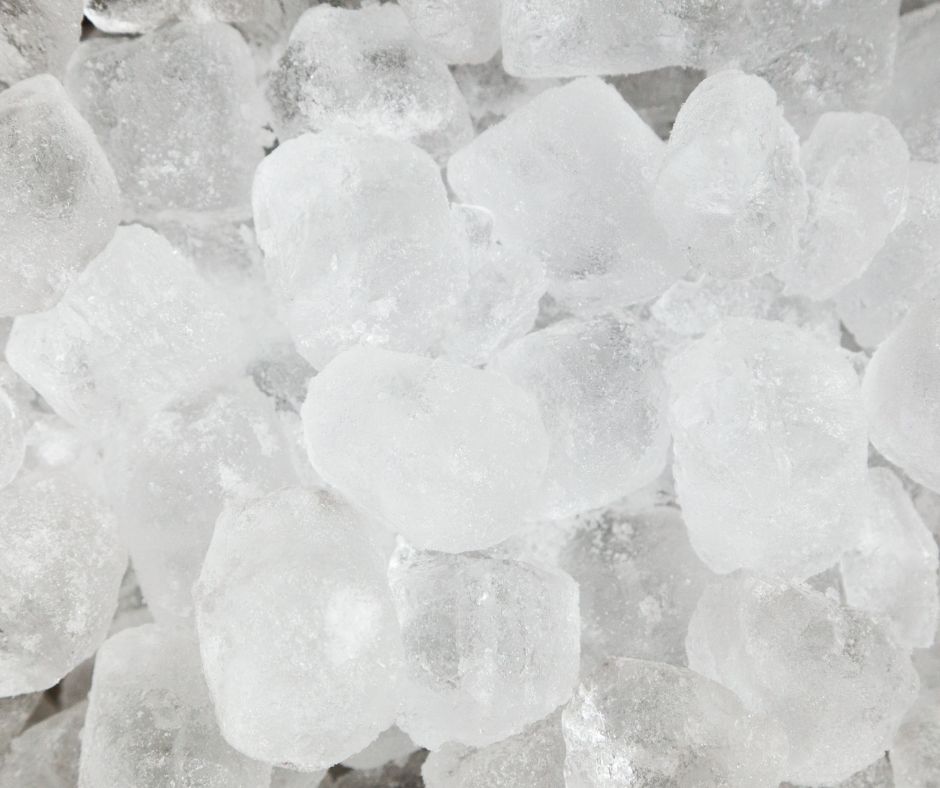 Ice-O-Matic 
Nugget Ice Machine 
This freestanding ice maker can produce a total of 25 lbs. capacity and 85 lbs. daily. Putting out one of the most popular kinds of ice in your home has never been easier.
Ice-O-Matic ice machine uses Pure Ice Technology to make the same clean, chewable nugget ice that you have come to love in the drive-through.
The Ice-O-Matic operates very quietly with the ability to store 2 pounds of ice and affords the option to place the machine anywhere without being disturbed by the sound of ice crashing into the bucket. Since this ice maker is approved for outdoor use, you can place it in your outdoor kitchen or leave it on your back patio for convenience when out in the yard.
The compact size of 12 inches in height, 14 inches in depth, and 9 inches in width, makes it the perfect accessory for just about anywhere.
Scotsman Gourmet Under Counter Ice Maker
Enjoy an almost unlimited supply of the best-shaped, odorless ice thanks to the Scotsman Energy Star Freestanding ice maker. The fast and energy-efficient ice maker can produce up to 64 lbs. of ice in a 24-hour period.
Clearly, 26 pounds of storage gives enough ice to supply family dinners, birthday parties, and more. The durable stainless-steel exterior and water-quality sensor design add a modern feel that will enhance your space's appeal guaranteeing a safe and consumable product.
Not to mention, the water-quality sensor detects and eliminates mineral-dense water with eash cycle, reducing the number of cleanouts needed. 
User maintenance is a breeze with the built-in pump and 10-inch drain tube which expels water fast and effectively.
The reversible door won't affect your installation decisions wherever you need it. The control panel indicates when this unit is on and can alert you when the water is low. Scotsman ice makers are pleased to manufacture crystal-clear, mineral-free, odorless, and slow-melting ice cubes.
Additionally, this freestanding icemaker is UL approved for outdoor use with a 15-inch width. This ice maker is perfect for small spaces while still giving you a large capacity for ice.
The ice machine is intended for quiet operation, however, slight noise can be heard during the cycle. In a freezing process, listening to the fan and the water pump circulating water is customary. Then, ice falling into the bin may also be heard when it is being made.
*Remember that this ice maker does not include water supply lines; purchase that separately.
Scotsman Gourmet is on the cutting edge of innovation and carries the EPA Energy Star qualification.
Danby Daily Ice Production
This Danby's 2 lb. Storage capacity and 25 lbs. of daily production give you the perfect amount of ice for entertaining. With a see-through lid, you see the amount of ice without disturbing the ice-making process.
Also, this small freestanding ice maker has electronic controls with small LED indicators making it easy to use.
A helpful alarm will go off to notify owners if the lid is not fully closed.
In addition, there is a convenient self-clean function that reduces maintenance and prolongs the life of your product.
The Danby comes with a one-year 'parts and labor manufacturer warranty. And to top it off, this compact freestanding ice maker measures 14″ deep and 12″ high, with a small width of 9 inches.
Follett Freestanding Commercial Ice Maker
Follett Freestanding Ice Makers are the perfect way to keep your company well stocked with ice. So no matter how busy the day gets, you can always guarantee ice-cold drinks.
Folett's 27″ wide freestanding commercial ice maker also comes with a water dispenser for extra convenience. The ice maker can create 425 lbs. of ice over a 24-hour period and store 90 lbs. in an easy-access storage bin for easy dispensing. Simply, pull the lever, and you'll expel cold water or high-quality chewable ice.
The popular opinion is that nugget ice is more practical than standard ice cubes and flakes because they don't stick together and can last for long periods of time– even in warm drinks. This particular unit is made of completely stainless-steel construction that is designed to keep stains and grime from developing. This construction helps the unit serve your business for years.
Follett Freestanding uses an eco-friendly refrigerant and an antimicrobial technology that assures the machine stays clean for top-quality ice with every use.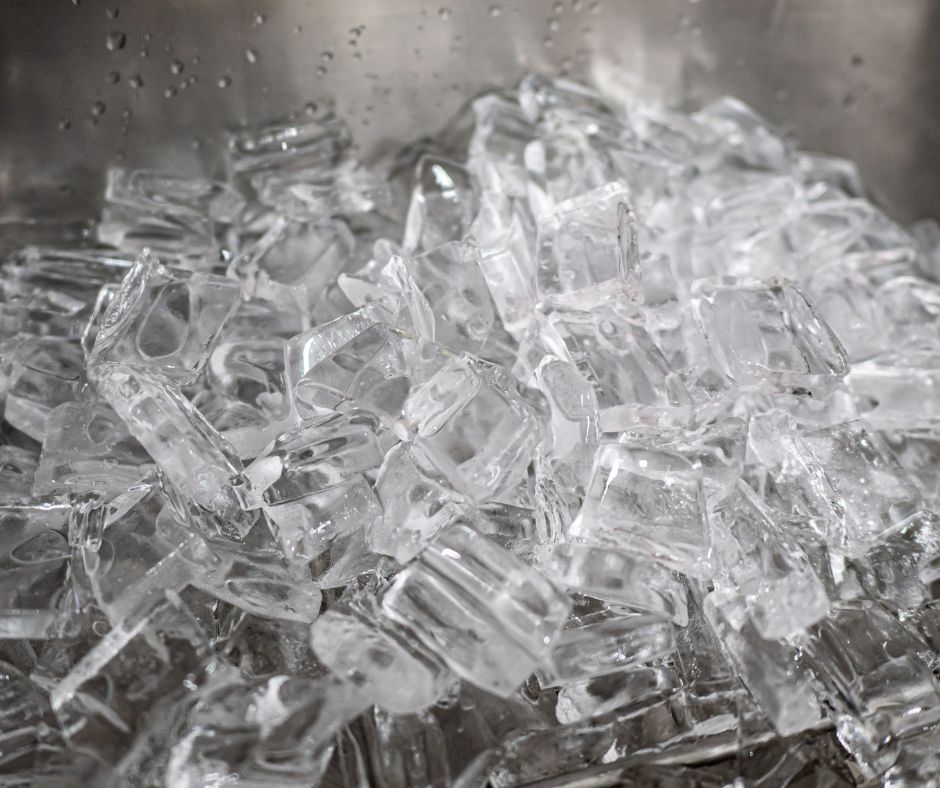 Schedule Freezer Repair with Gulf Coast Appliances.
Now that you have learned about a few freestanding ice makers that are available for easy setup in your home or business, you can reach out to Gulf Coast Appliances.  We can help with the installation or any needed repairs. Rest assured our technicians guarantee top-quality customer service.
Get started with an endless supply of clean, delicious ice. Contact us here, at Gulf Coast Appliances.