If you're tossing out stinky garments instead of removing odor from clothes, you're likely wasting quality clothing and lots of money. Everyone deals with unwanted smells in one way or another. And it's time to take charge and handle the smelly fabrics rather than throwing out some of your favorite clothing items.
Gulf Coast Appliances provides you with everything you need to know about getting rid of some of the most stubborn stenches plaguing your garments.
Read on to discover what fabrics are known for retaining the stink and what to do to eliminate odors caused by various smelly sources.
What Fabrics Hold Odor?
It's true. Some fabrics will hold on to pungent smells much more than others. Luckily, in this article, we will discuss removing odor from clothes. However, keep in mind that the materials you are wearing may make your job a little more complicated when attempting to get rid of unwanted smells.
If you are an active individual or your work environment leaves you smelling awful each day, avoid the following fabrics:
Polyester
Nylon
Spandex
Rayon
Synthetic materials
On the other hand, many materials are notorious for not retaining pungent scents. The best way to prevent your clothes from holding onto strong smells is to choose the right fabrics, like:
It's no coincidence that these fabrics are made of natural materials. Next time you head to the store to buy activewear or clothes for more smelly activities, like working on automobiles, look for natural materials. Even though these garments may easily show sweat and stains, you will thank yourself later when they smell a lot better than your synthetic clothes.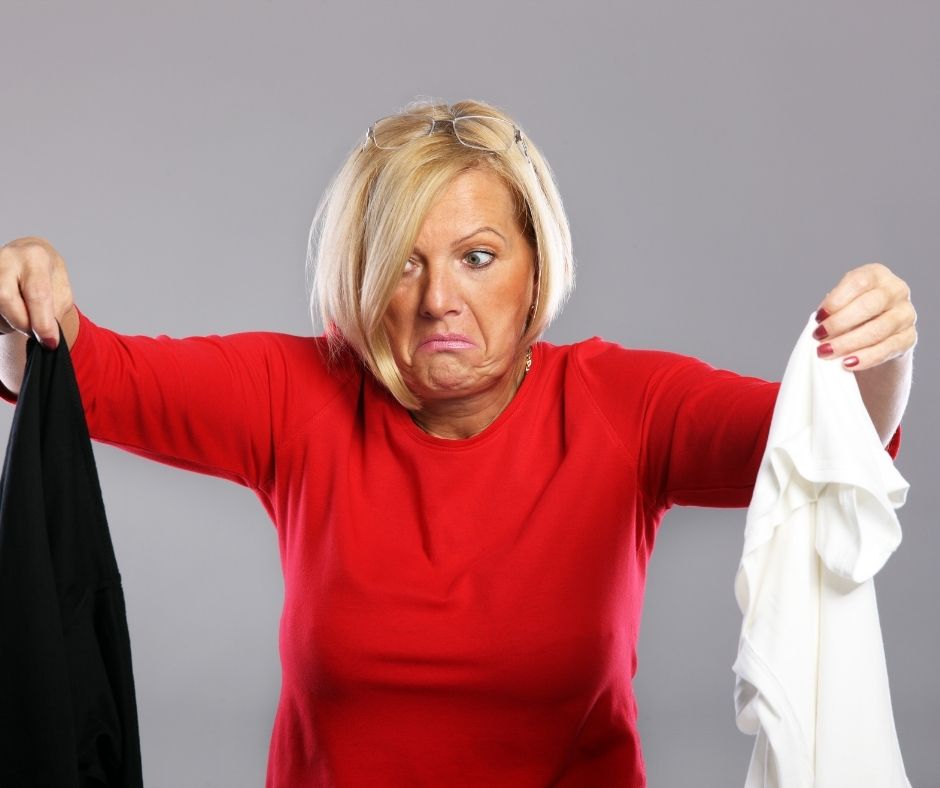 Tips for Removing Odor from Clothes
It's not practical for everyone to toss out all their odor-retaining synthetic fabrics and switch them out for natural fibers. In this case, you'll want to learn precisely how to remove odor from clothes already in your closet. And the most efficient way to get rid of smells is to address them by their source.
In the following paragraphs, we will discuss how to remove the stench from various smelly sources:
Sweat
Gasoline
Vomit
Smoke
Feet
Get Rid of Sweaty Smells and Removing Odors From Clothes
Sweaty clothes can result from exercise or even anxiety and general nervousness. It is something that everyone deals with, if not daily, from time to time.
Use the following methods to eliminate the sweaty stench from your clothes:
First things first. Avoid leaving sweaty clothes bundled up and stored in your laundry hamper or gym bag. In fact, sweat itself has no putrid odor. In reality, the combination of bacteria and sweat produces a pungent smell. So, avoid further bacterial growth by washing sweaty clothes immediately or storing them in an area with plenty of air circulation until you have time to clean them appropriately.
Next, you want to pretreat sweaty garments. To do this, you can soak the items in a water-vinegar solution for about 20 to 30 minutes. Baking soda and water also work well for removing odor from clothes.
Finally, finish up the process by washing and drying the fabrics according to the instructions on the label.
Remove Gasoline Odor
Gasoline may splash on your clothes when filling up your tank. Or perhaps you work with automobiles, and the gasoline smell is unavoidable. Either way as long as your clothes are not drenched in gasoline, removing odor from clothes with a gasoline stench is certainly possible.
Before any other step, absorb as much gasoline as possible by blotting the fabric with paper towels.
Next, sprinkle the affected area with baking soda and allow it to sit for at least five minutes as it soaks up any remaining stain.
Place the garments in a hot water and vinegar solution for about half an hour. If the fabric still smells of gasoline, refresh the solution and allow it to soak for some more time.
Use the highest temperature settings on your washing machine to further remove odor from clothes affected by gasoline.
Do not place the washed clothes in your dryer. Instead, hang or lay them out to dry. If the fabric still holds gasoline traces, the heat inside your dryer can potentially cause a fire.
Eliminate the Stench of Vomit
Getting rid of the stink from vomit proves to be easier than removing other smells. Still, there are some vital steps you'll want to follow to avoid making the situation worse:
Start by scraping off any remaining solids and bits.
Next, rinse the fabric using cold water before throwing it in the washing machine.
In the wash, use high-temperature settings to eliminate leftover smells.
Machine dry the garments if the material allows for it.
If the odor persists, create a paste using baking soda and water. Apply the mixture to the affected areas of the clothing and allow it to sit for about 25 minutes before running it through the washer and dryer once more.
Clear Away Smokey Scents
Smoke is notorious for clinging onto fabrics and being stubborn to remove. But, whether it's campfire smoke, barbeque smell, or the stench from cigarettes, using the following steps will help you expel the odors as much as possible:
After being around smoke, remove the clothing as soon as you can and hang them in an area with plenty of air circulation and ventilation.
When you are ready to clean the garments, run them through your washer and dryer. Use your regular laundry detergent and a laundry sanitizer that is safe for colors and bleach-free.
Use high-temperature settings while removing odor from clothes smelling of smoke.
Finally, use the hottest setting on your dryer to further eliminate smoke smells.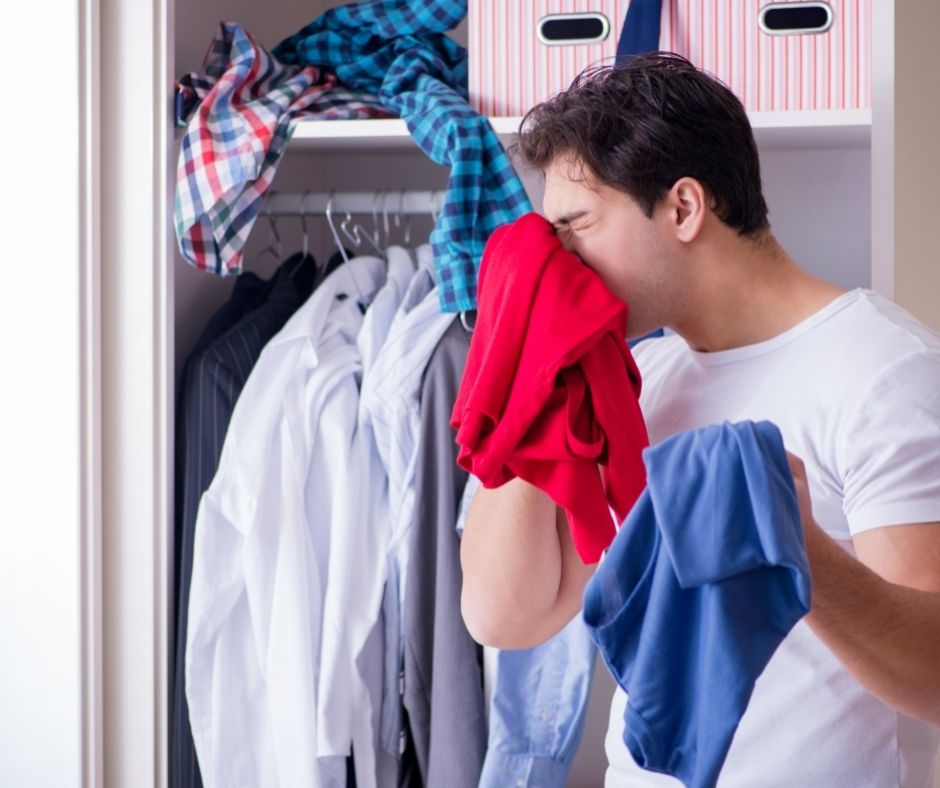 No More Stinky Socks
Foot odor can linger in the fabric of your socks, even after several washes. And nothing is worse than slipping on a pair of smelly socks only for them to reek even more after wearing them all day. But, there's no need to fret because we have your simple solution:
Fill a bucket, your bathtub, or your sink with a mixture of warm water and white vinegar.
Soak the clothing in the solution for about half an hour.
Remove the socks and thoroughly rinse them with warm water.
Then, run the socks through the washer with your next laundry load. Or hand wash the socks using a small amount of your go-to detergent.
Toss the socks into the dryer and add a dryer sheet or similar product to help alleviate any remaining stench.
Don't Let a Faulty Appliance Stop You from Removing Odor from Clothes
Suppose your washing machine or dryer breaks down in the midst of tackling everyday stenches. In this case, reach out to the experienced team at Gulf Coast Appliances for a quick and effective repair.
By calling on the pros, you'll be back to your odor-removing efforts in no time.
Our staff is known for our timely repairs and kind customer service. Big or small, there's not a job we can't handle.
If your faulty appliances are in the way of getting things done, count on Gulf Coast ApplianceRepair to ease your worries and get your machines back to working how they should.