No one likes when their trusted appliance stops working, and it can be stressful trying to figure out your next steps. So, is it worth it to fix an appliance? Gulf Coast Appliance will list below things to consider, along with simple fixes.
Fix an Appliance: Simple Dryer Fix
It's always inconvenient when your dryer goes out, especially if you have a load of clothes in there. Below are the top reasons a dryer will go out and how you can fix it.
The Dryer Won't Rotate
Sometimes, the cause of your dryer not rotating could be a broken belt. Here are the steps to replace your belt.
1| To begin with, remove the front cabinet panel from your dryer and lift up the panel from the entire drum while lifting it out of the cabinet.
2| You may find a lot of lint in this location of the dryer, so be sure to clean out all out with a vacuum.
3| Next, you will spin the tension roller by hand, known as the belt, to see if it starts running smoothly. Look for evident cracks and wear and tear.
The Dryer is Making a Noise
If your dryer is making a lot of noise, like loud thumps, creaking, and rumbling while it's on, the reason is most likely a worn-out drum support roller. If the noises continue, you will want to replace the tension roller. Replace all drum support rollers at once because it is easier when you have everything disassembled.
Dryer Not Heating
The lint is the first thing you want to check when your dryer is not heating. When dryers don't have proper airflow, it is hard for the appliance to run correctly.
You can investigate the igniter and radiant sensor when checking why your dryer is not heating. If they test well, you should have your gas valve coils replaced.
To replace the gas valve coils, remove the retaining plate and unplug the sensors while pulling it from the gas valve.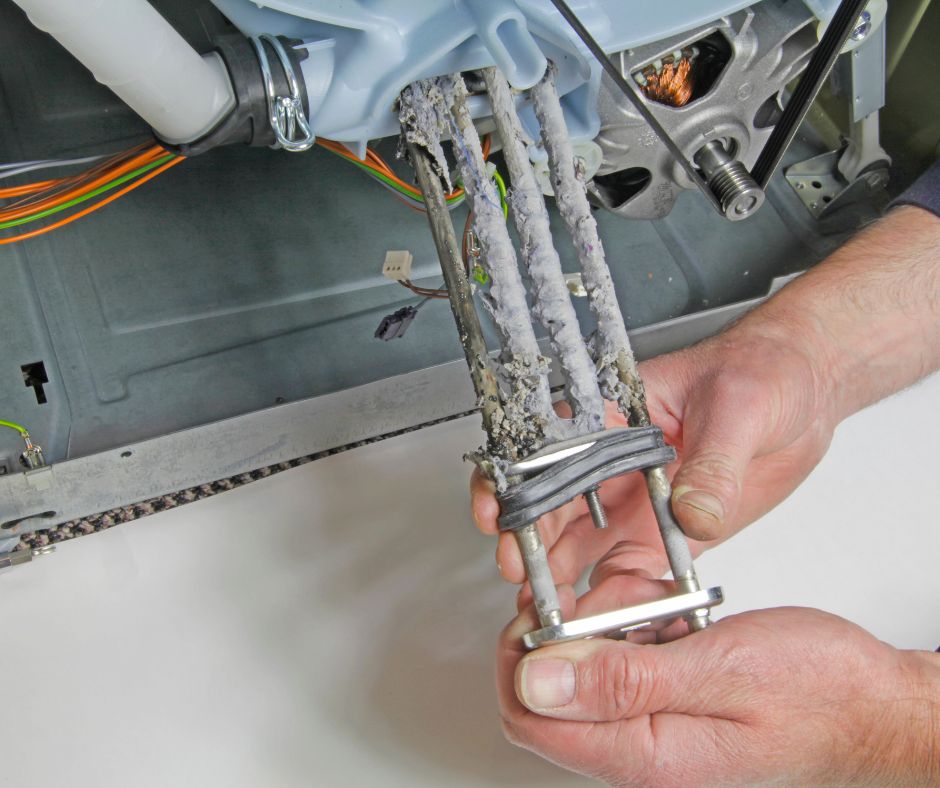 Fix an Appliance like the Washing Machine
Draining Issues
If your washer isn't draining, you can do a few things to help with that and, hopefully, fix it.
1| Start by removing the hose that runs from your tub to the pump. While you're back there, check for stuck and missing socks. Yes, that is where your missing socks end up sometimes.
2| If you have a tube cleaning tool, run that through to pull out any stuck socks or objects. If not, you can use a coat hanger as well.
3| Check your pump for any broken blades by shaking it around by hand. You know the blades have come undone if you hear anything moving.
4| Next, you will want to rotate your pump to ensure it moves freely without resistance.
5| Check the pump for any burned or melted sections.
6| After inspecting all the things above, replace these parts if you find out after testing everything they are broken.
Slow Filling or Not Filling
When your washing machine isn't filling or is filling slowly, try to clean out the inlet screens that are on the water valve. But if this doesn't fix the issue, you can always contact Gulf Coast Appliance to solve this issue for you.
Grinding Noises
If your washer makes a grinding noise, pop off the snap retainers with a screwdriver and pull out the pump from the motor shaft. The next thing you'll want to do is disconnect the electrical connectors from the motor.
Next, take off the bottom retainer from the motor and prop the engine up while you pop off the top of the retainer. Pry open the broken pieces from the transmission and motor. Tap your new coupler into place with a rubber hammer.
Is it Worth it to Fix an Appliance Like the Refrigerator or Freezer?
Refrigerators are one of the most valuable appliances in your home, and it runs constantly. But if your refrigerator freezer seems to stop working, we have some tips to help you get the simple parts you need to fix.
*Warning- before you start doing any work on your freezer or refrigerator, make sure your appliance is unplugged.
Helpful Refrigerator and Freezer Facts
Freezers and refrigerators are made up of two essential parts: a condenser coil and an evaporator coil. Liquid coolant is circulated through the coils and is pushed through by a compressor in a motor.
Once the refrigerant liquid is cooled in the condenser, it will move to the evaporator. Once this cool liquid is at the evaporator, the air that is in the refrigerator becomes cooled by the contact of this liquid-filled coil.
Door Hinges
When the door on your refrigerator doesn't shut tightly, you can slightly tip it back by using the leveling legs in the front and propping them up. Experiment with the different levels of the legs until your refrigerator door stays closed.
Repairing Your Refrigerator Door Gasket
When the gasket on your refrigerator becomes cracked and stiff, the seal is broken, and the efficiency of your refrigerator drops significantly. There are different ways to test the gasket for leaks. You could start with a simple paper-in-the-door test.
For this test, you will place a piece of paper and the refrigerator door and start to pull on it. If it slides out easily or completely falls out of the door, you should replace the gaskets on your refrigerator door. Suppose it provides some resistance to the paper. In that case, your gasket should be good, resulting in your refrigerator staying closed to ensure your food stays cold and fresh.
Range and Stove Repairs
Gas and electric ranges operate in simple ways for the most part. Most complications that come from a gas range are due to the supply of gas that your burners in the oven are receiving.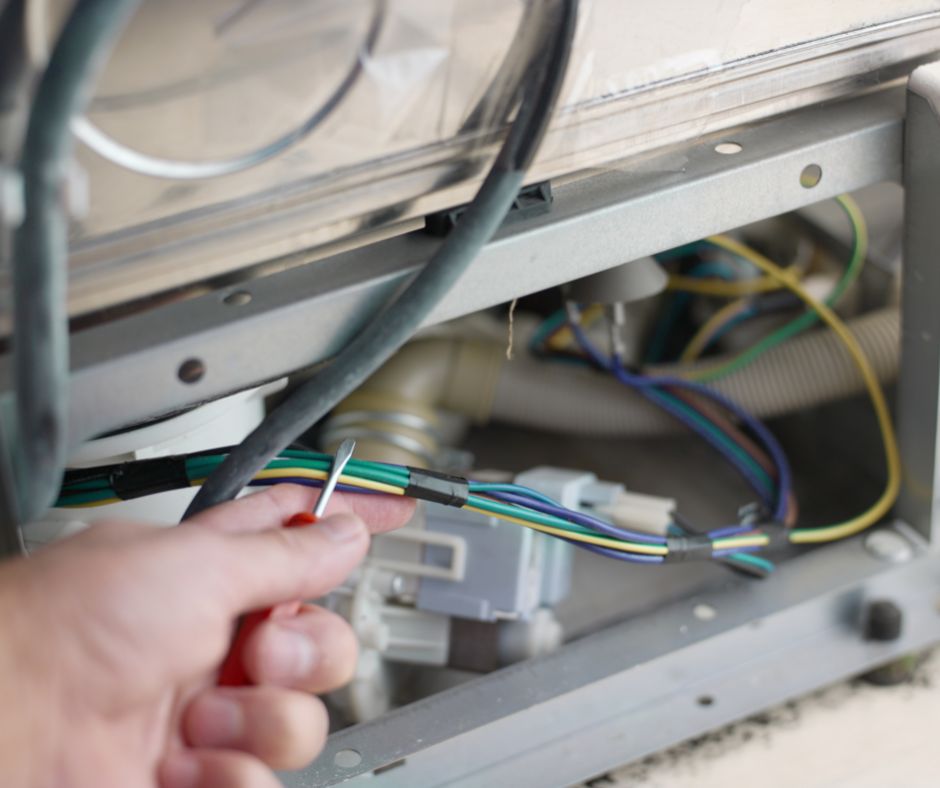 Fix an Appliance: Oven Isn't Starting
Broil Element-
Your oven broiler element is found at the top of the oven. It is designed to produce very high heat. This element is another part of your oven that you can check out just by looking at it to see if it needs to be repaired.
To see if your broil element needs to be repaired, start by removing the back panel, look for the broiling element's terminals, and see if they have been overheated or damaged.
You can test the broil element by using a multimeter tool. If you do not have one, they cost very little, under 20 dollars, from your local hardware store. But if this isn't something you are comfortable doing, you can always call Gulf Coast Appliance.
Little to No Heat When Baking
Cause 1|This may seem silly but check the position of the knobs and bottoms on your stove and oven to ensure they are in the correct places because sometimes when cleaning, they can get moved around. So, this reason can be a simple fix!
Cause 2| A common reason for your oven not heating correctly can be due to the heating element. The first thing you want to do to test the heating element is to turn your oven on to 400 degrees Fahrenheit. If you notice that the rod at the bottom of your range doesn't start to glow red, it should be replaced.
Additional Oven Problems
Other common parts you should check when it comes to your oven are surface burner elements, temperature sensors, bake elements, and electronic control boards.
Contact Us to Fix an Appliance or Two
So, is it worth it to fix an appliance? At Gulf Coast, we find there are many repairs that are worth a repair. Then there are some that are not worth the effort, and it is time to replace the appliance. But the question is more accurately stated in this way. Is it worth it for you to fix your own appliances?
That is where we come in. Gulf Coast Appliance Repair is trained in many different home appliance services. If you feel uncomfortable performing any of the tasks above, we would be happy to come to your home and do that for you. Even if you don't see your issue listed above, let us know how we can help. Give us a call today to get scheduled and get your home up and running again.