If 2020 and 2021 taught the world anything, it also introduced us to value the things we can successfully accomplish at home. In fact, our home appliances have become more and more essential to the inner workings of our daily lives. That is why we have had so many clients ask how to dry clean their clothes at home.
Yes, you can dry clean your laundry at home with functional appliances, and Gulf Coast Appliance can teach you various methods. It is always best to treat your clothing like they are delicate if they read handwash or dry clean. This involves a bit more caution when wearing those items.
Keep hairsprays, deodorants, toothpaste, and perfumes away from the clothing. Delicate clothing goes on last!
Treat stains immediately, so they do not become set in.
Air out your garments. If you are going to re-wear an item, hand it where it can air out before tucking it into the closet.
When it is time to clean the garment, here are the best practices for an efficient home dry clean. Keep reading to learn more.
The Basics of Dry Cleaning
To understand the basics of dry cleaning at home, you may want to learn a bit about why we dry clean and the methods used by the professionals. Professional dry cleaners use chemical solvents instead of water and detergent to release oils and dirt. The more commonly used chemicals are tetrachloroethylene or perchloroethylene.
Now, those chemicals are not readily available and require special techniques for optimal and safe usage. Therefore, other methods have been developed and perfected over the years. That way, if you cannot or do not want to run to the dry cleaner with your precious garments, you can get them clean at home.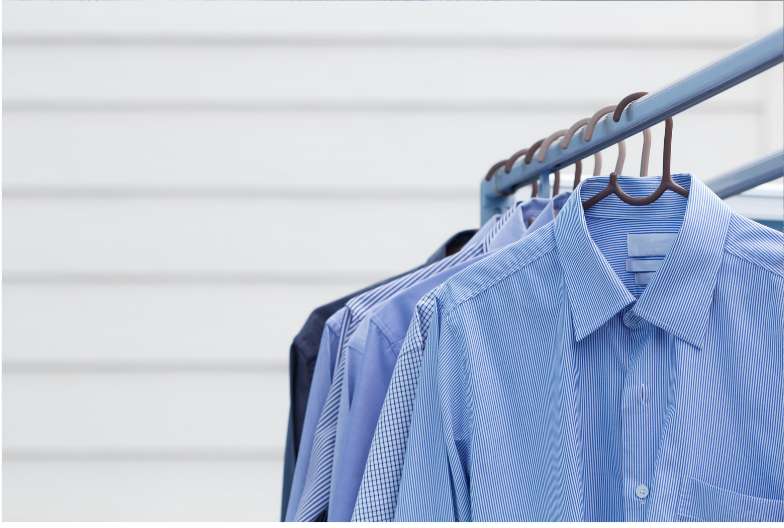 Hand Washing Your Clothes
Before going any further, you should know that many fabrics can be hand washed. Town and Country Magazine says it like this.
"Handwashing increases the longevity of textiles by preserving fibers and detailing. In a washing machine, delicate fabrics can snag inside the drum and disrupt the fibers or detailing and using a water temperature that's too warm or a spin cycle that's too aggressive can also disrupt delicate fabrics."
Therefore, if you see the label on a garment that says "handwash only," you would be best to follow that advice. For handwashing, there are options available to make the process a bit easier.
Wash in a laundry tub or sink with cool water and mild laundry detergent. For stained or dirtier garments, let them sit in the water for 20 minutes, agitating every once and a while. Then lightly scrub and rinse. Rinse well and hang or lay flat to dry.
Use the delicates or express wash on your washing machine. Here you will want to only wash like garments and colors together on cold water. Then you will still need to hang or lay flat to dry.
Spot treatment can be used if your garment is clean but has a spot. Simply stain treat the area and allow to sit for a minute or so. The lightly blot and rise the spot. Then you can let the clothing to air dry.
Now, if your garment says "dry clean only." There are ways to accomplish that at home as well. Please know you should never try to wash fine suits, pleated skirts, or wool. Those fabrics should be taken to a dry cleaner for professional treatment.
Dry Clean Methods Used at Home
Are you aware you can save time and money by dry cleaning your clothes at home? Home dry clean methods are readily available and easier than you think to do. Here are some of the ways you can dry clean your laundry in the comforts of your home laundry room.
Before you start, be sure to read the label carefully and have the tools you need for washing.
Note: In most cases, Clothing made from cotton, linen, silk, and polyester can all be safely washed at home using one of the safe dry clean at-home methods.
Dry Cleaning Kits: One option is to use a pre-made dry cleaning kit that can be used in the dryer. First, you will want to pre-treat any spots and stains with the chemical and pad that comes in the kit. Then it is ready for the dryer. Slip your garments in the bag provided and a cloth from the kit that is pre-moistened with the chemicals used. With a dry-cleaning kit, your garments steam, eliminating the need for water.
Steamers: Steam cleaning is popular for home laundering. If your laundry is not very dirty and just needs a refresh, this option will work. But if the item is soiled or sweaty, you will need to dry clean at home with another option. You see, the heat in the steam will kill bacteria in the fabric and remove wrinkles. But it won't remove grass stains from the knees or a giant spaghetti splotch on a shirt.
Steam Settings on Washers: Steam washers pull water at 148 degrees, eliminating tough stains like grease and grass. And an added feature of these appliances is that they will cool your clothes down after steaming so they do not shrink.
Steam Dryers: If you decide to freshen clothes with the steam setting on your dryer, ensure there are no stains first. Spot clean any stains and then place the garment in the dryer on the correct setting. The blast of steam will freshen it up nicely.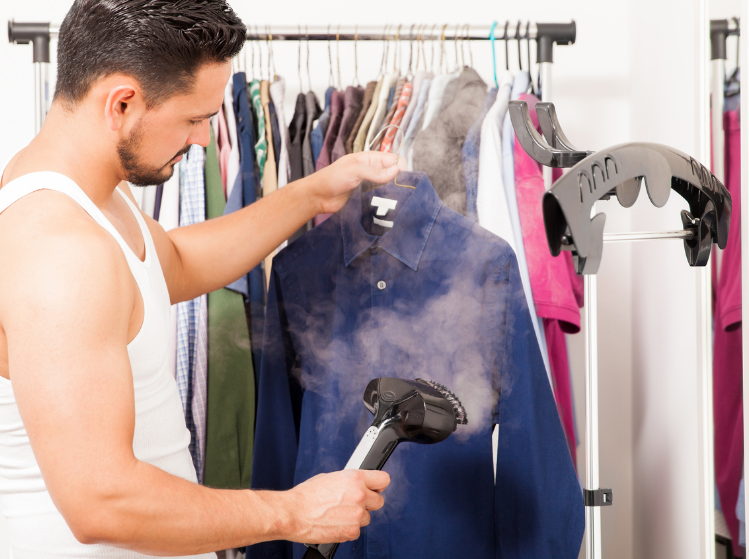 Dry Clean Only: Fabric Breakdown
Again, before you begin cleaning clothes, it is essential to know the fabric you are working with. Each type may have specific ways to clean spots effectively. So, we have put together this short list of the various materials and how best to treat them when you dry clean at home.
Delicates and Silk: Always pre-treat stains, then soak in col water for 30 minutes if the label says you can hand-wash. Then you can wash it on a delicate cycle or steam clean the item.
Wool and Cashmere: You can use special detergents to launder wool and cashmere at home. Just follow the instructions on the label. If it can be hand-washed, treat the item like the above delicates and silks.
Suede: In most cases, suede cannot be laundered or ironed. So steaming is the best method to get rid of bacteria and odor. You can also use a spritz of fabric softener on the inside of the garment for that freshly washed scent.
Leather: The same as suede, leather cannot be thrown into the wash. The preferred method would be spot treatment and blotting the areas with a clean damp white cloth. Then steaming will take the clean one step further for the garment's interior.
Suit and Sport Coats: Never throw a suit coat or blazer into the washer. It will not come out the same ever again. Try wool and cashmere spritzes on the interior lining of the coat. Spot treat any stains on the outside using a clean damp cloth. And steaming is best if you cannot get the item to a dry cleaner.
Oversized Coats: If you have a winter coat that needs washing, try some cold water and a gentle detergent in the bathtub. Allow it to soak for 20 minutes or so. Then press the water out and hang the coat to dry. Don't wring it, in any case!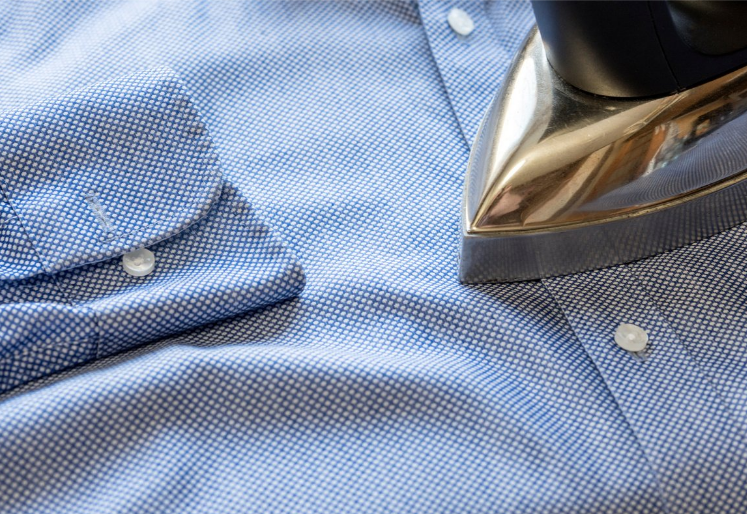 Maintain Your Laundry Room Appliances Too
Of course, you should care for all the garments you love and wear often. But your appliances need some attention too! As with any piece of machinery, as appliances age, the natural wear-and-tear slows efficiency. Furthermore, even the slightest damage causes significant issues in the long run.
When you need that silk blouse cleaned, you may not have any choice but to handwash it if your washer is on the fritz. Maintaining your washer and dryer will benefit you and your clothing in the long run. Here is how:
When appliances work harder than they should, they require more money and energy. One sign that one or more appliances in your home need maintenance or repair is an energy bill higher than average.
Having regular tune-ups and oil changes on the car extends the vehicle's life. In fact, regular physician checkups extend our lives as well. Maintaining your appliances increases the lifespan of your devices as well.
Unfortunately, thousands of house fires are caused by malfunctioning appliances each year. The key to preventing damage or injury from appliance fires is preventative appliance maintenance.
No doubt, when any of your appliances malfunction, it creates a backup on busy schedules. However, most surprise repairs can be avoided when appliances are maintained.
Contact Gulf Coast for Same Day Appliance Repair
Gulf Coast Appliance Repair is the local appliance repair company you can count on. For 10+ years, our family-owned business has been serving customers in Pinellas County and the Tampa Bay area. We specialize in repairing appliances, including refrigerators, washing machines, dryers, stoves, dishwashers, and much more.
We have technicians ready and waiting to assist with your laundry room appliances and more.
Contact Gulf Coast Appliance Repair to get the job done or schedule your appointment.