Caring for Each Part of the Laundry Room
In every household, there are a few places that serve as the command center of the home. In some, it may be the mudroom. And for others, the kitchen may serve as the command center of the house. However you run your household, there is no doubt that the laundry room is a great support system to the working family's day in and day out. And when a portion of the laundry room goes caput, your entire function can come to a screeching halt.
When the washer stops working in the middle of washing the sports uniform for tonight's game, you have a big problem. If the dryer leaves your clothing sopping wet when you need that pair of jeans, panic sets in. And if the shirt must be ironed before the big meeting, someone is going to look like they just rolled out of bed.
We all have had these things happen. Therefore, let's get to why they happen and some care tips for your laundry room from Gulf Coast Appliance Repair.
Laundry Room Care Tips
Caring for appliances that we use each day is a part of running a home. When we do not care for these items, they are more likely to break down or just give out. Just like a car needing an oil change or a two-year-old needing a nap, all good things need care and a breakdown now and then.
The Iron
When the iron is not working right, there are no shower steams or rounds in the dryer that will get that crisp look you need. So, fixing it is imperative if you want to look your best. Here are a few of the issues folks find when the iron just won't do its job.
Sticky Iron Syndrome: If you have a sticky iron, you can do things to clean the surface of the iron. Turn the iron on high and turn the steam off. Then run the iron in one direction over a newspaper or a paper towel.
Oily Iron Dilemma: If your iron feels like it has oil on the soleplate, wipe a cold iron down with a rag dipped in a solution of vinegar and water.
Mineral Buildup: If your iron spits out minerals when the steam is on, you could have hard water buildup in the steaming unit. Here is what you can do to fix that condition. First, empty the iron of water and add ¼ cup of white vinegar and ¾ cup of distilled water. Then run this solution out on the full steam setting. Now clean the steam vents with a swab and wipe the soleplate with a two to one baking soda and water solution. Clean off the unit, run distilled clean water through the steam vents on high, and voila! Your iron is clean.
The Washer
What is that loud booming coming from the laundry room? It is a sure sign your washer is off balance. Did you know that each time the washer experiences any issue, it damages the unit? Well, here are a few of the more common washer issues we see each day.
The washer won't spin without a ruckus. Adjust the clothing to be equal weight all around. If it still doesn't rotate right, it may need to be balanced, inspected, or leveled out.
When the washer won't fill. Of course, your washer cannot perform its primary function without water. First, check the water supply to the home, then look for leaks at the connections. If those seem to be problem-free, call a professional. They will inspect the pressure switches, temperature selector switches, mainboards, door locks, and more.
If the washing machine is overfilling with water. Clearly, you will need to turn off the water, then call for appliance repair. The pressure switch, the water inlet valve, the mainboard, and more, could be causing the abundance.
Water leaking from the washing machine. Front-load washers can dump a lot of water on the floor if they have a problem with the gasket or door locking mechanism. Perhaps a leaking water supply hose is the issue or clogged drain lines. Call a professional for a complete diagnosis.
When the washer doesn't drain. If the washing machine has a problem with the spin cycle, it will not wash or drain. You may have an issue with the door, locks, motor, belts, transmission, clutch, glides, pulley, or drum roller.
If it won't turn on at all. Obviously, the first thing to check is that the plug has not come loose from the outlet. After that, it could be a problem with the electric or motor board, which are simple replacements.
Still, if your washing machine is over ten years old, you may be entering the stage where it is more cost-effective to replace the unit. In that case, your local appliance repair company will let you know your options.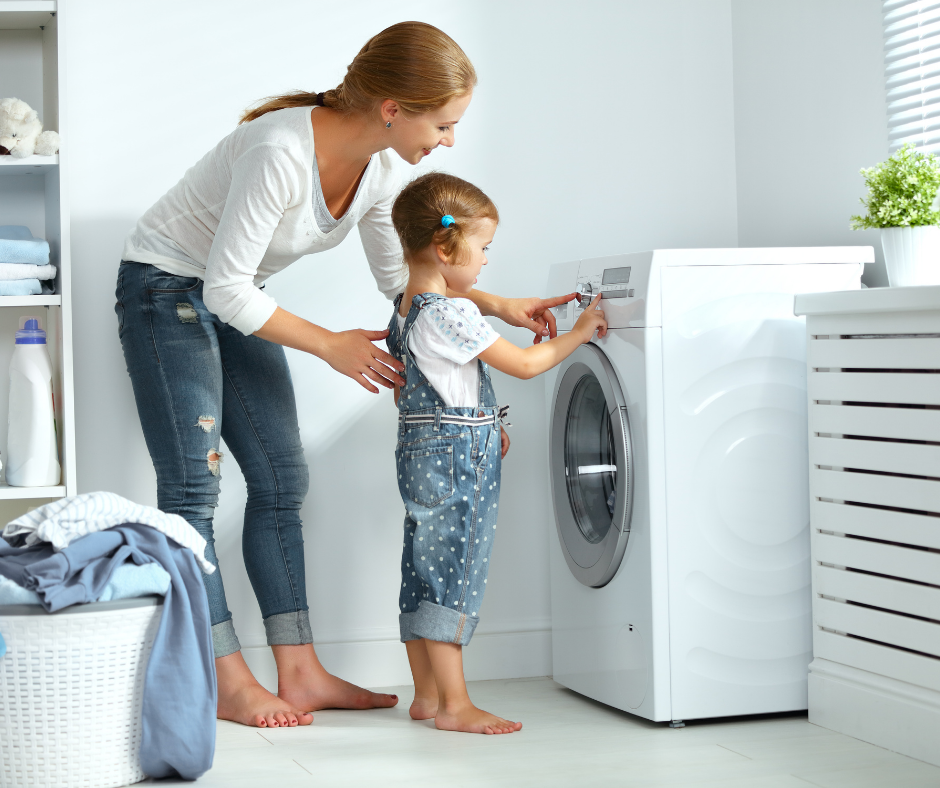 The Dryer
A clothes dryer has many advantages: less ironing, clothes fluffier and softer, and faster drying time. But, if you ignore the clear signs that your appliance needs to be repaired, you may risk a fire or even be electrocuted.
Here are a few more signs that you need dryer repair. 
1. Uncommon Loud Noises: This is a possible indicator that your dryer belt is loose. Call an appliance repair expert to avoid any significant damage.
2. Fire: If you see a fire or smell burning from your clothes dryer, turn off your dryer and unplug it. A fire can melt casing or cause some other type of internal damage. Suppose you turn it back on before it's fixed. In that case, you'll risk a second, possibly more significant fire to break out or electrocution.
3. The Dryer is Heating but Not Spinning: This usually means that the belt has snapped. Call a repair service to replace your belt.
4. If Clothes Take Forever to Dry: This may just be something as simple as overfilling your dryer, or there can be a deeper issue going on. Perhaps it is your belt, a broken sensor, or an electrical problem.
5. Burning Smell: If you check your lint trap and it is clean, this May mean you have a clogged hose trapping in heat. If you let the dryer continue its cycle, then you risk it catching fire and causing even more damage to the internal parts of your machine.
6. Leaks: When the vent is clogged, the wet air has nowhere to go, and so it causes condensation, which results in a water leak. Sometimes it is a dryer vent pipe that hasn't been insulated correctly or one that's been cracked.
8. It Won't Turn On: Check the obvious things like if it is plugged in or if the door is shut all the way. Some machines have a safety feature that prevents turning on if the door is still a bit open. Otherwise, you may have an electrical issue or a vent problem.
It is best to call for help from your local appliance repair company, like Gulf Coast Appliance Repair in coastal Florida, for all these issues.
The Wash Tub
When the washtub or utility sink in the laundry room has seen better days, it could also use a good cleaning. Although this is not an appliance we service, it is a big part of the function of the laundry room. You can run hot water down the sink drain and use a baking soda and vinegar solution to clear out clogs. Then you can use a cleaner that will help remove residue in the basin and rinse it clean.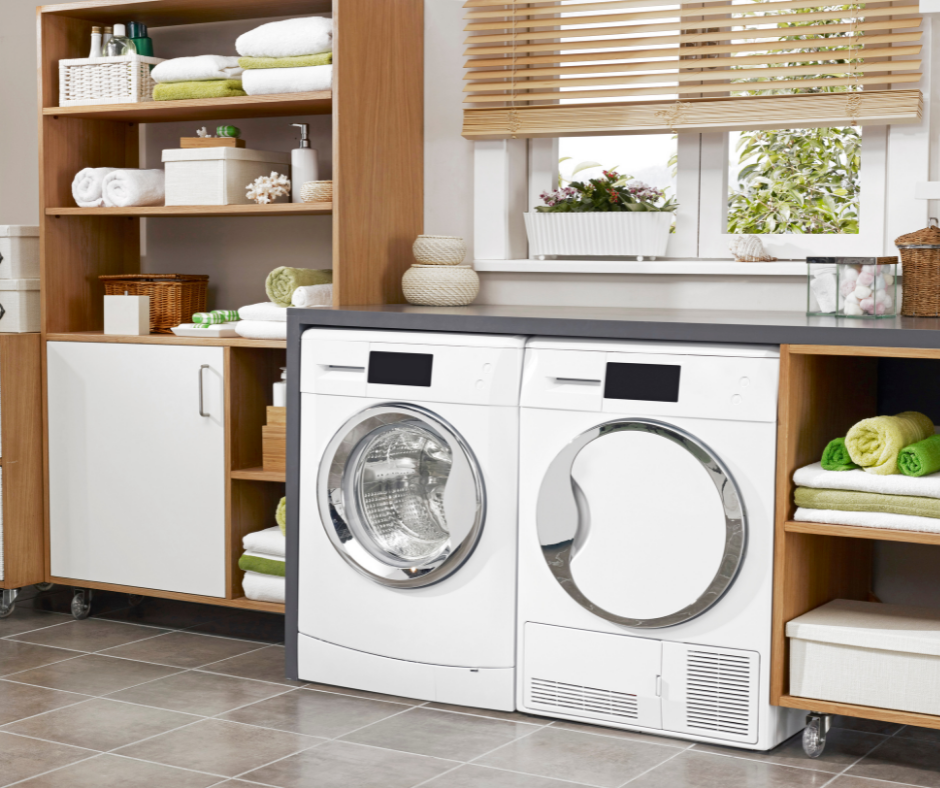 Laundry Room Organization 101
Another component of an optimally functioning laundry room is the ease of access and flow of the room. So many people tend to treat the laundry room as a dumping ground. But that is precisely when your socks go missing, and that favorite shirt gets misplaced. A bit of organization in the laundry room goes a long way towards keeping the home functioning like a well-oiled machine (or appliance). Here is what we suggest.
Adequate shelving will help with the storage of seasonal items. And having one where you can reach it is a great way to keep your cleaning supplies out of reach from little hands and in line for use.
Bins and baskets on the shelves help hold small items and random things you find in the wash. Have one for loose change and another for lonely socks. Then you know right where they are when you need to find that missing sock or go to the arcade. (Do they have those anymore?)
A trash can in the laundry room makes keeping the dryer lint filter clean a breeze. And those dryer sheets can be tossed right in, ending the clutter once and for all.
A rack or hook for air-drying your delicates is a great idea. And if you have one that folds up, it will be easier to put away when not in use.
Laundry sorters are great if you have room. And they come in all shapes and sizes these days. Have a bin for whites, darks, and pastels. Then use a smaller basket or container for delicates or items that need to be treated.
And up the ringing board and any other appliance stored in the room. That way, you have plenty of room to spread out when in there doing all those loads.
Laundry room organization goes a long way in the care of your appliances as well. But if you notice any of the issues in the above paragraphs, make no mistake. It is time to call your local appliance repair professionals for help.
Signs of Dysfunction in the Laundry Room? Call on Gulf Coast Appliance Repair Services.
Gulf Coast Appliance Repair is the local appliance repair company that you can count on. For 10+ years, our family-owned business has been serving customers in Pinellas County. Contact us to keep your laundry room functioning at its best.