With the new year beginning, Gulf Coast Appliance Repair recommends starting your year with a schedule that will help you accomplish your goals while keeping your house in order. After all, the spring-cleaning season is coming– so here are some valuable tips to help you keep up with your appliances.
Spring Cleaning Season General Tips:
1| Make a Schedule
2| De-Clutter
3| Use a High-Quality Vacuum
4| Use Green Cleaning Products
5| Clean from Top to Bottom
6| Don't Forget About Filters
7| Protect Yourself from Allergies
Spring Cleaning Season– Dryer Cleaning
Many people don't realize the importance of keeping their dryers clean. Failing to remove dust, lint, and fibers is a leading cause of residential fires. Keeping this appliance adequately cleaned and maintained goes beyond emptying the lint filter. But taking your time with this can be a very easy clean. You will only need a couple of simple tools to clean your dryer.
Lint Trap Holder
One tool you can add to your cleaning routine is buying a rotary bristle brush to make the process easier. You will use this brush to remove the lint that's trapped between the mesh screen of the lint trap. 
It's critical that it's removed because a dust-free trap allows for better airflow. Another thing you can do is remove the lint trap and vacuum the area to keep the dust and debris away.
Lint Trap
If you use fabric softeners and dryer sheets, residue buildup is increased. Be cautious of this buildup that gets trapped in your lint tray. A simple way to clean it off is to use an old toothbrush dipped in warm water and rub it along the lint tray. Ensure the tray is completely dry before putting it back into your dryer.
Dryer Drum
The drum of your dryer can collect residue from fabric softeners and dryer sheets. You can wipe it down with a microfiber cloth and leave the door of the dryer open so that it can air dry. Once a month, spray half water and half vinegar mixture and mist the inside of your dryer drum.
Vent Ducts
One of the most important things to keep clean on your dryer is your vent ducts. The vent ducts lead from the back of your dryer to the outside of your home. Maintaining this part of your dryer is crucial so you will have a safe appliance.
Most manufacturers have made it easier for homeowners to keep their dryer vents clean without the help of a professional. As we mentioned before, you can also use your rotary cleaning brush to clean out this part of your dryer.
Spring Cleaning Season — Dishwasher Cleaning
I don't know about you, but this is one appliance I would not want to stop working. So to prevent that we're going to give you some cleaning tips.
Food Bits and Debris
After running your dishwasher, you should remove any leftover bits of food at the bottom of the dishwasher. Pull out the rack from the bottom and look for anything that has fallen into the filter or has gotten stuck to the screen. 
Also, check around the heating element to make sure it is not hot anymore before you remove anything. This can easily be removed with your fingers or a paper towel. By doing this simple step, it will help prevent future buildup and odors.
Door Seals
Kitchens can get messy so if you see any splatters or greasy residue on the seals of your dishwasher, wipe them away with a microfiber cloth or a sponge. Gently rub any of the residues away, and if that doesn't work, which is with the help of a cloth, you can use an old soft, bristled toothbrush dipped in warm water with a mild soap.
Cleaning Filters
Your dishwasher's filter is found at the bottom of the spray arm. To get it out, you will need to pull out the bottom rack. Once you remove the filter, take it out and run it under hot water. Using a soft toothbrush to remove any particles or grease stuck in the cracks. Once you've rinsed it clean, you can lock the filter back into place.
Dishwasher Exterior
The dishwasher's exterior doesn't need as much attention. Still, it will always add a nice touch to your kitchen if you frequently wipe away any fingerprints, grease, or any other splatters that have gotten on the dishwasher's exterior.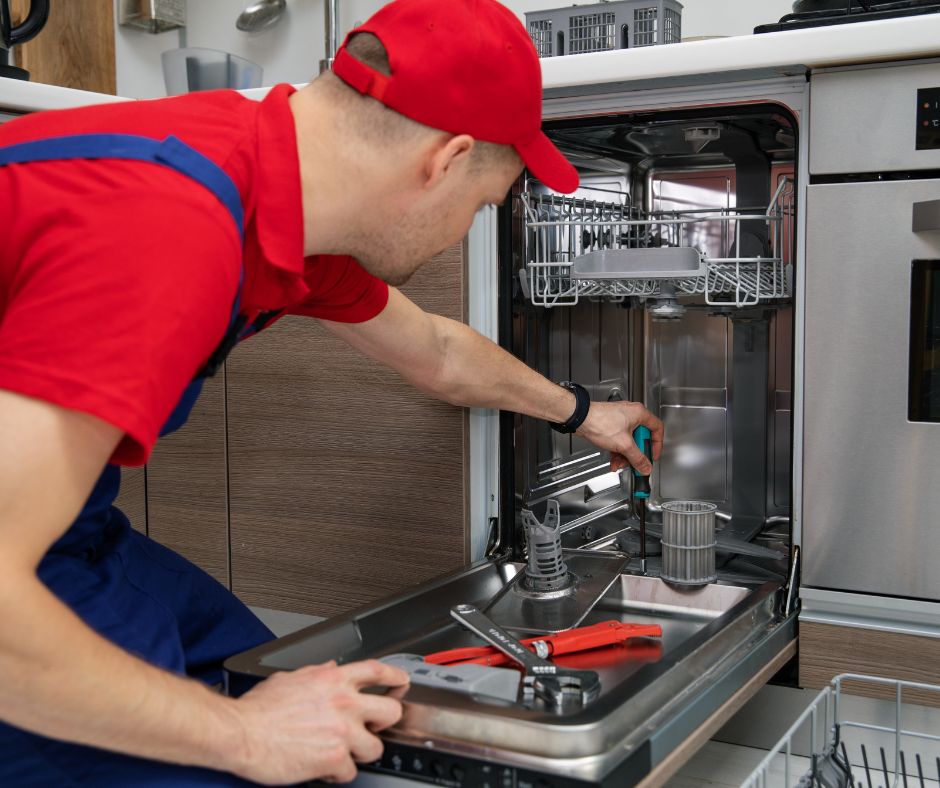 Spring Cleaning Season — Refrigerator Cleaning
Shelves and Drawers
To start with cleaning your refrigerator, you can remove the shelves, racks, and drawers and soak them in hot water and mild dish soap. Let any glass material get to room temperature before soaking them in hot water; otherwise, it may crack. If you have any stubborn spills that aren't coming off, you can lay a hot washcloth with cleaner over the spill and let it soak for a few minutes.
Refrigerators Interior
For the things you can't remove from your refrigerator, grab some water and baking soda and clean inside your refrigerator with one baking soda and seven parts water. Try to stay away from commercial refrigerator cleaners because the scents might transfer to your food.
Work on your refrigerator from top to bottom to prevent any drips from landing on the surfaces you have already cleaned. Again, you can use a toothbrush designated for cleaning or other little tools like toothpicks to get into the cracks that you can't get in between with a brush. Once you're done cleaning everything, wipe everything down with a clean, dry towel.
Removing Odors
Once you have completely cleaned the inside of your refrigerator and put everything back, you can take a container of dry baking soda and place it on the bottom shelf of your refrigerator. This will help absorb any future odors that may linger near your food. So, keep it there at the bottom of your refrigerator so that it's out of the way and easy to replace.
Washing Machine Spring Cleaning
Dirt and grime that's removed from your towels, clothes, and sheets have to go somewhere, right? This can result in buildup in your washing machine over time. And if you don't clean your washing machine regularly, the appliance can make hard water deposits, mildew, and mold around the door.
Self-Cleaning Mode
If your washing machine has the feature of a self-cleaning function, I recommend using that to your advantage. But if it doesn't, there's no need to worry. You can follow three simple steps to eliminate the buildup that has accumulated inside your washing machine, hoses, and pipes.
1| Start a hot water cycle with vinegar while leaving the washer empty. The vinegar will prevent bacteria growth and act as a deodorizer to cut through mildew odors. All you need is hot water and vinegar to clean it. And don't worry about the vinegar harming your machine. This does not cause any damage to the machine or future items that you wash.
2| Scrub inside and out of the washer with ¼ cup of vinegar and a quart of warm water. You can grab a sponge or a delicate toothbrush to start cleaning inside the machine. If you have a fabric softener and soap dispenser that's removable, take it out and let it soak in the sink with vinegar before you start scrubbing it. And while it's soaking, you can clean the inside of your washing machine drum.
3| Run a second hot water cycle with ½ cup of baking soda to help remove and buildup that was loosened from the first hot water cycle. Once this cycle is complete, wipe the inside of your washer drum with a microfiber cloth to remove any residue that was somehow left over.
Spring Cleaning Season for Appliances and More
Gulf Coast Appliance Repair is here to help you keep up with your maintenance repairs and replacements. Then, hopefully, with the tips that we listed above, extensive repairs can be avoided.
If there's anything you're not comfortable doing, please reach out for professional help. Gulf Coast Appliance Repair will come to your home and help you with all your appliance needs.