If you are looking for a way to make weekly trash trips into a monthly affair, a trash compactor is an excellent solution. These convenient appliances can reduce the volume of your household waste by up to 80%. It's no wonder homeowners are willing to spend a pretty penny on a kitchen trash bin.
But they are much more than your average trash can. Equipped with horsepower motors, odor control filters, and so much more, trash compactors take convenience to the next level.
Not to mention, they come in all sorts of designs and sizes, giving you many options to choose from.
In this blog, Gulf Coast Appliances shares the best kitchen trash compactors. Whatever your budget and needs, you are sure to find what you are looking for in one of the following trash compactors.
Make trash day a breeze with some of the top trash compactors on the market today.
What Should You Consider When Purchasing a Trash Compactor?
When looking for your ideal trash compactor, it helps to know what really sets one unit apart from another. And if you are unfamiliar with these comparable features, the various options can become overwhelming. To make the best decision, consider the following:
Design
Compression Ratio
Additional Features
Design
Trash compactors can range in design of both functionality and appearance. For instance, some models are limited to a single finish. In contrast, others come with multiple options, like white, black, stainless steel, and panel-ready.
Plus, some trash compactors are automatic and motor-powered, while others are hand-operated.
Compression Ratio
These appliances are built to reduce the volume of household waste by crushing the trash into a fraction of its original size. The compression ratio describes the degree to which the trash compactor reduces the waste. For example, you can reduce your household waste by 50% with a unit that has a compression ratio of 2-to-1. In other words, ten gallons of trash is compressed into five gallons.
Additional Features
Each model comes with a unique set of features that make disposing of trash all the easier. Some of the standard features found in trash compactors are odor control, hands-free foot pedals, wheels for mobility, and many more.
The Top Kitchen Trash Compactors
Best Overall
Whirlpool 15-Inch Undercounter Trash Compactor
Reduce your home's waste by a whopping 75% with this impressive Whirlpool model. Equipped with a foot pedal drawer opener, the trash compactor offers hands-free and hassle-free use.
But, Whirlpool doesn't stop there. They seem to have ticked every box on the ultimate list of the best trash compactors, including ample storage capacity, sleek and modern appearance, anti-jam technology, and an easy-to-empty drawer.
Average Price: $1,200 – $1,500
Other Notable Features:
1/3 horsepower motor
Capacity of 10.5 gallons
Stainless steel finish
KitchenAid 15 in. Built-In Trash Compactor
You surely won't be disappointed with this KitchenAid compactor that reduces your household waste by 80%. This outstanding model may be pricier than other trash compactors. After all, quality comes at a price.
Noise-reduction technology and odor control make this trash compactor even more convenient than other models. Plus, it is available in a panel-ready design if you're looking to attain a seamless look in your kitchen design.
Average Price: $1,700 – $1,900
Other Notable Features:
1/3 horsepower motor
Odor management system includes a fan and charcoal filter
Stainless steel finish or panel-ready design
Best Portable Trash Compactor
Gladiator 15-Inch Freestanding Trash Compactor
The Gladiator freestanding compactor blows all other trash compactors out of the water when it comes to mobility. Four sturdy rubber wheels allow for easy and smooth travel throughout the kitchen. If your culinary endeavors often have you dancing around the kitchen from one countertop to another, this model is for you. Plus, you can easily move it all over the house for any waste disposal needs.
This unit has a 4-to-1 compression ratio, reducing household waste by 75%. But what makes it most impressive is the price. With high compression and mobility, it's hard to believe the model is priced so affordably.
Average Price: $700 – $880
Other Notable Features:
Foot pedal for hands-free opening
Anti-jam technology
Hammered granite finish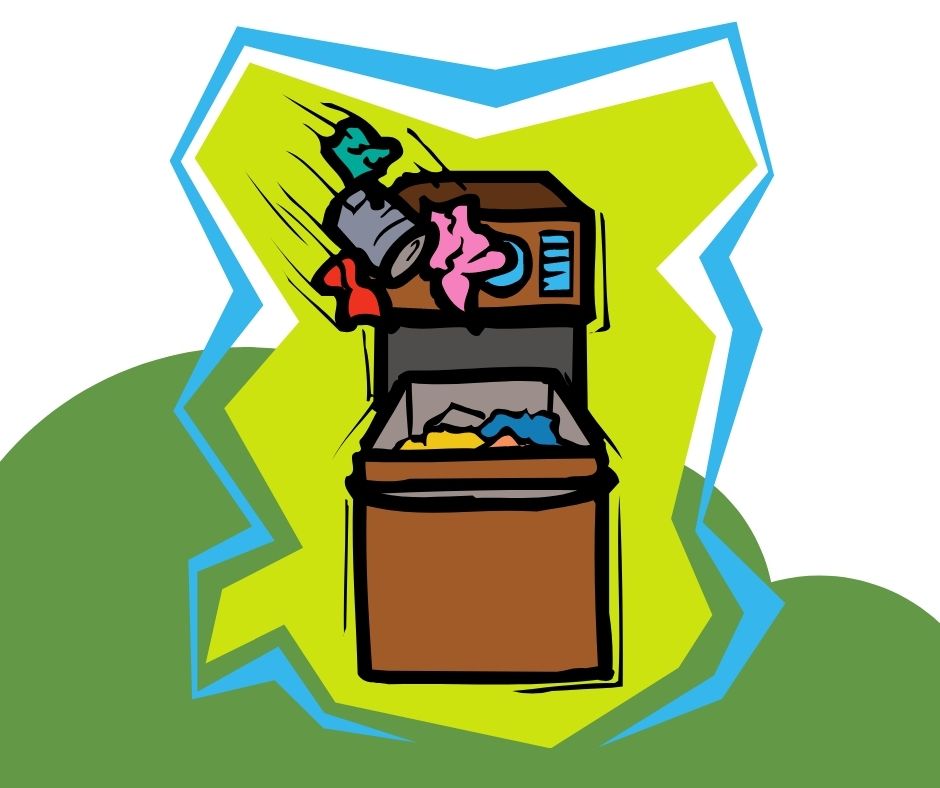 Best Manual Trash Compactors
Household Essentials TK10XL-1 Trash Krusher
This manual household essentials model is one of the most affordable trash compactors on the market. Of course, it is operated by hand, so the cost doesn't have to account for a high-powered motor. However, you'll be surprised how much it has to offer otherwise.
The product has a 10-gallon capacity, much like high-end models. Plus, a soft-touch foot pedal and slow-close lid make the model just as easy to use. All that's needed is a press of the handle, and your trash is reduced significantly.
Average Price: $110 – $180
Other Notable Features:
Notch to securely hold the bag in place
2-to-1 compression ratio
Joseph Joseph Intelligent Waste Titan Trash Can Compactor
Reducing household waste by 66%, this Joseph Joseph manual compactor isn't far behind its motor-powered counterparts. Plus, this model is smaller than other trash compactors, making it ideal for less spacious kitchens or apartment living.
And with an odor-control filter, you'll hardly even notice its presence until it comes time to use it again.
Average Price: $160 – $190
Other Notable Features:
Comes with durable custom liners
Holds up to 16 gallons of waste
Hands-free use with foot pedal
Best Freestanding Trash Compactor
Whirlpool 15-Inch Convertible Trash Compactor
This model is the best of both worlds, with the ability to be freestanding and installed underneath countertops. This allows for flexibility as your kitchen design changes over the years. In result, it's the perfect choice for those looking to invest in the long-term.
Not to mention, it comes in various colors, making it an excellent product for adding a personal touch to designing. However, flexibility often comes at a cost. This model may be a little more pricey than other trash compactors. Yet, glowing reviews make it clear that the product is worth the price.
Average Price: $1,080 – $1,300
Other Notable Features:
Capacity of 10.5 gallons
4-to-1 compression ratio
Foot pedal for ease-of-use
Best Undercounter Trash Compactor
GE 15-Inch Built-In Trash Compactor
This GE model comes in three colors- white, black, and stainless steel. And it can be ordered panel-ready, making it one of the most flexible in design compared to other trash compactors.
These options offer a seamless appearance for your kitchen's overall look, which can be an obstacle for most under-counter compactors. What's more, it reduces household waste by 75% and holds 10.5 gallons of trash.
Average Price: $1,080 – $1,200
Other Notable Features:
Hands-free use with foot pedal
Rear wheels for mobility
Removable drawer
Install Your Brand-New Trash Compactor with Gulf Coast Appliances
After learning everything you need to know about the best trash compactors on the market, you're ready to make a decision and purchase your brand-new appliance. This is certainly an exciting time.
Trash day is going to be much different from here on out.
But, don't make the mistake of improper installation. The last thing you want is your compactor not to work the way it was intended.
And with Gulf Coast Appliances, you won't need to worry about a single thing. That's right. We will install your shiny new trash compactor for you!
Count on our expert staff to correctly install the appliance. Plus, you can always give us a call for any appliance repair needs.
Gulf Coast is proud to have serviced Pinellas County, Florida, for over 10 years. See why our loyal customers trust us with their appliance needs and give us a call today.