What's It Take to Wash Shoes These Days?
Did you ever consider washing your favorite shoes to restore their vibrance? There are plenty of remedies you can incorporate into your routine laundry day to make those loved shoes look almost brand new again. Gulf Coast Appliance Repair offers several ways to wash shoes so you can keep those favorite kicks for another season.
The fall makes people want to get out and be more adventurous. The slightly more temperate Florida weather invites us to enjoy the outdoors and explore. Now, if you are like most Floridians, your summer tennis shoes could be a bit… funky. In fact, they may be downright sweaty. Add the fall adventures, and you could be looking at your favorite shoes and wondering if they should be your fave anymore. But that is alright. You have worn those shoes as they were intended; that's a good thing.
So when you are ready to give your funky dull shoes a makeover and extend their life a bit longer, here is what we suggest.
Ways to Wash Shoes Quickly and Effectively
If you just completed a summer running program, your sneakers may need a wash. Suppose you completed your first mud run. In that case, your kicks need some intensive care. Perhaps you have just returned from a woodland hike, and your shoes are a bit worse for the wear.
Some shoes you can just throw in the washing machine and others would fall apart in the washer. And don't get us started on shoes in the dryer. Not only does it sound like a freight train coming through your laundry room, but shoes in the dryer can ruin the shoes and the dryer. The good news is we have ways to wash tennis shoes and more right here. Just be sure to air dry them unless the label says otherwise.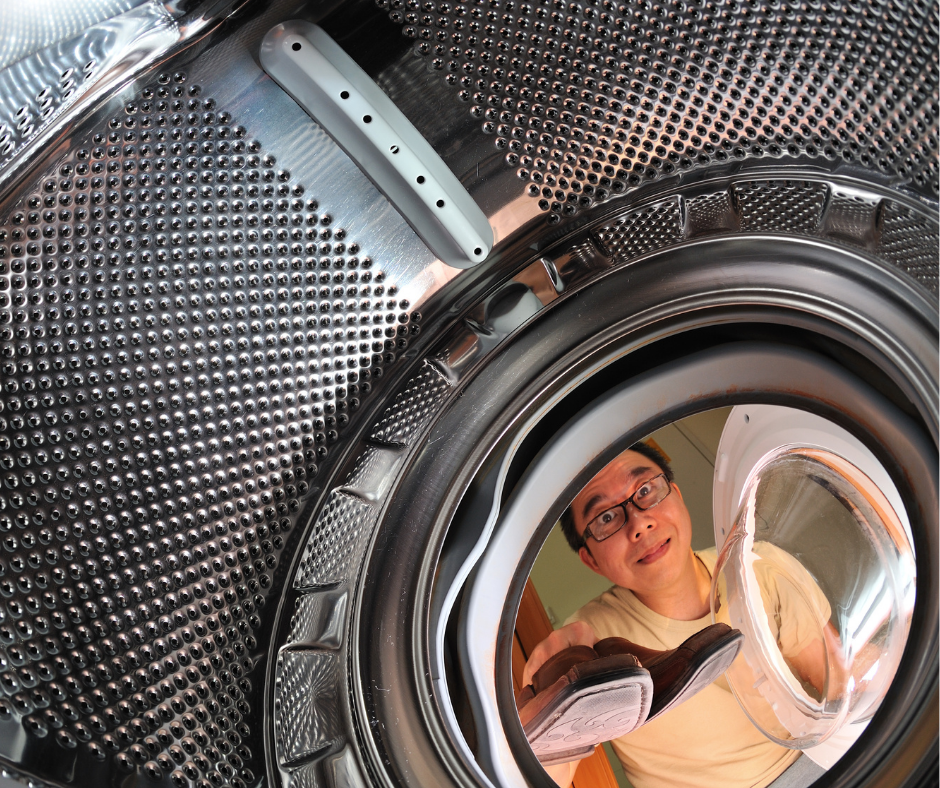 Leather Shoes
The best solution for leather shoes is water and white vinegar. Simply dampen a cloth with the solution and give them a good wipe down, concentrating on any stains. Then wipe them dry with a clean cloth.
Patent Leather
When patent leather gets scuff marks, a cotton swab and petroleum jelly should remove them. Then wipe them down with window cleaner to restore that shine.
Suede Shoes
With suede, you need to wipe in one direction when cleaning. Work deep stains out with a shoe brush or soft toothbrush. You can try a little white vinegar or alcohol to brighten and remove stains if required. Then brush dry with a clean cloth.
Canvas Shoes
Canvas is fabric, but most canvas shoes are held together by glue, and that glue will melt if not handled the right way. They cannot be tossed in the washer or dryer. Rather they should be hand washed. Therefore, use a toothbrush to get the dirt off, and then they can be cleaned with baking soda and water. Scrub the paste into the soles to clean the rubber parts. Then place them in a laundry detergent and water solution of cold water. Scrub the canvas with a toothbrush until clean. Allow them to air dry, and don't forget to soak the laces to get them white again.
Running and Training Shoes
Before cleaning, it is a good idea to remove laces, the sole, and any surface dirt. Then the real clean can begin. Mix laundry detergent and some water to scrub the rubber parts and soak the laces. Then, you can wash the canvas parts with a cloth and detergent. Scrub in a circular motion and wipe dry when done.
White Sneakers
White sneakers are relatively easy to clean. A simple solution of baking soda, water, and laundry detergent with a toothbrush can get off the surface marks. Once coated, allow them to sit overnight, then wipe clean in the morning.
Flip Flops
Rinse your flip flops off to remove any dirt first. Then cover them in baking soda and let sit for 5 minutes or so. Then you can toss them in the washing machine on cold or scrub them with a toothbrush and some vinegar.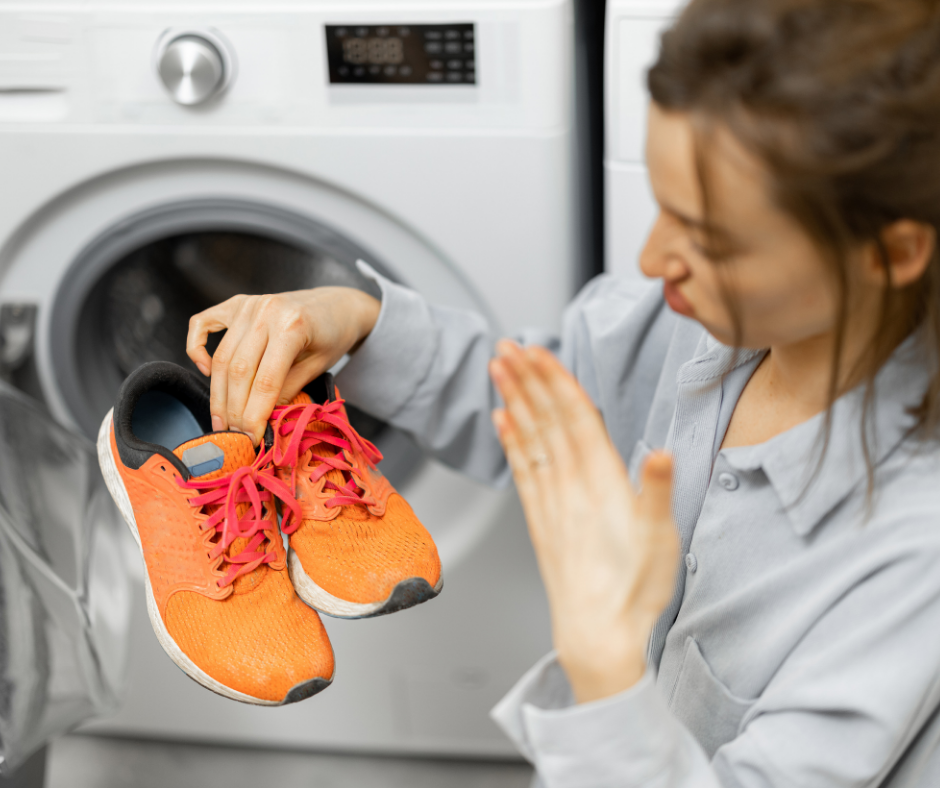 Dealing With Shoe Odor
Now lingering shoe odor is an entirely different issue and can be challenging to deal with. To stay fresh, shoes may need a little odor maintenance now and again. Here are the things that may help control the odor in your shoes.
Wash the insoles- Pull out the insoles and throw them in the washer to start the process of getting rid of the odor.
Newspaper- Place wadded newspaper balls inside your shoes to absorb moisture and leave your shoes with less odor. Then add fragrant oil to the paper, and they will even smell fresh.
Baking Soda- Baking soda is known to absorb odors, so why not try it in your shoes? Simply sprinkle it in and allow it to dry overnight. Then dust it out in the morning.
Rubbing Alcohol- Cotton balls with alcohol on them will disinfect the inside of the shoes and remove odor too.
Cat Litter- Cat litter removes odor, right? So, use it in your shoes to absorb moisture and odor. Dust it out in the morning for fresh-smelling shoes.
Orange Peels- Orange peels have a strong citrus scent that will sweeten the inside of your shoes when left overnight.
When You Can Wash Shoes in the Washer
If you have a pair of shoes that can be washed in the washer, that is the easiest way to clean them up and get them smelling nice again. But there is a process. Follow the steps below to attain clean and fresh shoes in no time.
Start the evening before by removing the laces and insoles.
Then sprinkle baking soda into the shoes and allow them to sit overnight, and dust them out in the morning.
Now grab four to six old towels, your laces in a pillowcase, and the shoes and insoles, and toss them in the washer.
Run the washer on a delicate cycle with liquid detergent on cold.
Then remove the shoes and all parts and allow them to air dry.
Again, never place shoes in the dryer as it will melt the glue.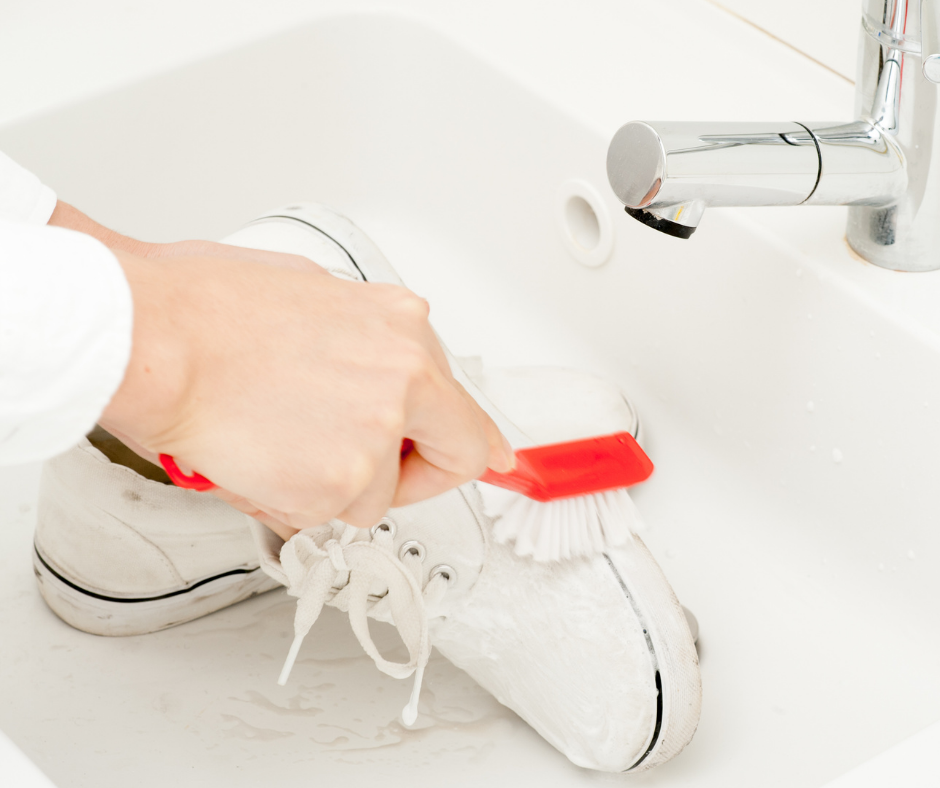 If Your Washer or Dryer Gets Damaged…
There are times when something gets thrown into the washer without your knowledge. If this happens and the washer gets derailed, or the dryer is all out of whack after, you know what to do. Give your local appliance repair company a call for immediate appliance repair.
If you notice the following signs, call for repair:
The washer spin cycle is louder than usual.
That washer will not fill.
There is water leaking from the washer.
The washer will not drain.
Your washer will not even turn on.
If loud noises are coming from the dryer.
When you smell fire near the dryer, call right away.
The dryer will not spin but is hot.
The dryer spins but is not hot.
And if the dryer will not turn on.
In all these cases, Gulf Coast Appliance Repair is the local appliance repair company you can count on. For 10+ years, our family-owned business has been serving customers in Pinellas County and more.
Contact us today to keep the washer, dryer, and all your appliances functioning at their best.