Built-in appliances have become increasingly popular among homeowners due to their sleek and modern design, space-saving benefits, and ease of use. 
From ovens and refrigerators to dishwashers and microwaves, built-in appliances offer a range of benefits that can transform your kitchen into a functional and stylish space. 
In addition to their benefits, it's essential to keep your built-in appliances clean to maintain their performance and longevity. 
However, if after a while or an accident occurs, your appliance made need repair. If that's the case, Gulf Coast Appliance Repair can help! 
In this article, we will explore the benefits of built-in appliances and provide tips for cleaning and maintaining them, so you can keep your kitchen running smoothly, looking great, and away from the repairman!
Considerations When Choosing Built-In Appliances
When choosing built-in appliances for your kitchen, there are several considerations to keep in mind. Doing this will ensure you pick the right appliance for your needs and build the space you've always dreamed of. 
Here are some of the key factors we urge you to consider before buying your built-in appliances:
1. Size
Built-in appliances come in a variety of sizes, so make sure you measure the available space in your kitchen and ensure the appliances you choose will fit comfortably. If you are building your kitchen for the first time or remodeling, consult with your contractor as they will be able to help you select and purchase the right size appliances. 
2. Functionality
What do you need your appliance to accomplish? 
For example, do you need a double oven or just a single one? Would a built-in dishwasher better suit you than a free-standing one? Do you want more countertop spaces? If so, you may want to consider a built-in microwave oven. 
List out the features that are important to you and make the most important ones your top priority as you search. 
3. Energy Efficiency
In many cases, built-in appliances are more energy-efficient than freestanding appliances. It's worth considering how much energy your new appliances will consume and whether they have Energy Star certification before purchasing. 
4. Price
Before fully deciding on built-in appliances, realize they tend to be more expensive than freestanding appliances. Make sure you consider your budget carefully and look for appliances that offer good value for money.
Remember, not every appliance has to be built-in. You could pair a free-standing refrigerator with a built-in dishwasher or vice versa.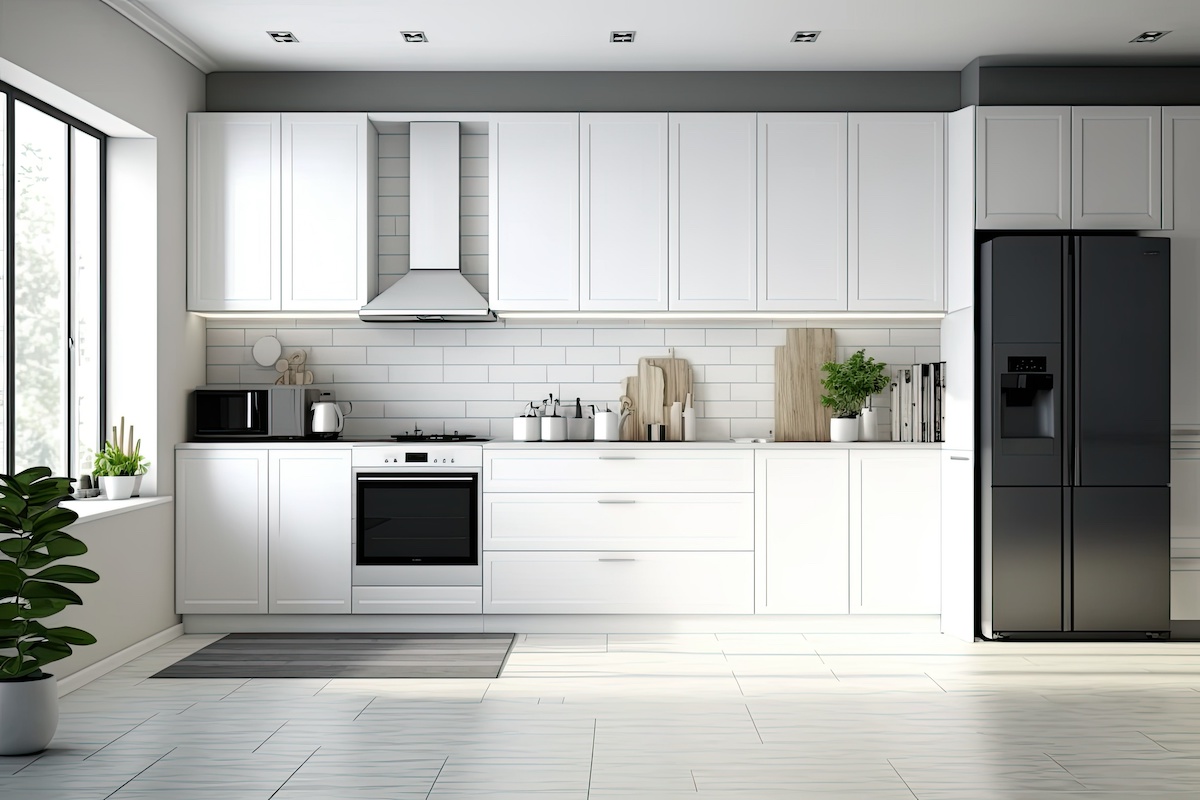 5. Installation
The installation process for your new appliances should play a big role in your decision-making. Note whether or not any modifications need to be made to your existing cabinetry and how long the installation process will take.
10 Benefits of Built-In Appliances
Now that we've covered some of the considerations for choosing built-in appliances, it's time to look at some of the benefits. 
This is not an all-inclusive list, but it does touch on some of the most important benefits of built-in appliances. 
1. They Save Space
Built-in appliances are designed to fit seamlessly into your kitchen cabinetry, unlike free-standing ones that typically stick out and take up open spaces. With space-saving designs, they can give you more room in your kitchen.
2. They are Aesthetically Pleasing
Built-in appliances offer a sleek, seamless look. They can enhance the overall aesthetic appeal of your kitchen, which is especially true if you choose appliances with matching finishes and styles.
3. They Increase Your Home's Value
If you decide to sell your home in the future, they can enhance its value. This is because they are considered a premium feature. 
4. They are Customizable
Typically, built-in appliances are installed when the space is being built or remodeled. This allows them to be customized to fit into specific spaces and requirements.
5. They are Energy Efficient
As we mentioned before, many built-in appliances are designed with energy efficiency in mind. This helps to reduce your household's energy consumption and save you money on your utility bills. You can check the Energy Star certification before purchasing. 
6. They are Convenient 
Built-in appliances are often located at a comfortable height and within easy reach. 
For example, instead of having to bend over to put dinner in the oven, it can be lifted, making it easier to access. This makes your built-in appliances more convenient to use than freestanding appliances.
7. They Give a Cleaner Look
Because built-in appliances are flush with your cabinetry, there are no unsightly gaps or spaces between the appliance and the wall. 
This is a major perk for many owners who are looking for a cleaner and more streamlined space.
8. Built-In Appliances Operate Quietly
They are often designed to operate more quietly than their freestanding counterparts. This is another popular perk among owners because it helps to create a more peaceful environment in your kitchen.
9. They Provide Increased Functionality
Storage space and extra features are what make good kitchens great. 
They can help to increase the functionality of your kitchen, by providing additional storage space and offering features that are not typically available with freestanding appliances.
10. Built-In Appliances are Long-Lasting 
Last, but certainly not least, name-brand built-in appliances are often made from high-quality materials and are designed to last for many years. 
This will give you peace of mind and help you to save money on repairs or replacements over time.
Overall, installing built-in appliances in your kitchen can provide many benefits, from space-saving and increased functionality to enhanced aesthetics and energy efficiency.
If you choose to use built-in appliances in your home, continue reading for a quick rundown of some of our best maintenance and cleaning tips!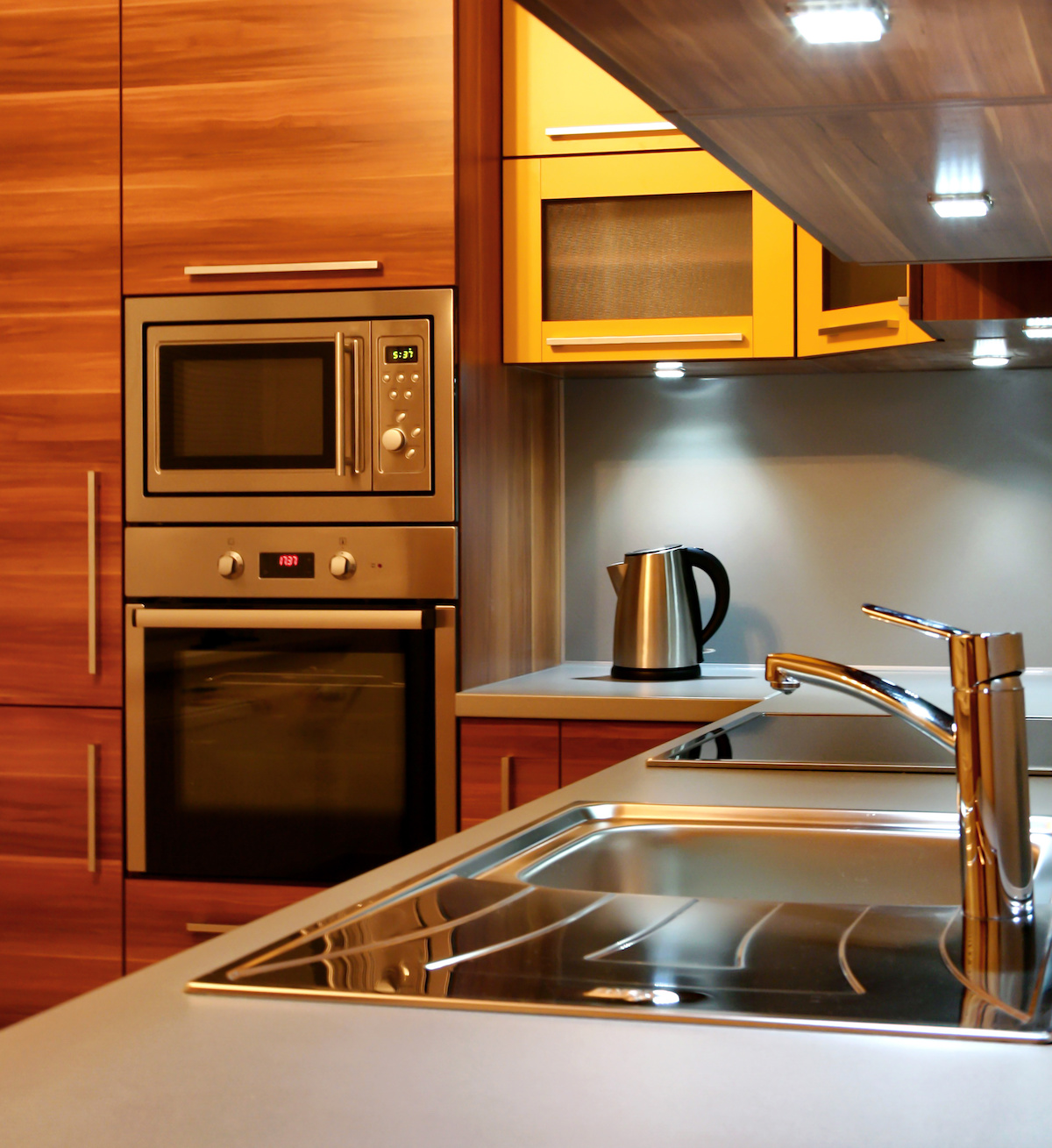 Maintenance and Cleaning Tips for Built-In Appliances
Now that we've covered some of the benefits of built-in appliances, it's important to look at some of the maintenance and cleaning that is required to keep your appliances in tip-top shape! 
Here are some of our general tips for maintaining and cleaning your built-in appliances: 
Ovens
Be sure to wipe down the interior of the oven after each use with a damp cloth to remove any food residue. You should also clean the oven racks and trays with a non-abrasive cleaner and warm, soapy water. 
All ovens also come with a self-cleaning function, but you should only use that when it's in need of a deep clean. The manufacturer's instructions will explain how. 
Refrigerators
To remove dust and debris, make sure to vacuum the condenser coils at least twice a year. You should also clean the interior of the refrigerator with mild detergent and warm water. Don't forget to check the door gaskets regularly for damage and replace them if necessary.
Dishwashers
Be sure to clean your dishwasher's interior and filter regularly to keep food particles from building up. You should also run an empty cycle with dishwasher cleaner every once in a while to keep it working properly. 
Microwaves
After each use, wipe down the inside of the microwave with a damp cloth. If needed, use a microwave-safe cleaner to remove stubborn stains or food residue.
Cooktops
To keep your cooktops in good shape, clean them after each use with a non-abrasive cleaner and warm, soapy water. If there are stubborn stains, try using a cooktop cleaner. 
Range Hoods 
Grease can build up on your range hood so make sure to clean it regularly. You can wash the filter in warm soapy water. 
Warming Drawers
After each use, wipe down the inside of the warming drawer with a damp cloth. You can use a non-abrasive cleaner to remove any food residue or stains.
With regular maintenance and cleaning, your appliances will stay in great shape! However, if they are not working properly after you've taken all of the steps needed, you may need to call in reinforcements from the team at Gulf Coast Appliance Repair!
Does Your Built-In Appliance Need Repairs?
As we've covered, built-in appliances offer many benefits that can enhance your kitchen's functionality and aesthetics. 
By choosing high-quality appliances and maintaining them properly, you can enjoy the convenience and efficiency of your appliances for years to come. 
Remember to follow the manufacturer's instructions for cleaning and maintenance. By taking good care of your built-in appliances, you can ensure that they remain in top condition and continue to serve your household well. However, don't hesitate to call a professional repair service if you encounter any issues with your appliances.
The team at Gulf Coast Appliance Repair is waiting for your call and is ready to help solve any issues you are having with your built-in appliances.
We service all the major appliance brands and we can cover repairs if your appliance is still under warranty, we can even cover appliances that are older or out of warranty as well.
We pride ourselves on a phenomenal value for the work we do and getting the job done right, the first time. If you need a repair you'll get your service call for free.
So reach out to us today to learn more about how the team at Gulf Coast Appliance Repair can help you!