Appliances are often undervalued in the home until they stop working entirely. To avoid sudden breakdowns when possible, it's essential appliance maintenance is regularly performed. But how often should dryer vents be cleaned?
Of course, being able to toss wet clothes into your dryer is more convenient than you think! So, to keep everything running smoothly, we advise knowing how often your dryer vents should be cleaned. Gulf Coast Appliance will explain below.
What Does a Dryer Vent Cleaning Include?
Dryer vent cleaning includes more than just removing dirt from the filter. There are several other critical components that need to be checked as well. Below you can find a step-by-step process on what a complete dryer vent cleaning includes.
Dryer Vent Inspection
First, a thorough inspection of the dryer vent will be completed. The vent will be completely opened on the outside of the home. A professional dryer vent clean-out company will have tools that make this process efficient.
Time to Clear Obstacles
All debris, dirt, leaves, and anything else accumulated around the vent opening must be cleared out so the lint can be removed thoroughly.
Next, the entire dryer vent will be brushed out with a tool that extends the entire length of the vent from the outside in.
The debris and other materials that have accumulated on the exterior of the dryer vent are then removed.
The Area Behind Your Dryer
Inside the house, the area behind your dryer will be completely cleaned up. They will vacuum the area and remove any obstacles impeding the airflow.
Finally, the last step involves thoroughly cleaning out the dryer lint trap and drum.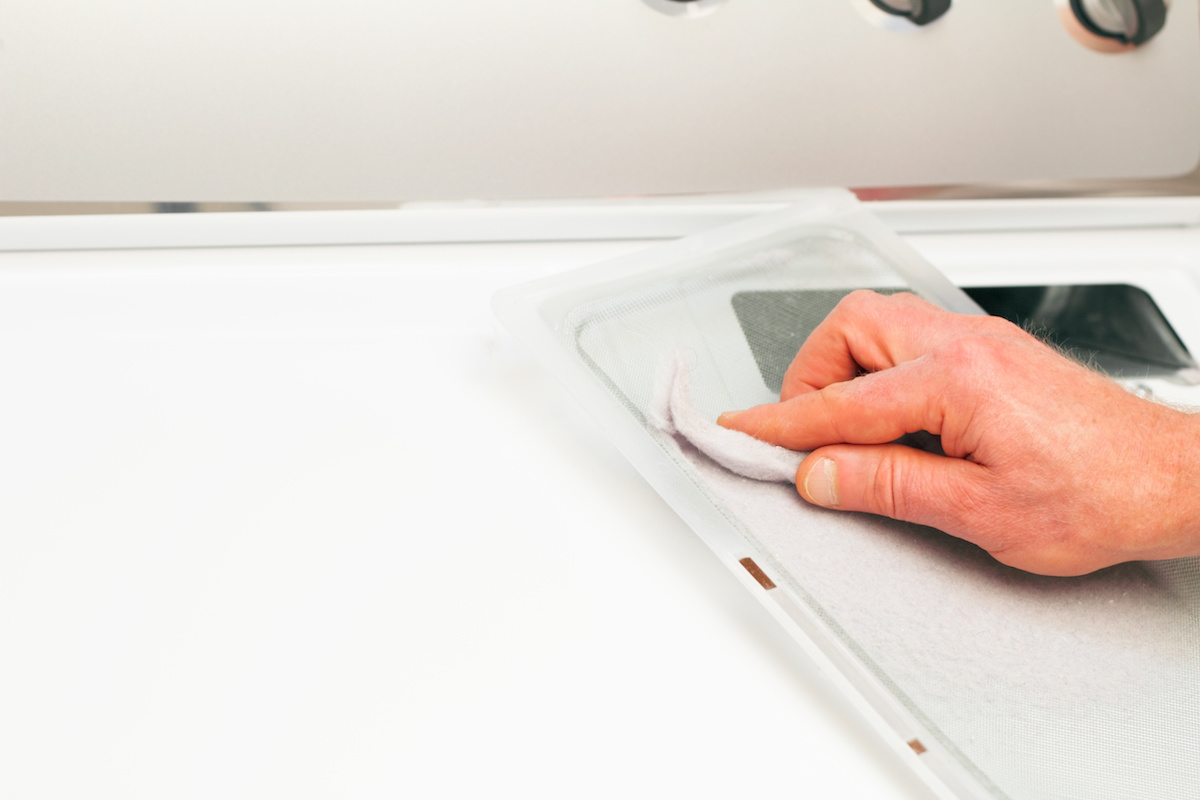 How Often Should a Lint Trap be Cleaned?
According to experts, dryer vents should be cleaned after every load of laundry– and the vent trap at least once a year. 
Professionals recommend you clean it more often if you have a larger family or pets. When you buy new clothes and linens, you may need to pay extra attention to dryer lint accumulation.
Family Size: 

Having a large family means you are doing more laundry. The clothes need to be washed daily, and the more often you use your dryer, the more lent it will accumulate. In this case, your lint trap should be cleaned each load and the vent several times a year.

Pet Homes: 

If you keep pets in your house, your vents will get clogged faster due to their dander and fur. Not only should you clean the dryer vent more often, but the HVAC air filters as well. 

New Clothes: 

According to research, new clothes produce more lint compared to older clothes. So, if you frequently buy new clothes, have your dryer vent cleaned several times a year.

New Linens:

 The reason you love those fluffy new towels is the very thing that can cause a build-up of lint in your dryer. 
Benefits of Dryer Vent Cleaning
Many people don't know, but lint is highly flammable. It can easily catch fire if left to build up in your dryer vent. Following up with regular cleaning will help prevent build-up and prevent the risk of a fire starting. Not only does it prevent fires, but there are other benefits as well.
Saves Energy– Having your dryer vent cleaned regularly can help improve efficiency and lower the amount of power that it consumes. Homeowners who have their dryers cleaned periodically have said they save up to 30% on their energy bills.
Reduce Maintenance Cost– When your dryer vent is cleaned regularly, it's less likely to get clogged or overheated. And because of this helpful tip, it is less likely to break down and experience technical issues.
Less Wear and Tear on The Dryer– if your dryer vent doesn't get cleaned regularly, your dryer is forced to work almost three times as hard as normal to get your clothes dry. The excessive hard work on your dryer can run down the crucial parts that keep it functioning. Regular cleaning of your dryer vents will help improve dryer efficiency and reduce wear and tear.
Unfortunate Facts About Home Dryer Fires
According to www.usga.fema.gov–
2,900 home clothes dryer fires are reported each year and cause an estimated five deaths, 100 injuries, and $35 million in property loss.

Failure to clean the dryer (34 percent) is the leading cause of home clothes dryer fires.

More home clothes dryer fires occur in the fall and winter months, peaking in January.
How to Maintain a Clean Dryer
If you use dryer sheets, you can switch to wool dryer balls. They are static absorbent, and more lint can easily be cleaned out from the dryer's drum instead of it going into the trap.

Place your dryer close to an external wall.

If you have a flexible pipe, replace it with a vent pipe.

Let your dryer cool for 15 minutes between each load so it doesn't get overheated.
DIY Vent Cleaning
There are a few parts of your dryer that you can regularly clean and maintain without a professional, including the drum and the filter. When you keep up with regular maintenance, you avoid many repairs.
Listed below are some helpful tips for cleaning your dryer on your own:
The Filter- The filter is typically accessible through a small door or on the top of the dryer that comes from the inside. It's very easy to open the door and pull out the filter and just remove the lint that has built up after each use.
You can always take it a step further by washing your filter after every couple of loads of laundry. Clothing detergent, fabric softeners, and dryer sheets can clog up the mesh filter and cause it to work harder.
To see if your dryer filter needs to be washed, remove the lint from the last load of laundry that was in there and pour a small amount of water onto the mesh screen. If the water doesn't pour through the little holes on the screen, it's time to wash the dryer filter.
To do this, use warm soapy water and an old toothbrush or a sponge to wash off the mesh until the water can pour through the holes.
Dryer Drum- The dryer drum is the area where your clothes go. Typically, the drum does not need maintenance, but you could consider wiping it down regularly to prevent any build-up from softeners and detergent.
Also, make sure you clean out your dryer if any debris has accumulated from things left over in your pockets. This is especially important if you have a home with pets, little kids, or someone that has extra dirty work clothes. If you notice grit in the dryer, all you need to do is use a damp cloth to wipe the drum clean.
What happens if something sticky or messy ends up in the drum of your dryer? It can be frustrating to see residues left over on your clothes and in the dryer drum, but there's no reason to worry.
You can typically remove anything that has gotten into the dryer by allowing the dryer to warm up for a couple of minutes with some old towels or rags inside. 
Next, use a hard spatula or a rag to scrape away the residue that has built up in the drum. If that doesn't work, you can also try a damp cloth with a little bit of hot water and laundry detergent to wipe it clean.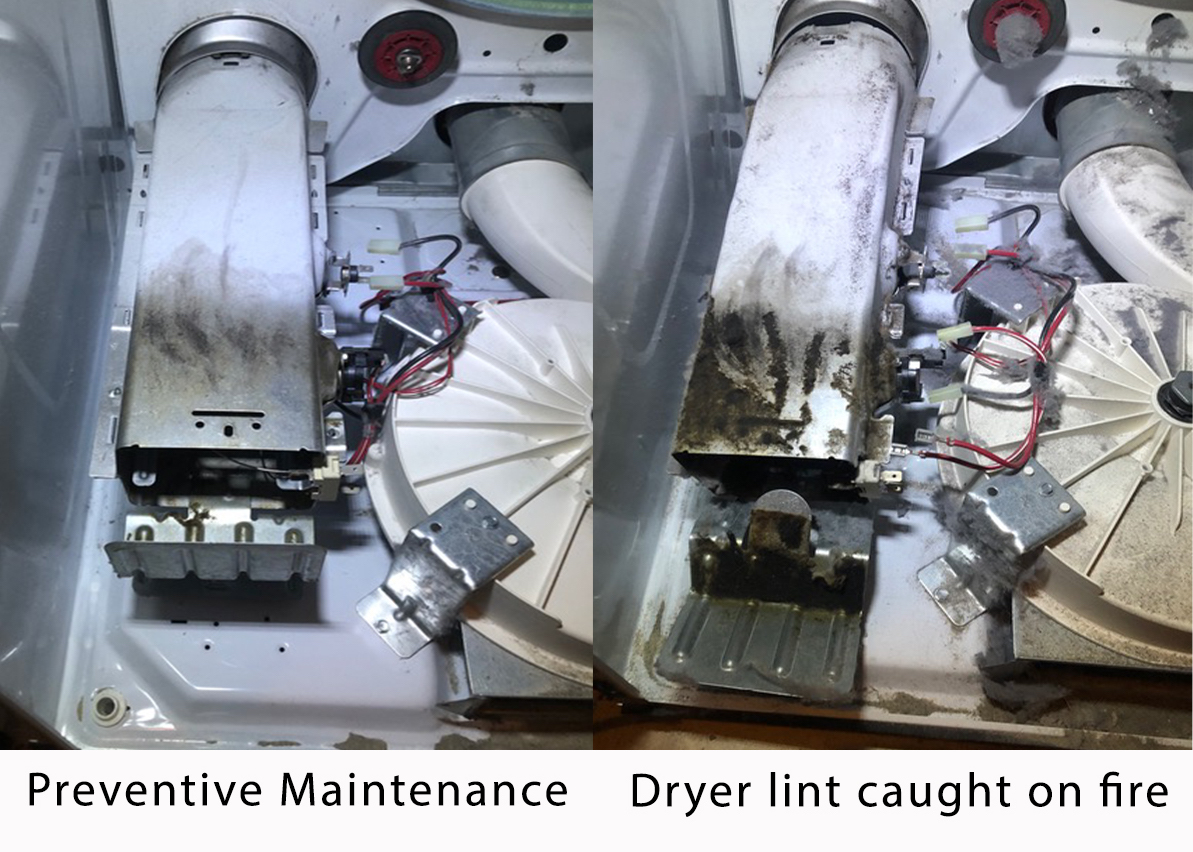 Signs It's Time to Clean
The vent hood flap doesn't open.

The drying process is taking longer.

You find debris in the hose or in the dryer.

Your laundry room has become excessively hot.

The outside of the dryer is extremely hot.

Your clothes are very hot but not dry.
How Often Should Dryer Vents Be Cleaned: Professional Upkeep 
If you think it's time for your annual dryer exhaust cleaning to be done, there are professional vent cleaning companies in your area that will gladly help. Additionally, there are tools you can purchase from your local hardware store to help with the DIY vent cleaning. 
Furthermore, give Gulf Coast Appliance if the damage has already been done. Once the vents are clean, we can help get that dryer back up and running.