Are you a vintageista, or do you really love bringing the retro era into today's living? Retro kitchen appliances are coming back into style for many people, households, and businesses. Anything retro evokes feelings of nostalgia. There are several options for bringing retro into your kitchen through appliances. You can do the research to find and purchase original retro pieces, or you can buy the brand new appliances on the market today that are designed to look and function like a retro piece. Either method you select, you'll want to make sure that you can find parts and an appliance repair company that will keep your appliance working correctly.
Integrating Retro Appliances
Today's retro kitchen appliances excel in performance compared to those of yesteryear, but they are also designed to add visual appeal to your kitchen. Modern performance combined with retro-inspired design from the 50s makes for a kitchen your friends and family will envy!
Whether you choose mint green, neon orange, cherry red, beach blue, pink lemonade, intense black, clean white, or another color for your retro kitchen appliances, they must function properly and meet today's safety standards!
Safety Tips For Your Retro Appliances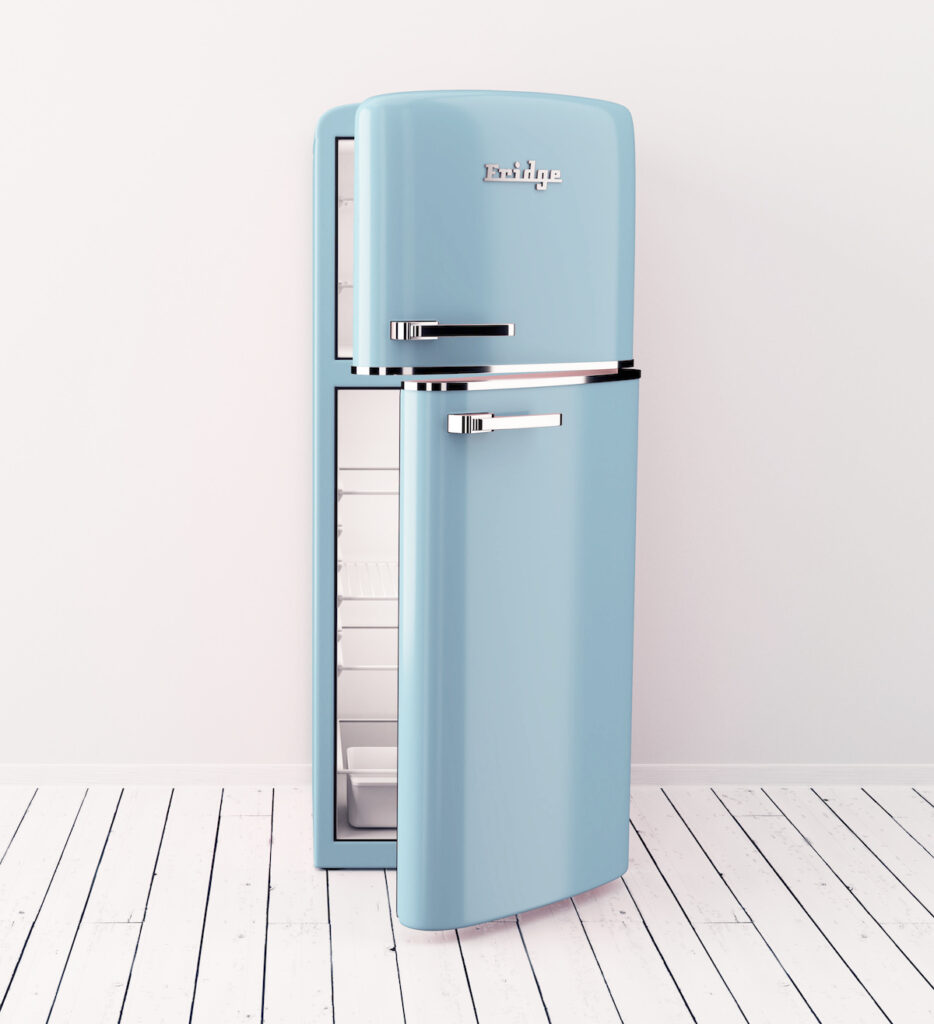 While you are enjoying your retro pieces, you will also want to make sure to follow safety tips for these retro kitchen appliances. The perfect retro appliance can add loads of character and charm to your decor. Regardless of how old it is, if you love your stove, refrigerator, washer, or dryer, you will want to ensure that your appliances are safe to use in your home.
Here are some safety tips to fully enjoy your retro appliances.
Is Your Vintage Appliance Safe to Use?
There are some necessary checks to inspect that your vintage appliance is safe to use. Start by examining the wiring, gas fittings, and cords to make sure that they are still in excellent working condition. In order to give you peace and complete confidence, it may be safer to replace a cord or gas line.
Replacement Parts
When purchasing or using retro appliances, you will need to consider the availability of their replacement parts. The older your retro appliance, the more difficulty you may have to source components if they need to be replaced. Minor issues such as replacing a heating element can quickly become a headache if you are not prepared for the problem. Therefore, if you are serious about having a retro appliance, it is a good idea to familiarize yourself with reputable dealers and specialists who can assist you if you need to replace any parts.
With your retro appliances, you'll need to know where you can get the missing parts or components that need replacing and to make sure they work correctly. Work with a reputable and knowledgeable dealer with experience in retro appliances.
Appliance Repair Technician
If you are purchasing a retro appliance and are unsure about its service history, it is a good idea to have an experienced technician perform a safety inspection.
Potential Safety Issues
If you're considering installing a retro appliance, you do need to be aware of any potential safety issues or hazards. Depending on the specific age of your retro appliance, there may be issues for you to consider. For example, a 1920s refrigerator would have been designed to use gases rather than Freon. Using this setup could result in poisoning or even an explosion if incorrectly installed or while operating.
GFI
Are the retro appliance electrical cords safe with the outlets installed in your home? Many retro appliances were made using metal, so they may not be properly grounded. It is highly recommended that you plug these retro appliances into a GFI outlet to ensure that they operate safely in your home. This grounded and safe outlet will automatically shut off the power if it senses a power imbalance, which will reduce the risk of shock, overheating, or even fire.
Safety Features
Retro stoves do not tend to have modern safety features that we have come to expect, which can be problematic if you have small children in your home. Your retro stove probably does not have shatter-proof glass, sealed cooling or electrical components, or even anti-tip technology. So the appliance could be dangerous around smaller children.
Give Gulf Coast Appliance Repair a call at 727-510-3524 if you need service or assistance with your retro appliances.
Repair or Service

If your appliance is not working at peak performance, a repair might be required or at least a service check. Make sure to call an experienced quality appliance and repair specialist who will restore it to top condition.
Contact Us
Gulf Coast Appliance Repair is the local appliance repair company that you can count on. For 10+ years, our family-owned business has been serving customers in Pinellas County. We specialize in repairing appliances, including refrigerators, washing machines, dryers, stoves, dishwashers, and much more. Call our appliance and repair service at 727-510-3524; email us to get the job done or to schedule your appointment.