Congratulations. You are thinking about a kitchen remodel, and you are looking for the hottest trends for 2021. Well, you have come to the right place for Kitchen Remodel designs that are on-trend. No doubt, the design matters, but so does the functionality for your family. And there are so many parts to consider. So we have broken it down for you in this informative article by Gulf Coast Appliance Repair.
When considering the new kitchen appliances popping up, the trending colors, the perfect materials, and all the details matter for your unique design and feel. You may find yourself needing a method to the madness. So here are the trending design must-haves for 2021 for you to consider before diving into making the plan.
Trending Kitchen Remodel Designs
According to the expert designers at Homes and Gardens, several design trends are on point this year. But ten stand out as the must-haves in your kitchen remodel in 2021. Here is what they recommend, and at Gulf Coast Appliance Repair, we agree. Take a look and check off the design features that are a must for you.
Lay in Some Marble in Your Kitchen Remodel
The return of marble is taking the design world by storm. And the more veined, the better. Marble is a high-end luxurious countertop or backsplash for the trendiest yet timeless kitchen. It is strong, valuable, creates texture, and goes with almost any other materials used.
Consider Wood Touches or Walnut Cabinets
Everywhere we looked, touches of wood are abundant. They add the natural touch and warmth to a kitchen. Whether you want to add a few touches here and there, like a trim, or an edge, or an entire butcher block countertop, you can't go wrong with wood accents. Additionally, walnut cabinets have made a significant return. The rich, dark color, warmth, and luxurious feel are a high design feature for any cabinetry.

Add Dark Drama
Black walls, black cabinetry, black countertops, and more are a luxe accent to your home. And, the deep color adds drama to any room of the house. In the kitchen, dark is on-trend, unlike the past few years of white kitchens and gray accents.
Make It Pop with a Color
What color is your go-to, your favorite, the color that makes you smile? We suggest adding a small splash of that color to your kitchen remodel. And if you place the color in a location it can easily be changed, you will be able to alter the look in a few years with a tiny touch of an all-new shade.
Try Double Islands
In an expansive kitchen, a double island design is all the rage. If you have the room, try it out. You will double the workspace for your kitchen and entertaining and have the kitchen everyone is talking about.
Sleek Handleless Design
With the desire to simplify and streamline, cabinets with no handles accomplish the goal. In fact, here is what the experts are saying…
"'Handleless kitchen cabinets are one of the biggest trends for 2021 for a more pared-back, streamlined look. It's all about simplicity and a focus on cabinetry details,'  explains Busola Evans, Kitchen and Bathroom Supplement Editor." -Homesandgardens.com
High Design Pantries
These days a pantry is necessary for effective kitchen design. And with the recent trend in home organization and design, a pantry should be on point. Clutter can be organized behind the closed doors of the pantry, keeping the kitchen sleek and straightforward.
Well-Placed Gold Finishes
Not only handles are available in gold now. Kitchen sinks and faucets come in stunning shades of gold for your visual enjoyment. The warm hue adds a luxury that stainless cannot achieve. Try it out in one place, and you will be panning for more gold soon.
Add More Metallics
"Pushing the boundaries of kitchen design" is the surgency of metals in the kitchen. Not only is gold popular, but copper, distressed, and patinaed metals are an unexpected design feature to talk about.
Cupboards That Double as an Office Space
A designer piece of furniture placed in the kitchen can have multiple purposes in this ever-altering climate we now live in. Whether the cupboard or a repurposed armoire becomes a home office, a pantry, or a china cabinet, you will have a design-forward piece for your home that has function, flexibility, and style.
Don't Forget the Appliances
Kitchen appliances all scratched up and dented, or those that don't always work will do you no good in your new kitchen design. So be sure to consider your appliances. There are so many choices and sleek designs for every budget these days. It will take you a while just to determine the brand and the finish you want. Take time to decide which ones you want to purchase, and make sure you give your remodeler the dimensions.
And suppose you are getting all new appliances. In that case, the experienced team at Gulf Coast Appliance Repair is more than happy to complete your install and get you on a maintenance plan.
Now that you have checked off the design features you want for your new kitchen let's get the plan together.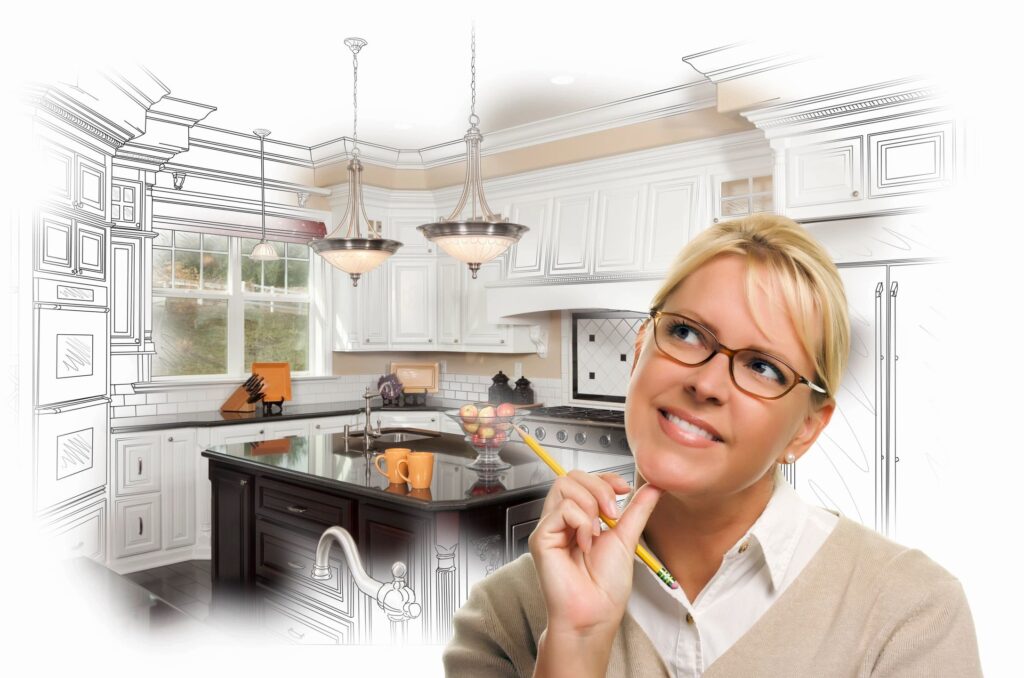 Your Kitchen Remodel Design Planning Session
Once you have figured out those must-have design trends for your kitchen remodel, you can follow the following plan for your remodel. A design should be deliberate, calculated, functional, and make you thrilled to be there. If you can follow these tips, you will be well on your way to a trending kitchen remodel.
Decide on a Budget for the Project. Are you wanting to do a quick update or a total remodel? Replacing hardware and fixtures can elevate, and color can pop. But how much you can spend on the project will tell you if a whole new design is in the plan.
Will you be Adding New Appliances? If it is in your budget to get new appliances, you are in luck. There are many design style options, finished and brands available today. It is fun to discover all appliances like refrigerators can do with today's technology. If you need installation, Gulf Coast Appliance Repair can install your devices. And if you are keeping the same appliances, we can re-install them for you as well.
What Do You Need for Your Kitchen Space? Considering the function of the kitchen is the next step. Is your kitchen going to be a place for entertainment? Perhaps you need a place for the kids to do their homework while you make dinner. Maybe you have a budding chef in the home, so professional appliances are in need. Layout the kitchen to function the way you need it to, and you will be happy you did.
Decide on a Layout. If you can budget for a full remodel, you will need to consider the layout of the space. What is the function, and how will it best flow? Then consider the design elements you want in the layout, and you will be on your way to a decision. Today's types of kitchen layouts are the galley kitchen, the one-wall kitchen, an L-shaped kitchen, and the U-shaped kitchen.
Keep the Plumbing and Electricity in Mind. Unless you are gutting the entire kitchen, you will want to keep the plumbing locations in mind. You may or may not be able to run electricity and water to the island. You'll need to know that and other details before you finalize the plan.
What is Your Style Choice? What décor makes you feel happy in your home? Are you a classic or a traditional designer? Do you crave the sleek lines of modern furnishings or the austere minimalism of high design? Perhaps you like retro looks or have an industrial space. It is all up to what makes you feel the best in your area.
Keep Storage in Mind. What kind of space do you have for storage of the items you don't use every day? Let's face it, the waffle maker is an integral part of your weekend but doesn't need to be displayed on the new open shelving or on the countertops. What can you do to hide those items but make them easy to reach when you need them?
Go Vertical for a better look and more storage. Tall cabinets make the room look bigger and grander. What's more, they add a lot more storage for those plates you only take out on the holidays and the small appliances you only use on Saturday mornings.
Are You Ready for a Trending Kitchen Remodel in 2021?
Kitchen remodels in 2021 may have trends and looks that are all the rage, but realistically, the design is all about what makes sense for you and your home. There are two options here.
Your brand-new appliances will need installation or…
Your older appliances are in great shape and will be re-installed.
Either way, Gulf Coast Appliance Repair is here to help the good people of Pinellas County and the Tampa Bay area with appliance installation.
Contact us today for an appliance recommendation and for your kitchen remodel appliance installation.