A Brief History of Home Ovens
You may have never considered the origin of ovens before. However, to appreciate the immense advancements oven have undergone in the past 2 centuries, you need to know where the oven came from.
You see, the first proto-types were merely pits used to cook mammoths and bricks in the days pre-dating Egypt. Then, they began to be used to cook pottery as well. In the middle ages, large cauldrons were hung over fire pits to cook food. Then came the wood-burning stove with fire chambers and even chimneys. Now we're talking.
The first official oven was recorded in 1490. It was made using brick and tile and was located in France. Then, in the 18th century, the Castrol stove was made of iron and had multiple burners on top. What a time saver for home cooks around the world.
History of the Modern Age Oven
At the beginning of the 19th century, the coal and gas ovens came about. The coal oven was a cylinder shape oven made of cast iron. But the gas oven became more and more widespread once gas lines were available to homes.
Finally, the electric oven was developed in the late 19th century. However, this one took a while to become everyday use, due to the lack of electricity to each and every home. Since that time, several other oven types have been invented and utilized.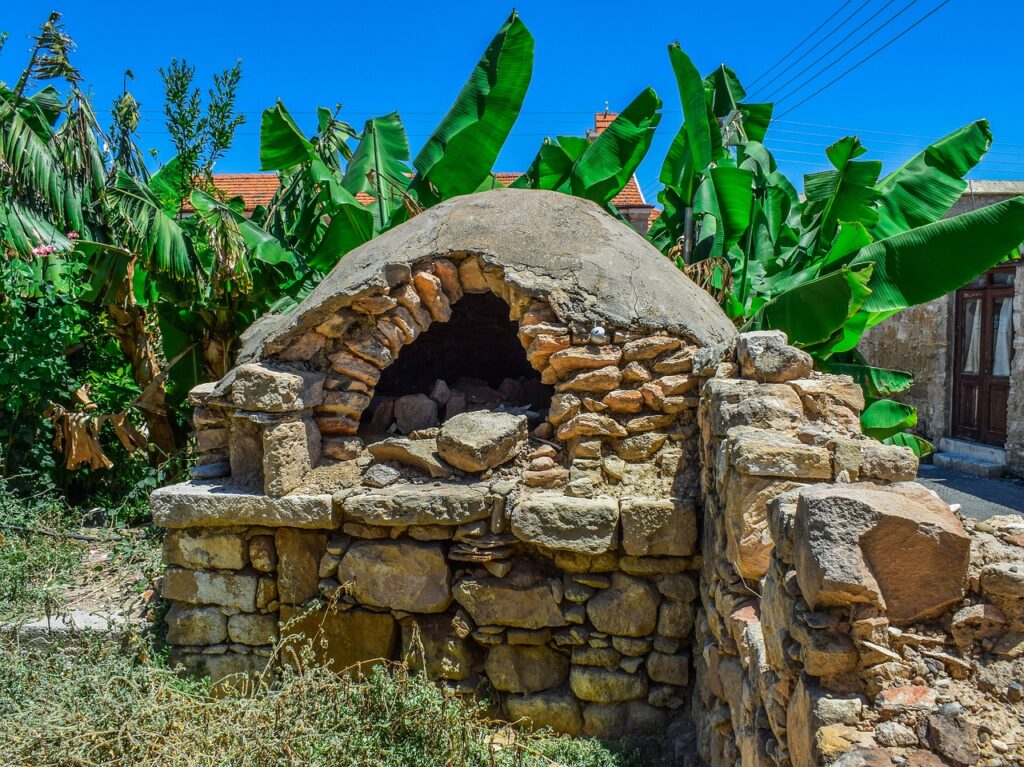 Ovens of all Types
Starting from the beginning, as touched on in the above paragraphs, ovens sprang from the humble Earthen Oven. These were pits dug into the ground, capturing heat and smoke for cooking meats and bricks. From there, you have the evolution of what we now call the oven.
Ceramic Ovens were made of clay and date back to 3,000 BC. Ceramic is the type famous for baking Italy's finest pizzas.
Masonry Ovens had a baking chamber and were made of brick, concrete, or stone. Some were wood-fired, and some were coal. These masonry ovens are often associated with bread baking.
Gas Ovens made their appearance around 1802. Eventually, the gas oven with gas stove began to appear commercially in 1834, then in homes after 1851. The addition of an in-oven thermostat helped regulate temperature and made the stove even more desirable.
Modern Ovens include:
Toaster Ovens- countertop units.

Microwave Ovens- a quick way to heat food using microwave technology.

Wall Ovens- hold large pots and roasting pans.

Double Ovens- 2 ovens for large gathering convenience.

Convection Ovens- a range that cooks faster due to double fan heat circulation.
Fun Fact: In 1963, the first Easy-Bake Oven was sold. This was a tiny oven that used a light bulb to heat food so children could cook like Mommy.

Advancements to the Modern Oven
Throughout the years, several advancements have been made to the modern oven. Whether broiling, grilling, baking, or roasting, the ovens of today do it all. Wouldn't our ancestors marvel at the ease of cooking today?
All sorts of gadgets have been added to modernize the oven. Temperature gauges, timers, and temperature probes are a few of the first advancements. Then came computerized models with digital clocks and timers. When self-cleaning ovens were first introduced, the home cooks of the world let out a massive cheer in their hearts and for their backs—no more bending over to scrub out the mess amidst chemical cleaning fumes.
Oven Energy Efficiency
There is no doubt that the quick cooking times of the microwave oven saves time and energy. But microwaves just don't cook the same as an electric or gas oven.
Gas Ovens use less energy than electric. However, with gas, you have to worry about fumes and leaks. Some families don't want to bother with that.
Convection ovens use less energy than traditional electric. However, you don't want to cook items that need rising time in them. Switch to the conventional baking setting for a cake that will rise to perfection.
Overall, the use of energy in an oven is relatively small, whether gas or electric. However, every little bit helps. So, use all appliances wisely and always make sure they are functioning correctly.

Ovens Sure Have Changed Over the Years
Like all appliances, advancements come in waves to make our homes work faster, save energy, and save money too. We are fortunate to live in this age of multitasking and ease of operation.
But, if you have an appliance that is not performing to the best of its ability, call the Gulf Coast Appliance Repair professionals. We have the certifications and experience to service all makes and models of ovens and other appliances right in your home.
Contact Gulf Coast Appliance Repair today for your free in-home estimate for service and repair that is fast and friendly.