Useful Tips to Keep Your Appliances Running All Year Long.
The Summer season is here, and there is much to do. Vacations, beach, and pool days, and grilling out for a pic-nick are on the calendar, and you have packing to do. Cleaning anything, much less appliances, in the summer months may be the last thing on your mind. After all, didn't you do that in the Spring?
Well, it is a perfect time to check on the often neglected, but oh, so important appliance you use every day. Some of those appliances that are used more frequently in the Summer months need attention to get through the heat.
A cold glass of iced tea for you and a maintenance cleaning for your appliances is the day's ticket. So, what exactly needs maintenance?
In this guide, we will give you some quick and easy tips that can all be accomplished in a single summer day leaving your appliances squeaky clean.
Here is what we suggest…
Appliances that Need Cleaning:
Air Conditioner- The first appliance that comes to mind at the start of Summer is the AC. A broken AC in the hot summer months is a virtual catastrophe. That is a bit dramatic, but it is a hassle you can help to prevent. Keeping new filters in the home and on hand helps remind you to change them out as recommended. A good idea is to put a note on your calendar of when they need replacing. Dusting off the condenser coils will help your condenser run more efficiently as well. In humid areas of the country, it is wise to add a dehumidifier to the unit, placing less pressure on the unit itself.
Refrigerator- The fridge might be the second thing that pops in your head when thinking of the summer months. After all, you need that cold glass of iced tea in the hot summer sun. The refrigerator works harder on summer days, so it is essential to give it some attention. Take some time to empty the unit and clean out the whole interior (and check expiration dates on those bottles while you are at it). Empty the ice bin and wash it out as well. Check the door seals for any leaks and wipe off the condenser coils in the back. Keeping it full but not too stuffed helps to regulate the temperature. Those tips should help it to run all season long.
Stand-alone Freezer- It is a good idea to thaw your freezer once a year. In the summer months, the process will go a bit faster. Simply empty the contents of your freezer into a cooler, unplug the unit, and thaw it out. Clean out the inside, check seals and connections, and you are ready to go again.
Dishwasher- There are great products available on the market today for cleaning out your dishwasher. You can also use 2 cups of vinegar in the bottom, shut the door, and hit start. Running your dishwasher with a cleaner and nothing inside once every couple of months will help keep the drains clear, and your dishes come out sparkling. Also, check the seal on the door to avoid leaks.
Washing Machine- The washer can be a great hiding spot for mold and mildew. No one likes that smell when you open the door. In the summer months, machines may get more use due to increased clothing changes, bathing suits, and towels. Take care of your washer by cleaning off the door, seal, gasket, and dispenser with a solution. Simple vinegar and water will do the trick here. Then run your washer with nothing in it but a cleaner to get the drum squeaky clean. Always be sure to check for hose connection leaks, and you are all set.
Dryer Vent- Clearing your dryer vent out once a year is crucial. A full vent can cause longer dryer times, backed up heat in your laundry room, and, worst of all, dryer fires. You will most likely need to schedule someone to come out to clean the long vent if you have a two-story house or your vent exits through the roof. Next, check the connection between unit and vent is secure, and the vent has no holes. Finally, thoroughly check the lint trap to remove excess debris.
Water Heater- Turning the temperature down a bit on your water heater can help take the burden of the summer heat off your heater. You really don't consume as much hot water in the summer, so lowering the temp will not prevent you from a warm shower. Merely reducing the temp 10 degrees will help the load on your system and lower your energy cost.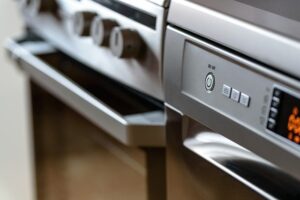 Oven- The oven often gets the most use in the winter months, so the summer seems a perfect time to give it a thorough cleaning. Most ovens these days are self-clean. Try running the cleaner during a time when you can open some doors and windows. Set it and forget it. After the cycle, you will wipe out any leftover ash with a wet rag. Now, move to the stove top. Depending on your type of stove, cleaning the burners or coils is essential to keep the unit in tip-top shape. The knobs will also pop off easily so you can remove any grime build up there.
Call a Professional When in Doubt.
Hey, we get it. Summer should be all play. But taking a day to ensure your appliances survive the heat will save you a day waiting for a professional and your budget. That leaves more money for those vacations!
One last tip…
Before you call to book a professional, be sure to have all your warranty papers in hand. The person scheduling your call will need to know if the appliance is still covered.
For a repair you can count on, schedule your appointment with Gulf Coast Appliance Repair. We will get you up and running in no time!