How does a homeowner choose the right finish for their home appliances with so many choices offered today? Better yet, what brand has the best finishes, and why should you even care? When making a sizeable investment in home appliances, there are several questions for which you'll need answers.
Gulf Coast Appliance Repair has the answers. In this article, you will learn what finishes are best for you and your home appliances. And if you still have questions, feel free to give us a shout.
Choosing the Finish for Your Home Appliances.
The appearance of your kitchen appliance is essential in style design these days. It can be a daunting task to attempt changing appliance finishes when you get those new pieces. Going from old white appliances, olive, or orange, can be a huge relief. But making a bold statement like the new matte white, black, and glass fronts can lead you to several questions. What's more, the finishes that look so shiny and perfect on the showroom floor can look a whole lot different with a grease splash on them or in different lighting.
These are two steps you can take to make the process a bit easier.
Determine your design style for the space.
Choose the color you think you will want to try.
Decide on the right finish.
Determine your design style for the space.
Interior design comes with many choices and styles to fit in each design category. When looking through a magazine, do certain kinds catch your eye? If so, you may want to know what these design styles are called so you can let your appliance dealer know when choosing your appliances. Here is a quick list of definitions provided by the popular home improvement channel, HGTV.
Art-Deco: "delicate, streamlined and geometric designs that celebrated all things urban and modern."
Arts and Crafts: "simplicity of form — no extraneous decoration to distract from the workmanship, thank you very much." "Truth in Material" was all-important to Arts and Crafts designers, who often made use of local sources."
Modern: "A clean, streamlined furniture and architecture style that dates back to the'30ss, modern decor is rooted in the minimal, true use of materials and absence of decoration. It's characterized by a neutral color palette, polished surfaces, strong geometric shapes, and asymmetry."
Contemporary: "features clean, sleek lines and swaths of solid colors — predominantly muted neutrals or bold punches of brightness."
Mid-Century Modern: "simplicity, functionality and natural shapes in popular culture. Autumnal oranges, yellows, olive greens, and chocolate browns make frequent appearances, as do barely-there glass walls."
Industrial: "exposing building elements like pipes, ductwork and brick walls. Industrial-style spaces typically feature open floor plans, large windows, neutral color palettes, and furniture made from rustic wood, metal, and leather."
Farmhouse: When shiplap walls and apron skirts are involved, you have the farmhouse look made famous in the recent past.
Traditional: "classic styling and symmetry reign supreme. A restrained traditional palette typically features mid-tone colors; fabric patterns and wall treatments can range from simple solids, stripes, and plaids to florals and chinoiserie."
Retro: Take the new designs of today and add a vintage feel, and you have a retro look for your home.
And these are only a few of the designs out there. Incorporating your style with the appliance will make you want to stay in that kitchen and be creative. Your family will thank you for that.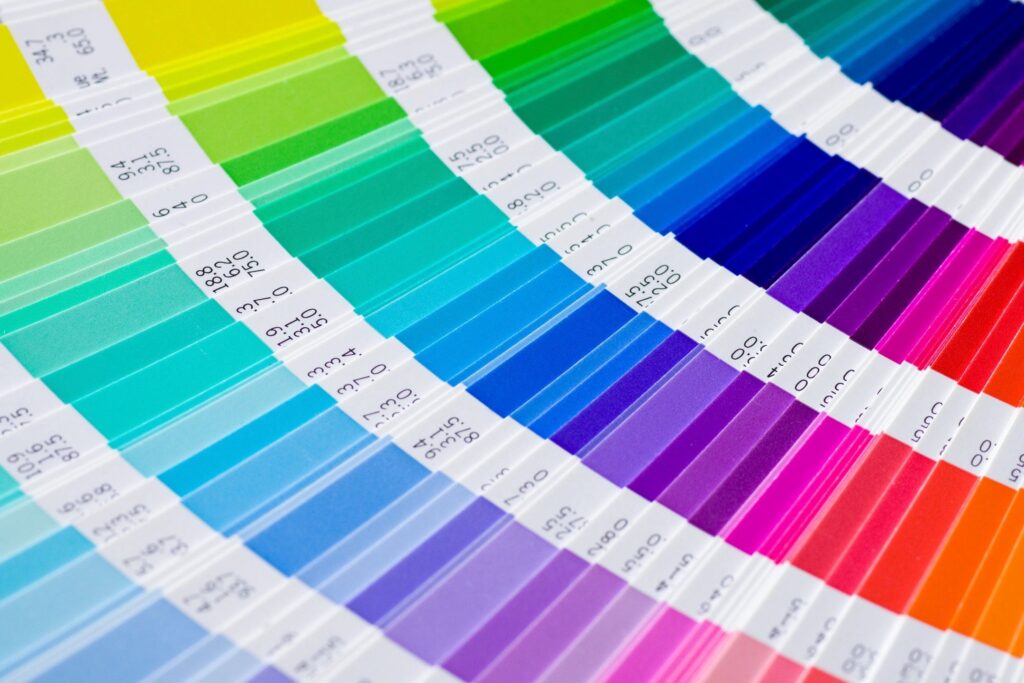 Choose the color you think you will want to try.
There are many colors available on the market today. If you have that retro look to your kitchen, you might just want to add a pop of red to your fridge design. Furthermore, in that space, you will want to consider the current metals and cabinet hardware.
Think about the following:
What is your current cabinet hardware?
When choosing an appliance finish, homeowners should also take into account the dolor and style of the pulls on the cabinets and drawers. Creating a cohesive look using the same hardware color from one fixture, appliance, and cabinet to another will give the décor a direction. If you have stainless pulls, you may want the same metal on your devices.
Do you want a statement piece?
Perhaps your kitchen has needed an update for a long while now, and you are ready to take the plunge. If your kitchen is industrial, you may want a matte black design with hefty handles. Perhaps you like the modern look. Then you may wish to a deep stainless gray with a glass finish and no handles at all.
Or, maybe you are a budding chef, and you want everyone to know you love culinary arts when they walk into the room. Dark metals and high-end appliances will make guests impressed with your choice when they enter the kitchen. The option is all yours.
If you are looking for a statement piece, consider one of the newer finish colors and all the handle colors with it.
Now, what color appeals to you?
Undoubtedly, stainless steel appliances are a classic style that will likely never go out of style. Here are some of the choices on the market in 2021.
Stainless offers a classic look that is easy to match with most flooring and wall colors.
White appliances paired with white cabinets offer a seamless look to the kitchen with a flow from cabinet to fridge.
Kitchen Aid offers striking colors like Yellow Pepper, Misty Blue, Scorched Orange, Milkshake, and Ink Blue.
The Café Brand offers Modern Glass, Matte White, Matte Black, and Platinum Glass. Also, they have beautiful hardware choices like Brushed Black, Brushed Stainless, Brushed Bronze, and Brushed Copper.
Samsung has warm colors they have added to their collection like Tuscan Stainless and Champagne.
Additionally, some of the washer and dryer manufacturers have come out with exciting colors like Ruby Red and Azure Blue.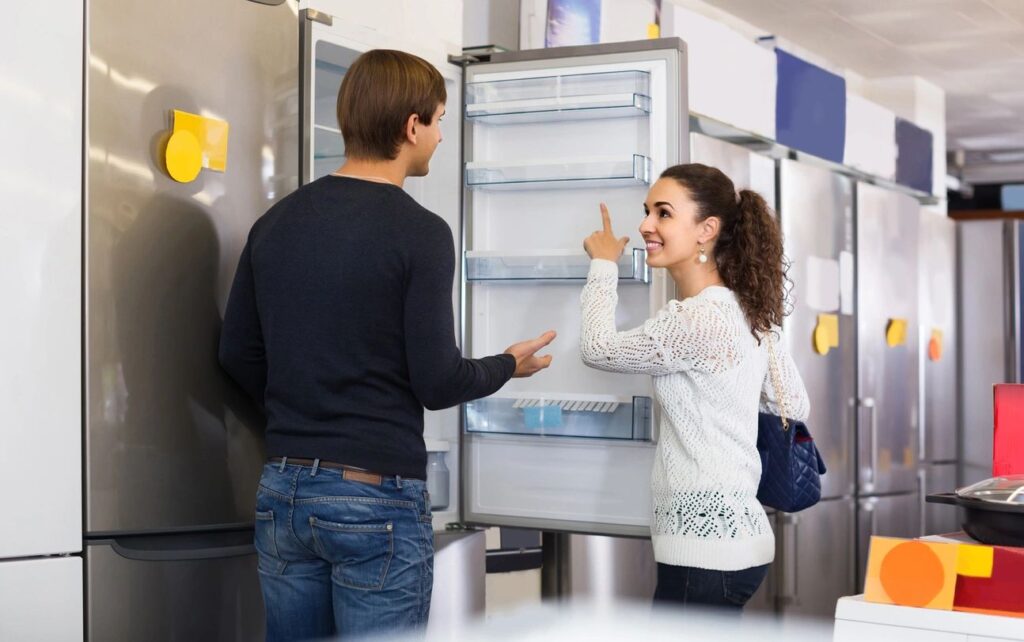 Time to Decide on the right finish for Your Home Appliances.
Matte, Gloss, High Gloss, Glass, and more, there are more choices to make when it comes to the finish of your appliances. If you have a busy kitchen with children and pets, you may want to consider a fingerprint-resistant finish.
GE gives you four recommended choices in High Gloss Black Stainless, Gloss Stainless Steel, Matte Black Slate, and Matte Slate for designs that "pack a punch."
Samsung offers alternative washer and dryer colors as well. Buyers can choose from Fingerprint Resistant Black Stainless, Champagne, and Platinum as well as the traditional White.
Of course, there are more. We suggest you take a walk around the appliance stores and see how each hue and finish makes you feel. Then you can see if your brand comes in that particular one.
Your Homes Appliances Matter
Now that you have made that choice, we want you to know that your appliances matter. You see, they do a lot of work for you, and you must live with them day after day. After all, it is a big decision and a substantial financial investment.
So, once you have picked your perfect appliances, you will need them installed. Hiring a professional installer will ensure that the instruments are level and installed correctly. Gulf Coast Appliances is happy to provide appliance installation for the Gulf Coast area customers.
Once installed, you will undoubtedly want to get on a service plan to maintain your appliances year after year. Appliance maintenance is similar to getting an oil change on your car. Don't go without a filter change on your car or your refrigerator. Make your appliances last as long as they can with our expert maintenance team.
Finally, if you ever need a repair on one of those or older appliances, give us a call. Gulf Coast Appliance Repair will be there in a jiffy to get that fridge up and running again. Don't let the wet clothes in the broken washer get moldy and mildewed. Call us to come and out, and the machine is fixed right.
Contact us at Gulf Coast Appliance Repair for all your home appliance service and maintenance needs.