The Benefits of Hiring a Refrigerator Repair Expert
When your fridge goes caput, know the benefits of hiring a refrigerator repair expert like the technicians at Gulf Coast Appliance Repair. Clearly, one of the most used appliances in your home is your refrigerator. Your household relies on your refrigerator for a list of reasons; it is responsible for keeping fruit fresh, beverages cold, holding meals for the week, and even keeping vital medicine from going bad.
You should never wait to call a repair expert if you find your appliance not working as usual. Below you will find the reasons why and common issues refrigerators have when a repair is needed.
The Importance of Food Safety
You want to keep your refrigerator temperature at or below 40° F for proper food safety storage. According to the USDA, a refrigerator will keep food cold for about 4 hours if it is unopened. A full freezer will keep the temperature for approximately 48 hours (24 hours if it is half full) if the door remains closed.
How long is food safe when unrefrigerated?
Bacteria exist everywhere in the environment. In the soil, water, air, and the foods we eat daily. When bacteria have ample nutrients (food), moisture, and ideal temperatures, they multiply, increasing numbers to the point where some types of bacteria in food can cause illness. Refrigeration slows bacterial growth.
Bacteria grow rapidly in temperatures between 40 and 140 °F, the "Danger Zone," some multiplying in as little as 20 minutes. Fortunately, a refrigerator set at 40 °F or below will protect most foods.
**It's recommended to not store perishable foods in the door.
Eggs should be stored in their carton on the shelf. The temperature of storage bins in the door fluctuates more than the temperature in the cabinet. Keep the door closed as much as possible.
And never leave food out of refrigeration for over 2 hours. In fact, if the temperature is above 90 °F, food should not be left out for more than 1 hour.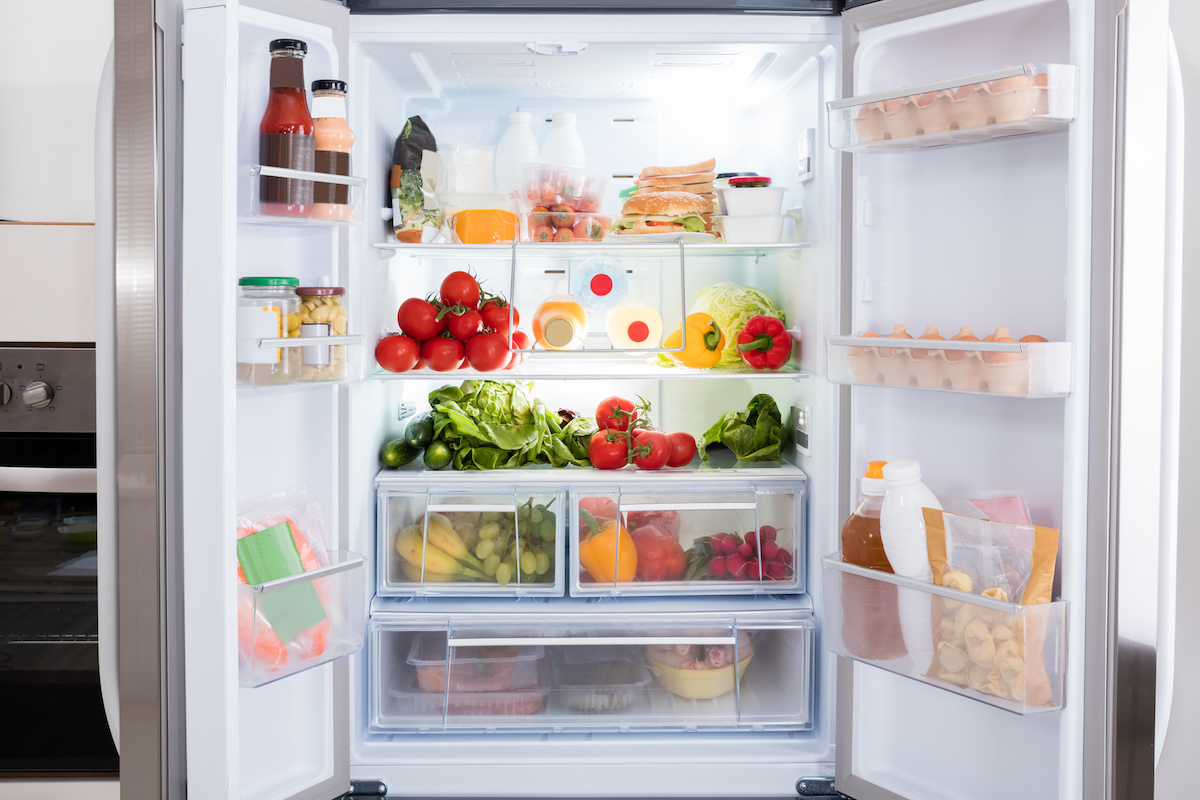 Appliance Reliability from Your Refrigerator Repair Expert
When your refrigerator isn't working correctly, you will find yourself eating out and running to the store several times a day for a few little things. That time and money will add up. So, it's best to reach out to an expert as soon as possible to have your refrigerator repaired.
Resist the urge to overload your fridge and freezer due to extra guests to protect the compressor and keep air circulating freely.
Limit how often you open the doors, also to protect the compressor.
Clean the door gaskets to ensure they seal properly, and that buildup doesn't damage them.
Periodically vacuum the coils on the back or along the bottom front.
Discard expired or rotten foods to prevent contamination and save space.
Ask a Refrigerator Repair Expert to Learn What is Wrong with Your Refrigerator?
Is it Not Cooling?
Evaporator fans often squeal or chirp when they start to go bad. This could be because, If you can hear the compressor running. Still, the fridge isn't cooling; the problem is likely either frost-clogged evaporator coils or a stuck or broken fan.
Refrigerators require proper airflow to cool properly. If your refrigerator isn't cooling, it may be because food items are blocking the vents of the fridge and/or freezer compartments.
Do you Hear a Humming Sound?
When you hear a humming sound, there is typically a blockage in the air vent of your refrigerator. This blocks the airflow against the walls and leads your refrigerator to make an odd humming noise.
To prevent this noise, you need to organize your fridge correctly. Since your fridge's compressor is placed between the wall and the back of the refrigerator, it can get dirty quickly over time. The presence of dirt and dust is another reason the compressor of your refrigerator can make humming sounds frequently.
Or, the humming sound from your refrigerator might happen simply because fridges make noise. It is not always happening due to the presence of an issue. The humming sound might take place when the ice maker is filling with water.
The motor and compressor of your fridge can also make a soft hum sound when they are running. However, all of these are typical cases. But there might be some noises that do not sound right and have been lingering longer than usual. Hence, for this, you need to call an expert who can analyze the issue better and help you get rid of it by using their professional training.
Is There Water on the Floor?
If you see water on the floor by your fridge, the defrost tube is most likely the culprit. The defrost tube is what carries the water all the way down to the drain pan, where it eventually evaporates. When working correctly, it helps ensure your fridge has a smooth defrost cycle.
When You Find Frozen Food Inside the Fridge.
Food freezing in the fridge can be caused by several things, including everything from a faulty temperature sensor to blocked air vents or a leaky door seal.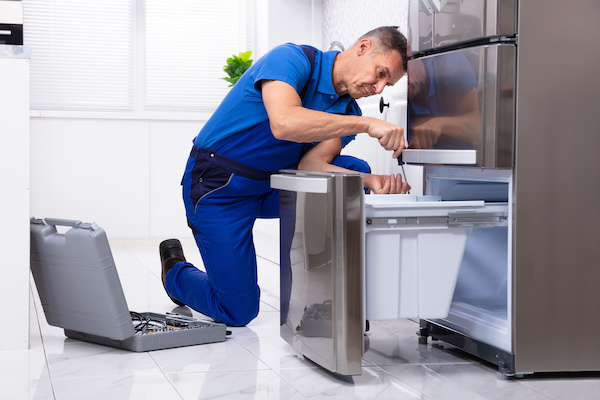 Learn the Importance of Preventing Additional Damage from a Qualified Refrigerator Repair Expert
Refrigerators are complex appliances. They have many parts, pieces, and components to them. This includes evaporator fans, defrost heater, evaporator coils, drain pan, defrost timer, and condenser coils. And crazy enough, the list of parts could continue. There's no need to try and guess which part is malfunctioning.
1. Electrical Safety
Refrigerators are made up of many different electrical components. The safest option for you is to hire an expert that is qualified in refrigerator repair and has electrical knowledge. If you were to attempt a repair yourself, you could cause an electrical fire.
2. Efficiency
Your refrigerator is fully stocked with food, medication, drinks, and other essentials for your household, so it is crucial to have same-day service or the fastest service you can receive. Remember, food can only last up to four hours without power, and hot foods need to be cooled after two hours.
3. Fluctuating Temperatures
Overstuffing your fridge with food can cause items to block the vents and prevent the cool air from circulating properly, causing a fluctuation in the temperatures of your items.
A clean fridge is the best way to begin proper circulation throughout your appliance. Once your refrigerator is empty, you can remove your shelves and drawers and give it a good wipe-down. Then sit aside for proper drying. Throw away expired items and place want you want to keep aside.
Clean out spoiled food at least once a week.
Wipe up spills as soon as they happen to prevent mold.
Periodically check your refrigerators' temperature.
Keep an open box of baking soda in the fridge for extra fresh storage.
There is only one right way to solve these problems. And that is to call a professional. You don't want your most used appliance left sitting without proper function. Someone unfamiliar with working on appliances, like a handyperson, can easily make problems worse.
Contact Us Today for the Top Refrigerator Repair Expert on the Gulf Coast
Gulf Coast Appliance Repair is a local appliance repair company that you rely on. For 10+ years, we have been serving customers in Pinellas County. We are experts in repairing appliances. We can install garbage disposals, repair dishwashers, refrigerators, and range repair, to list a few. Call our appliance and repair service at (727) 513-3164 to solve your appliance repair problem or schedule your next appointment.