A properly functioning refrigerator is essential for preserving food and maintaining a healthy home. However, refrigerators can encounter issues that may disrupt their performance. While some problems may require professional assistance, there are several troubleshooting steps and DIY fixes that you can try before reaching out to a refrigerator repair service. 
In this article, we will explore common refrigerator issues, provide step-by-step troubleshooting guidance, and offer DIY fixes for certain problems. Let's empower you to tackle refrigerator repairs and keep your appliance running smoothly!
Basic Refrigerator Repair Troubleshooting Steps
Before diving into specific refrigerator issues, it's important to perform some basic troubleshooting steps. These steps can help identify and potentially resolve minor problems that may be causing your refrigerator to malfunction. 
Let's explore these steps in more detail:
1. Checking Power Supply and Outlet
Start by ensuring that your refrigerator is properly connected to a functioning power outlet. Verify that the power cord is securely plugged in and that there are no loose connections. 
If the refrigerator is not receiving power, check the circuit breaker or fuse connected to the outlet. If it's tripped or blown, reset the breaker or replace the fuse and test the refrigerator again.
2. Verifying Temperature Settings
Incorrect temperature settings can affect the cooling performance of your refrigerator. Make sure the temperature controls are properly set to the recommended levels. 
Consult your refrigerator's user manual to determine the ideal settings for both the refrigerator and freezer compartments. Adjust the controls accordingly and allow the refrigerator some time to reach the desired temperature.
3. Examining Door Seals and Gaskets
Damaged or faulty door seals and gaskets can lead to air leaks, compromising the cooling efficiency of your refrigerator. Inspect the seals and gaskets around the refrigerator and freezer doors. Look for any signs of:
A damaged seal may appear loose or torn. 
If you identify any issues, consider replacing the seals or gaskets to ensure a proper and airtight seal. This can help maintain the desired temperatures inside the refrigerator and prevent warm air from entering.
4. Cleaning Condenser Coils
The condenser coils in your refrigerator play a crucial role in dissipating heat and facilitating proper cooling. Over time, these coils can accumulate dust, debris, and pet hair, hindering their efficiency. 
To clean the condenser coils, first, unplug the refrigerator from the power outlet. Locate the coils, which are usually located at the back of the unit or beneath the refrigerator behind a removable panel. Use a vacuum cleaner with a brush attachment or a coil cleaning brush to gently remove the buildup on the coils. Make sure to clean both the front and back sides of the coils. Regularly cleaning the condenser coils improves cooling efficiency and helps prevent overheating.
By following these basic troubleshooting steps, you can fix minor issues and restore your refrigerator's functionality. 
However, if the problem persists or if you encounter more complex issues, it's advisable to seek professional assistance, like the team at Gulf Coast Appliances. Our trained technicians have the knowledge, experience, and specialized tools to diagnose and repair refrigerator problems effectively.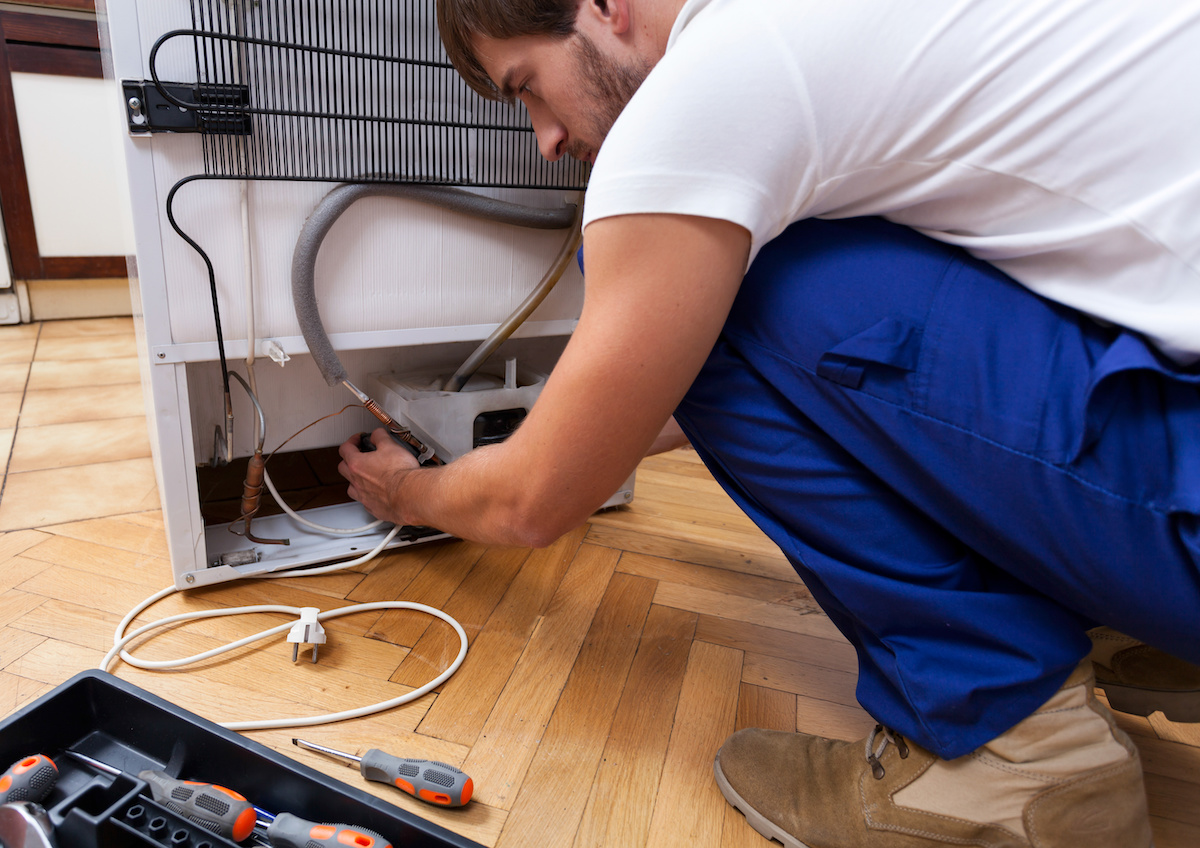 Common Refrigerator Problems
Refrigerator Not Cooling
One of the most common refrigerator problems is inadequate cooling. If this is the case, there are several potential causes and DIY fixes to consider. 
First, check the thermostat or temperature sensor. If they are faulty or inaccurate, they may not signal the refrigerator's cooling system to function correctly. Consider replacing these components if necessary.
Blocked vents or airflow obstructions can also lead to inadequate cooling. Check for any items blocking the vents or preventing proper airflow within the refrigerator and freezer compartments. Rearrange items to ensure optimal airflow and unblock the vents. 
Additionally, a malfunctioning compressor or condenser fan can contribute to cooling issues. If you suspect a problem with these components, it's advisable to seek professional assistance for repairs or replacements.
Excessive Frost Build-Up
Excessive frost build-up in the freezer compartment can be frustrating and impact your refrigerator's performance. The accumulation of frost can hinder proper cooling and reduce available storage space. Fortunately, there are DIY solutions to address this issue. 
Start by inspecting the door gaskets or seals for any damage or gaps. Damaged gaskets can allow warm air to enter the freezer, leading to frost formation. If you notice any issues, consider replacing the gaskets to ensure a tight seal.
Another potential cause of excessive frost is a malfunctioning defrost system. This system includes components such as the defrost heater, defrost thermostat, and defrost timer. If any of these components are defective, they can disrupt the defrost cycle and lead to frost accumulation. 
To address this, start by manually defrosting the freezer. Remove all food items, unplug the refrigerator, and allow the ice to melt completely. Once defrosted, clean the interior of the freezer, ensuring the drain hole is clear of debris. 
If you've exhausted all of these options and the excessive frost build-up continues, it's best to consult a professional appliance repair service.
Water Leaks or Puddles
Discovering water leaks or puddles around your refrigerator can be concerning as they can damage flooring and/or indicate underlying issues. However, there are a few common causes of water leaks in refrigerators, and you can attempt DIY solutions for some of them. 
First, check the defrost drain for any clogs. A clogged defrost drain can cause water to overflow and leak onto the floor. Clear any debris or ice blockages from the drain using a turkey baster or a pipe cleaner.
Another potential cause of water leaks is a faulty water inlet valve or dispenser. If you notice water pooling around the refrigerator's water dispenser or leaking from the bottom of the unit, these components may need to be replaced. 
DIY replacement of these parts can be challenging, so it's recommended to consult a professional repair service to ensure proper installation and prevent further damage.
Faulty Ice Maker
If your refrigerator has an ice maker and you encounter issues with it, there are some troubleshooting steps you can take. 
A common problem is a frozen water supply line. Inspect the water supply line to the ice maker and ensure it is not frozen or blocked. If it is, carefully thaw the line to restore water flow. 
Another potential issue is a faulty water inlet valve or solenoid. If the ice maker is not receiving water, these components may require replacement. 
DIY ice maker repairs can be challenging, so it's advisable to consult a professional repair service to ensure proper diagnosis and resolution of the problem.
Benefits of Working with an Appliance Repair Service
While DIY refrigerator repair can be a tempting option, there are several compelling reasons to consider working with a professional refrigerator repair service. 
Let's explore the benefits of seeking expert assistance:
1. Expertise and Experience
Appliance repair technicians have the necessary expertise and experience to diagnose and repair a wide range of refrigerator issues. They undergo rigorous training and stay up to date with the latest technologies and repair techniques. 
Their extensive knowledge allows them to accurately identify the root cause of the problem and provide efficient solutions. With their experience, they can quickly troubleshoot and resolve complex issues that may be challenging for DIY repairers.
2. Time and Cost Savings
DIY refrigerator repair can be time-consuming, especially if you're not familiar with the appliance's inner workings. Without proper knowledge, you may spend hours attempting to:
Diagnose the problem

Gather the necessary tools

Navigate through the repair process 
In contrast, professional repair technicians can efficiently diagnose and fix the issue, saving you valuable time and money.
3. Access to Specialized Tools and Parts
Appliance repair services have access to specialized tools and equipment specifically designed for refrigerator repairs. These tools allow technicians to perform repairs safely, accurately, and efficiently. 
Moreover, they have access to a wide range of genuine replacement parts, ensuring that any faulty components are replaced with high-quality and compatible parts. 
This access to specialized tools and parts may not be readily available to DIY repairers, making professional repairs a more reliable and efficient choice.
4. Safety and Peace of Mind
Refrigerators involve complex electrical and mechanical components that require proper handling and safety precautions. Appliance repair technicians are trained to work safely and follow industry-standard procedures to minimize the risk of accidents or injuries. 
By entrusting your refrigerator repair to professionals, you can have peace of mind knowing that the repairs are conducted safely and effectively, protecting both you and your appliance.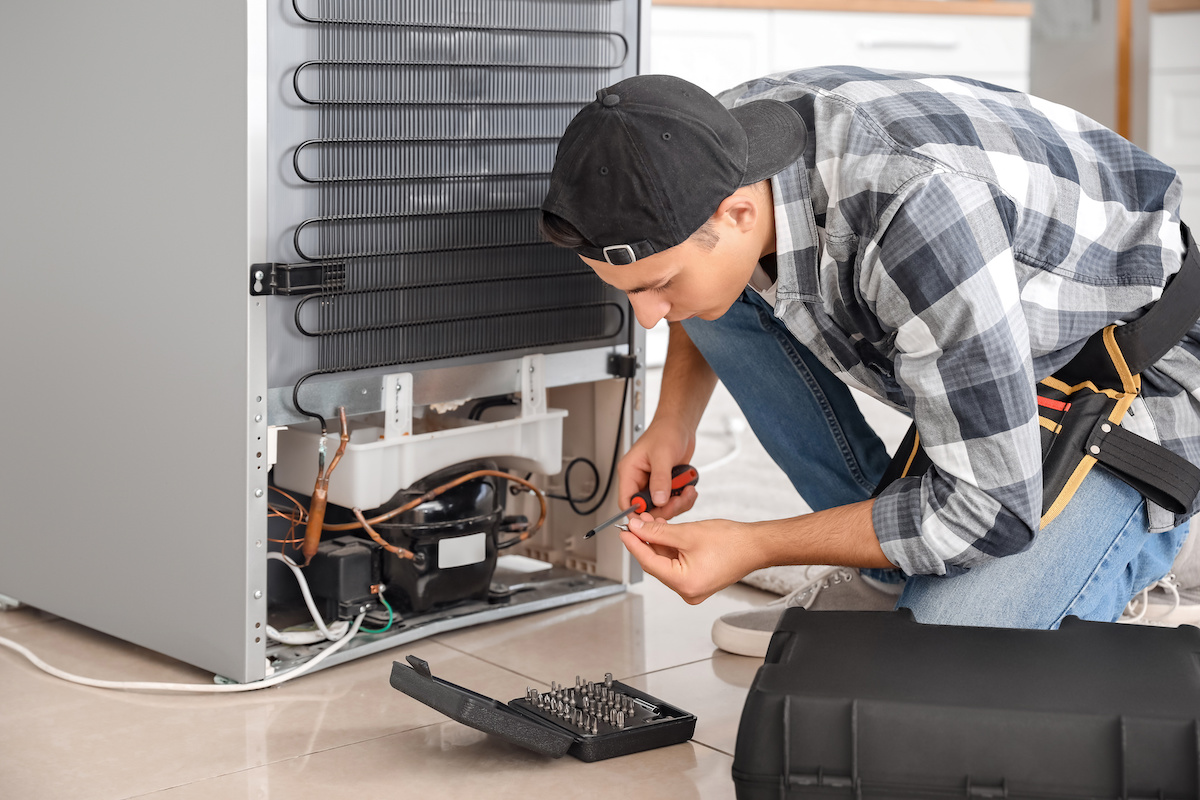 Reach Out to Gulf Coast Appliances for Your Refrigerator Repair
While DIY refrigerator repair can be a viable option for minor issues and basic troubleshooting, there are clear benefits to working with a professional appliance repair service. Their expertise, experience, access to specialized tools and parts, and time and cost savings provide a comprehensive solution for your refrigerator repair needs. 
By choosing Gulf Coast Appliances, you can ensure efficient and reliable refrigerator repairs, prolong the lifespan of your appliance, and restore its optimal performance. 
Contact us today to schedule an appointment and enjoy the peace of mind that comes with expert refrigerator repairs!