Easter is right around the corner, and it'll be here sooner than you know! So, you've invited your guests, stuffed all the eggs with goodies, gathered all the table settings, and planned your and your family's matching Easter attire.
What could possibly be left to do?
Well, Gulf Coast Appliances can tell you from years of experience that prepping your kitchen appliances for hosting a holiday meal is a must.
This year, be sure your Easter runs as smoothly as possible by cleaning each appliance with care. Not to mention, when embarking on your kitchen preparation adventure, you may find repairs are needed.
Trust us when we say you absolutely don't want to run into an issue with your kitchen appliances on Easter day. So, plan ahead and get your machines ready to go before the holiday rolls around.
How to Get Your Appliances Ready for Easter
On Easter Sunday, you want your kitchen working just as hard as you do, if not harder. Below, you'll learn exactly what your kitchen needs to be ready for the big day.
Follow our simple step-by-step directions on how to clean each major appliance properly. Plus, we've included expert tips to help you tackle the toughest of kitchen cleaning tasks.
Clear the Oven of Residue and Debris
Hands down, your oven gets more use than any other appliance for the holidays. And what's better than the sugary aroma of a honey-roasted ham baking in a freshly cleaned oven?
To clean your oven, you have two options. Many are equipped with a self-clean setting where temperatures reach up to 900 degrees Fahrenheit, burning off the food and debris inside. Although, this process can take up to six hours for some ovens, and the smell can be overbearing. Because of this, many people prefer to clean the oven themselves, instead.
Whichever method you choose, follow the appropriate steps to get the job done right.
Cleaning Your Oven by Hand
Step One: Dampen a cloth to collect and remove charred crumbs and other solid pieces.
**Pro Tip- For quicker removal, use the hose on your vacuum to eliminate the burnt bits and pieces collected at the bottom of your oven.
Step Two: Spray the inside of your oven with the appropriate store-bought oven cleaner.
Step Three: Allow the cleaner to sit for the recommended time located on the product's label.
Step Four: Thoroughly wipe down all interior surfaces with a clean sponge or cloth.
Using the Self-clean Feature on Your Oven
Step One: Clear all foil and pans from your oven.
Step Two: With a wet cloth, remove visible crumbs and other bits.
Step Three: Locate your oven's self-clean button and lock the door to your oven.
Step Four: When the process is complete, allow your oven some time to cool before opening the door.
Step Five: Wipe off any excess soot or residue once the oven has cooled.
**Pro Tip- Don't use the self-cleaning setting on your oven unless you can complete this task weeks in advance. Depending on how often you keep up with the mess, this method can produce strong odors that may linger for some time.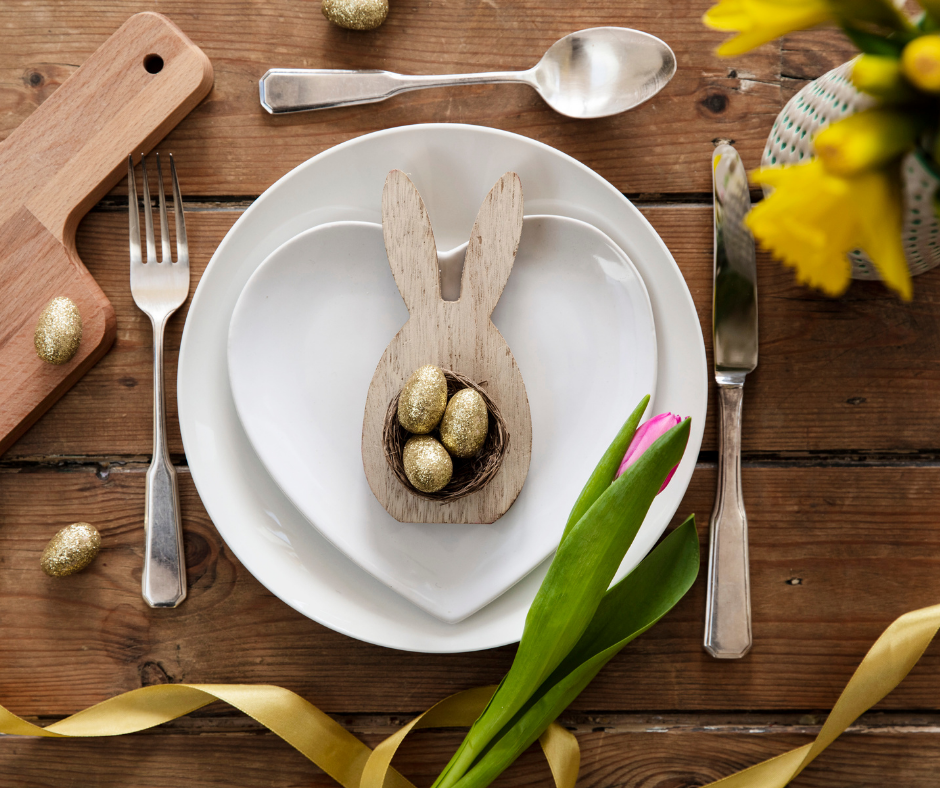 Be Sure the Dishwasher is Working at Full Efficiency
With Easter cooking comes a mountain of overflowing dishes. But not if your dishwasher is in tip-top shape. Follow these simple steps to ensure your dishwasher is efficiently working and won't cause you any issues this coming holiday.
Step One: Inspect the inside of your dishwater. Check the interior walls, valves, and spray arms for soap scum and water residue.
Step Two: To avoid clogs and overworking your dishwasher, remove as much of the build-up as possible. White vinegar and other acid-based cleaners are perfect for the job.
Step Three: Finally, check to ensure all machine components are not damaged or worn. If you notice any problems, schedule a service with your local appliance repair company.
**Pro Tip- If you find that scrubbing at the build-up in your dishwasher isn't doing the trick, place only a bowl of white vinegar on the top shelf. Then run the machine through a normal wash cycle. However, you may want to take this step either way because it helps reduce odor in your dishwasher.
Clean Out the Refrigerator to Make Room for More
Before shopping, clear out the fridge to make room for all your Easter meal's savory and sweet ingredients. You'll need all the extra space you can get for the bulky casserole dishes, large trays, and food prep containers.
Step One: Remove all the food and cooking products from your fridge while throwing out expired or unnecessary items.
And don't forget the freezer. It's the perfect spot to store leftovers with an overflowing fridge.
Step Two: Use a mixture of vinegar and warm water to wipe down all the shelves and surfaces of your fridge and freezer.
**Pro Tip- For the extra challenging spots to clean, let the solution sit for five to ten minutes. Unplug the refrigerator and allow the door to stay open. Once the tough spots have soaked for a little while, they'll be much easier to remove.
Don't Forget About the Microwave
Yes, most Easter dinners are not made in the microwave, but you never know when it can come in handy. Plus, microwaves are essential when it comes time to heat up the delicious leftovers for lunch the next day. Be prepared for anything by making sure your microwave is sparkling clean and ready for use.
Step One: Remove the turntable inside of your microwave. Clean it like you would any other dish by scrubbing it down with soap, water, and a sponge.
Step Two: Dry the turntable and set it to the side for now.
**Pro Tip– Place the turntable in soapy, warm water to soak for 5-10 minutes if it is incredibly messy.
Step Three: Spray the interior of your microwave and wipe away all the food build-up. Some spots may be more stubborn than others, so put some elbow grease into it!
Step Four: Replace the turntable and move on to the outside of the microwave. Rid the door and control pad of any fingerprints or smudges. Be sure to use the appropriate cleaner according to the material your microwave is made of.
Disinfect the Trash Bins for a Fresh Start
The last thing you want is the pungent odor coming from your trash bins to distract from all the delicious aromas of your Easter cooking. That's why cleaning out and sanitizing all the trash containers throughout your home is essential to any holiday preparation.
Step One: Remove the trash from all trash cans in your home.
Step Two: Spray the inside of each bin and allow about 15 minutes for soaking. Any all-purpose cleaner works great for this, but cleaners with bleach yield the best results.
Step Three: Wipe down the interior of each bin with an old rag or paper towel.
Step Four: Spray and remove the grime from the lids and exteriors of the bins, as well.
Step Five: Spray all bins one more time with a disinfectant spray.
Step Six: Before placing in fresh new liners, sprinkle half a cup of baking soda at the bottom of the bins to absorb odors.
**Pro Tip– Hang an air freshener on the inside of your trash bins. Add to the Easter ambiance with scents like spring flowers, fresh pine, or warm vanilla.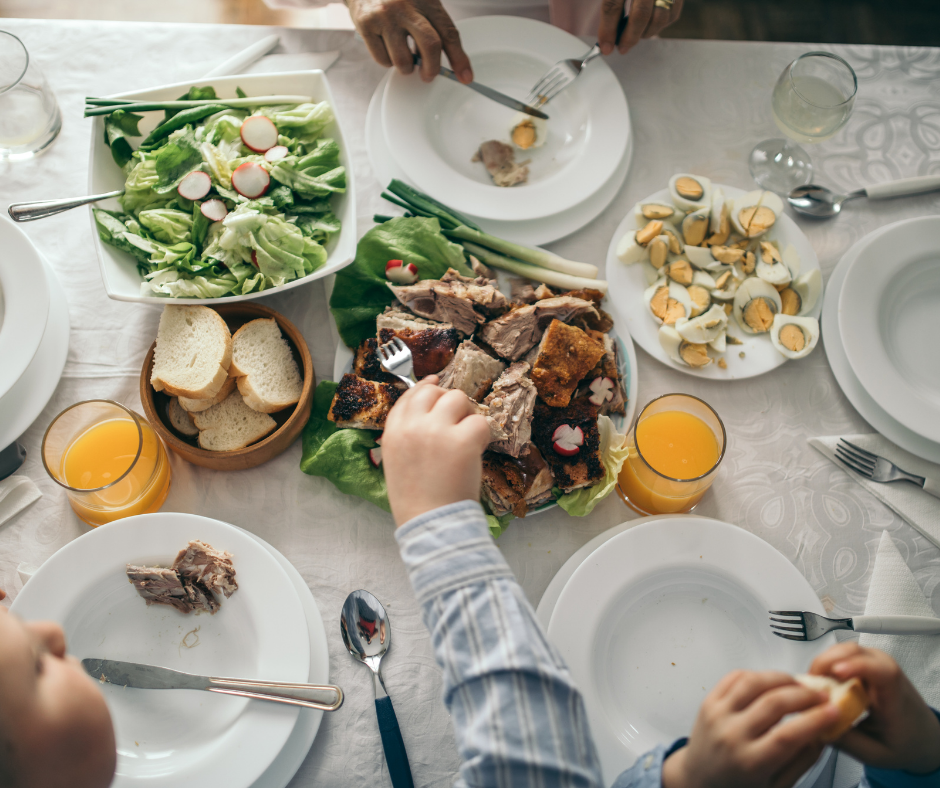 Tidy Up the Kitchen for Easter Cooking
Now that you've taken care of each appliance, it's time to give the kitchen a final scrub down before the big day. Amaze your Easter guests by getting into every nook and cranny, leaving your kitchen sparkling clean.
Step One: Clear all the clutter. You'll need all the counter space you can get for the hours of preparing dishes and decorating cakes and cookies.
Step Two: Wipe down all surfaces, including those hard-to-reach places and cabinet doors. You can use an all-purpose cleaner or specialized product designed to clean the material.
Step Three: Sweep away all the crumbs and debris collecting on your kitchen floor.
**Pro Tip– Don't forget to vacuum or sweep between the gaps throughout your kitchen. This is more necessary if your kitchen isn't designed with built-in appliances. The spots commonly missed are between appliances and countertops, the top of the fridge, and the empty spaces above your kitchen cabinets.
Step Four: Finally, bring out the shine by mopping up built-up dirt and grease that may be caked on your kitchen floor.
How Can Gulf Coast Appliances Help You Prepare for Easter?
When you plan ahead and take proper care of your appliances, you avoid potential mishaps and surprise issues on holidays. And even more importantly, you discover any repair issues before they have the chance to put a halt to your big day.
While cleaning up and taking extra good care of your appliances before Easter Sunday, be sure to keep an eye out for any damages or other problems.
And before the panic sets in, know that Gulf Coast Appliances is by your side.
Gulf Coast Appliance Repair is the local appliance repair company you can count on. For 10+ years, our family-owned business has been serving customers in Pinellas County and the Tampa Bay area. We specialize in repairing appliances, including refrigerators, washing machines, dryers, stoves, dishwashers, and much more.
So, if your kitchen appliances are giving you trouble while preparing for your big Easter dinner, give us a call to schedule your repair service today.