Learn the Best Laundromat Practices with Gulf Coast
Are your washer and dryer giving you trouble? Or perhaps you have moved into an apartment or home without these handy machines. Whatever the case, you can count yourself lucky for the existence of local laundromats!
These necessary facilities are life savers for those without access to machines in their own living space. But without cooperation from everyone with the best laundromat practices, they might not be as reliable.
If you are planning one of your first trips to the laundromat, continue reading to learn about what may be expected of you and all other guests at the facility.
And never hesitate to reach out to your local appliance specialists at Gulf Coast Appliance Repair. We will have your home's machines working again in no time. Not to mention, we also install brand-new units for homes without a washer and dryer.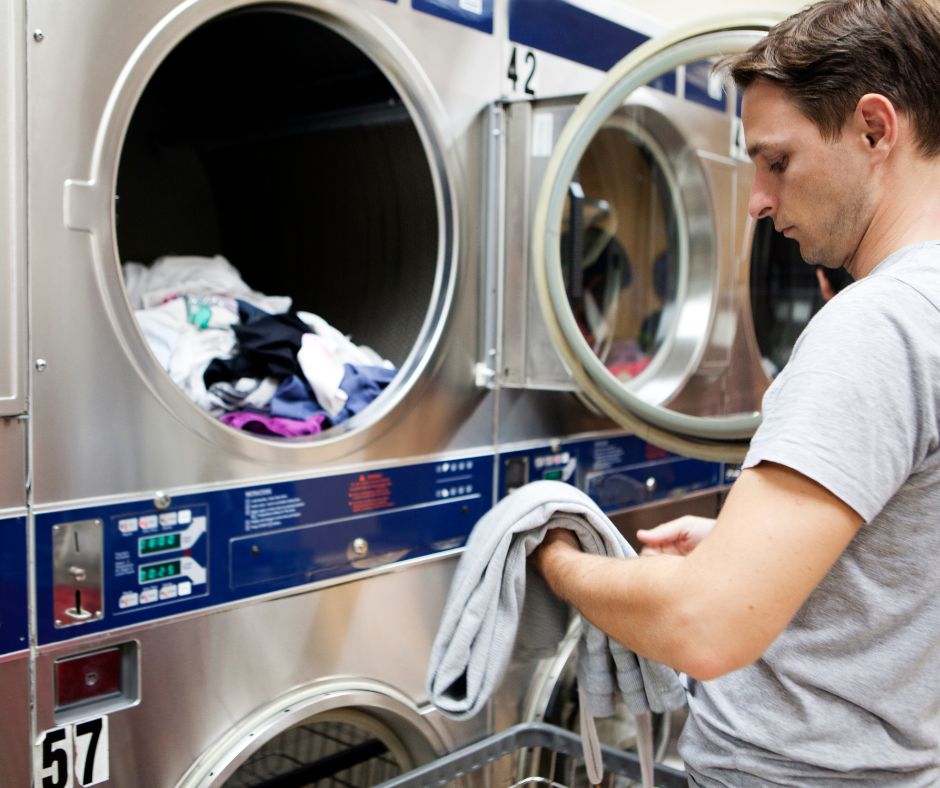 What You Need to Know When Visiting the Laundromat
Sometimes, you enter the facility, and a helpful list of rules and tips is posted on the wall. But this isn't always the case. So, before heading out to get some laundry done, read through the following best laundromat practices to get familiar with what is expected.
Don't leave Your Laundry Sitting in a Machine.
When visiting the laundromat, it's best to plan on sitting at the facility to keep an eye on your belongings. Schedule your to-do list so the phone calls and appointments you need to make fall on laundry day. Or take some time for yourself by reading your favorite magazine or book.
However, there's always the chance you can make better use of your time by driving down a block or two to the grocery store or stepping outside to take a quick walk. At most laundromats, leaving your clothes as they run through a cycle is entirely acceptable as long as you return in time to switch the load.
Especially during the busiest of times, every washer and dryer is in high demand. So, if you leave the laundromat, remember to set a timer on your phone and return on time. This way, you don't hog any machines other people are waiting for.
If You Must Move Someone's Laundry, Do it with Care.
On the same note, if you return to the laundromat a little later than expected, you may discover that someone has moved your belongings from the machine to another location. In most cases, it is simply part of the best laundromat practices to remove someone's clothes from a unit when they have left them unattended for too long.
So, when you notice a machine full of laundry well after the cycle has been completed and no one has returned to remove them, it is okay to carefully move the items to a clean surface or cart. Remember only to do this when no other machines are available. Otherwise, you should leave them be and use another washer or dryer.
The standard wait time is about five to ten minutes.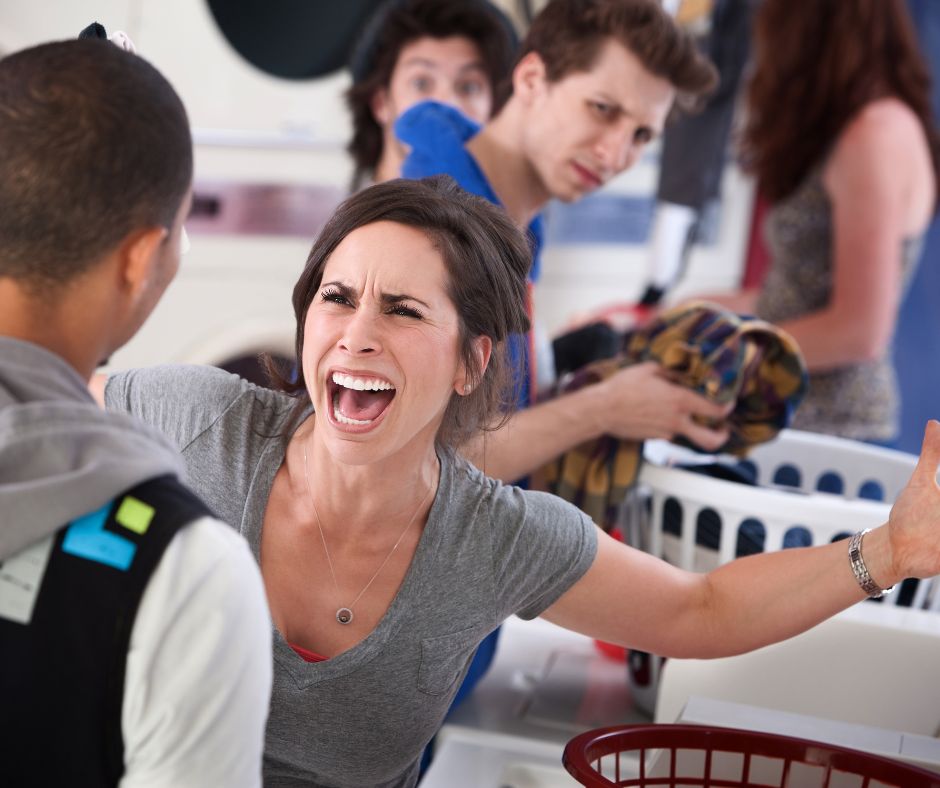 Try Not to Eat at the Laundromat
No one wants the greasy smell of fast food or spicy garlic disrupting the fragrance of clean laundry. So, do your best to save mealtimes for when you're at home. Certain fabrics are notorious for absorbing strong scents.
However, this isn't the only reason you shouldn't eat inside the laundromat. These places are often teeming with germs. Think about the sweaty and dirty clothes, sheets, and towels handled in a laundromat. Now, do you want to eat your Caesar salad there? I don't think so.
If you must squeeze in a quick meal while completing your laundry at the facility, set a timer on your phone and sit in your car for a few minutes. You'll be doing yourself and others a huge favor.
Respect the Machines, Facility, and People
Keep in mind that you are not in your private laundry room. It's important to treat the space, machines, and other guests with care. Remember to be kind to people so the environment remains friendly and safe for everyone. And try not to stare at anyone's laundry. You wouldn't want a stranger peeking at your underwear, would you?
Here are some additional best laundromat practices to follow:
Dispose of any trash, like empty detergent bottles or used dryer sheets.
Always clean spills as soon as they happen. Even a tiny drop of detergent can become a dangerous slipping hazard. If you need extra assistance, ask a staff member.
Don't use excessive amounts of detergents, bleach, or fabric softeners. This may leave behind residue in the machines or even damage them.
Remember to clear the lint screen after using the dryer. Furthermore, you should double-check that the previous person did the same to ensure your clothes will come out dry and the machine won't have any issues.
The Best Laundromat Tips for Beginners
Suppose you're planning for your very first visit to the laundromat. In that case, we have some tips to help your experience run as smoothly as possible. A first-time trip can make anyone a little nervous. Stick to the following advice, and you'll have nothing to worry about!
1 | Do Your Laundry Sorting at Home
There's not usually enough space to sort your laundry inside the establishment. So, remember to complete this step before heading out to the laundromat.
Furthermore, check all pockets for keys, spare change, papers, and whatever else you store away. You certainly don't want these tiny things to ruin an entire load of laundry- or worse– the facility's machines.
2 | Don't Forget to Bring the Essentials
Along with your sorted laundry loads, pack some detergent, fabric softener, dryer sheets, bleach, and anything else you typically use to clean your laundry. Forgetting these essential items will only send you back home. Once you have arrived at the laundromat, you'll realize you have forgotten some of the most important things.
It may also be helpful to purchase laundry pods because they are portable and much easier to carry around than a heavy bottle of detergent. However, if you prefer to use liquid or power, you can portion out the amounts you need into small plastic bags to make your trip a little more manageable.
3 | Pack Rags for Wiping Down Surfaces and Machines
As mentioned before, laundromats can be hot spots for germs. Therefore, it's wise to pack some rags and perhaps a small bottle of multi-purpose cleaner or disinfectant to wipe down the surfaces and machines you use.
From time to time, you may even come across a machine with soapy residue or even melted gum or candy inside. In this case, you'll have your rags handy to clear the device. This is especially useful if there are no other washers or dryers available.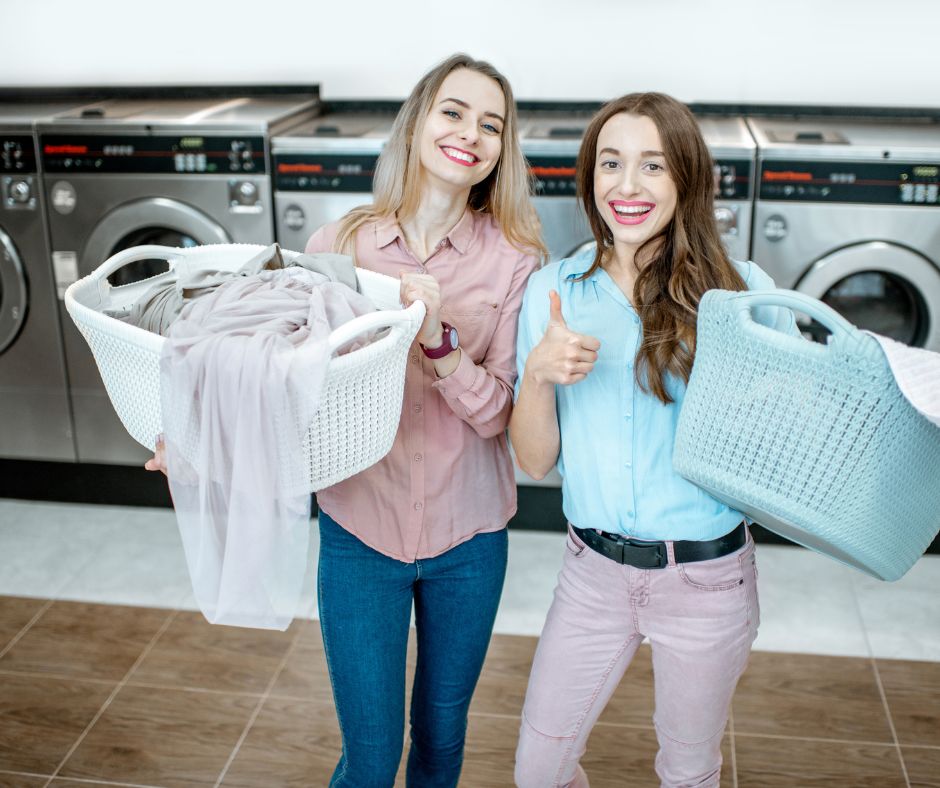 How are Your Machines at Home?
Maybe you recently discovered your washer and dryer at home are having some major issues. So, you decided you'll visit the local laundromat while you wait to figure out what has gone wrong with your machines.
This is a smart move in some respects. However, you will soon realize that paying for laundry services can quickly add up. It's best to contact Gulf Coast Appliance Repair as soon as you notice any issues with your home's units. That way, we can solve the problem quickly, and you can rely on your own machines once again.
Call Gulf Coast Appliance Repair for any appliance repair or installation needs. We are a company you can trust with your home's most vital machines. Being in the industry for almost ten years has given us the skills and knowledge to tackle any appliance problem. Allow our team to provide you with the quality service you deserve.
Call us at 727-513-3053 or conveniently schedule your appointment online today.